Prime Minister
by
Ainsley Booth and Sadie Haller
Purchase link:
Amazon
My rating:
Heat rating: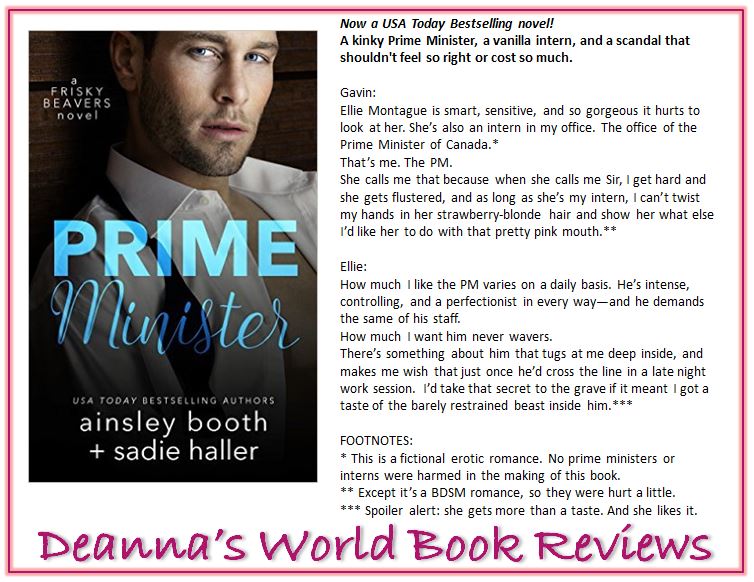 When I first saw this book being promoted I was instantly intrigued and a little afraid. Intrigued because the concept of a Prime Minister and an intern intrigues me. I have a thing for the whole boss/secretary trope. It's one of my favorite tropes to read. Afraid because with a title like "Prime Minister" and a series name like "Frisky Beavers" it had all sorts of potential to be trashy and a bit of fluff. Fortunately, it lived up to all my expectations of a wonderful boss/secretary trope story and it was not trashy or fluffy at all.
Prime Minister is a wonderfully written story, full of emotion and sexiness, but most of all, it had a depth and deftness to it while reflecting the (sort of) inner workings of a country's CEO. Ms Booth and Ms Haller brings you gently into the world of BDSM (it's mostly BDSM lite, really) and gives you a meaty glimpse of the what it's like to run a country and fall in love at the same time. There are echoes of the show West Wing in it, which I loved, because West Wing is one of my favorite TV shows ever - I'm on my third watch through of the series.
I adored Gavin. He's strong, dominating, yet sensitive and honest about his feelings. I enjoyed his struggle at the beginning and Ms Booth and Ms Haller did a very credible job of building up his attraction for Ellie while resisting her because of the inappropriateness of the attraction. I had thought I would not be able to look past Gavin and keep picturing Justin Trudeau (hello! Sexy Canadian PM in real life!) but the authors made me forget all about Justin and very quickly, I was completely enamored with Gavin. I was rooting for him while he juggled his responsibilities of being in public office versus the private man who was into some kinky f*ckery who needed someone special in his life, who understood him - the man, public office, kinky f*ckery and all.
As for Ellie, Ellie is a gem. She's smart, cute, slightly awkward and had a tremendous crush on the PM. She's also an innocent, and she sees the inappropriateness of her crush. It was endearing how they both worked so hard to resist each other but being inexplicably drawn to each other. Ellie was attracted to the poweful, decisive man who won the nation's trust in putting him in charge. Gavin was attracted to the smart, sexy intern who turned him inside out. And Ellie is honest and pragmatic. She understands what it means to be dating the Prime Minister of the country. Even when trouble hits, she's brave and logical in dealing with the storm, all the while hurting inside. She doesn't run away from the trouble and I applaud her for that.
I loved Gavin and Ellie as a couple. It was mature and convincing. I admired how they dealt with their feelings, how they communicated and how they made the relationship work for them even with obstacles like he's the Prime Minister of Canada and she's an intern to deal with. There was nothing tawdry or cheap about how their relationship was handled right from the start. Even with some inappropriate fantasizing on Gavin's part, he treated Ellie with respect from the get go.
The secondary characters were great too. I loved Lachlan, I hope he gets a story. I want to find out what's his kink. As for Max, I think his story is next and I think it's going to be a spicy one. I think his kink might be a lot more hard core than Gavin's.
One last note, I'm not one to give 5 stars to a book often. They need to be special. With Prime Minister, I went to bed thinking about it, and I woke up dreaming about it. I simply could not get Gavin out of my head. This is when I know it's a good book. I had to keep reading till I finished it. Such a satisfying read. And maybe I'm feeling a bit nostalgic because this story reminds me so much of the early dating days between my Steve and I, and today we celebrate a significant wedding anniversary.
Bravo Ms Booth and Ms Haller! I'm looking forward to more frisky beavers.
View all my reviews
Ab

out the author




Ainsley Booth / Zoe York:
Website
-
Facebook
-
Twitter
-
Goodreads
Sadie Haller:
Website
-
Facebook
-
Twitter
-
Goodreads
Find Deanna around SOCIAL MEDIA: