The Girl From The Savoy
by
Hazel Gaynor
Purchase link:
Amazon
My rating:
Heat rating: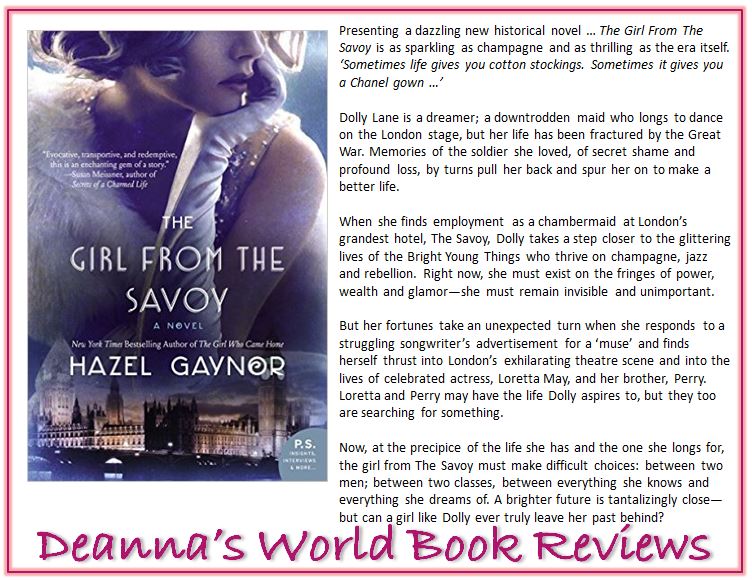 Hazel Gaynor writes a melancholy yet poignant story filled with hope and ambition. It touches your heart and makes your soul weep.
This book is a departure from what I normally read. I'm not entirely certain what made me decide to read it but I guess the idea of a story set in post war 1920s London intrigued me. I thought it would bring to mind images of the Great Gatsby and in many instances it does, but it also opens a window into the lives of men and women who try to rebuild their lives after the ravages of war.
We are introduced to Dolly, a maid at the Savoy and a dreamer. Dolly has great ambition and dreams, hopes for a better future, while running away from a painful past. Through this story we discover her relationship with Teddy (who made me weep endless tears), Perry and Loretta.
"I want more, Clover. Look at me. I'm as dull as a muddy puddle. When I watch those girls on the stage, I want to be there with them. I want silk stockings on my legs and silver Rayne's dance shoes on my feet. I want Chanel dresses against my skin. I want to cut my hair and rouge my cheeks, not flinch every time I hear footsteps following me down the back stairs. I want to be appreciated, not discarded like a filthy rag. I feel like a stuck gramophone record, going round and round, playing the same notes of the same song over and over. I want to dance to a different tune. ..."
I liked Dolly though I found her somewhat shallow and one dimensional at times. Even when she was dragged back to glimpses of her past most of it focused on her ambition. Don't get me wrong, I think ambition is a good thing, but I would have liked Dolly to be more than her ambition.
Loretta is delightful. So strong, bright and shiny, and yet so frail and jaded at the same time. I loved her character. She was so multi-dimensional. There was conflict within her, and secrets she chose to keep. I think her journey as rebellious debutante and society girl to war time nurse and then a blazing star gave her so much depth and nuance to her character.
Oh Teddy. Teddy broke my heart. Every time I read about Teddy, I cried bucket loads of tears because his is a sad and tragic story. Not unlike, I expect, many who return from the war, broken and trying to put those fragments of their life back together. Hoping. Men like Teddy, and even women like Teddy touch me deeply. For their sacrifice, for their courage and for their suffering. My heart breaks for each and every one of them and my heart broke for Teddy.
This story is a journey. A journey of discovery, of desire, of building a future and embracing a past.
The writing is lovely and Ms Gaynor injects mention of the young ladies' fascination with beauty and makeup which tickled my beauty loving heart. She drew beautiful pictures of the mundane lives of the maids at the Savoy contrasted against the vivid brightness of the leading ladies, dance halls, and all the people making merry to forget the horrors of the war.
"So, where'd you come from, then?" sha asks, turning down the corner of a page with an advert for a new Max Factor mascara.
***
I replace the cap on a lipstick and see perfect crimson lips and the mark they will leave on a champagne glass.
***
Clover Parker gave me friendship, a should to cry on, and a Max Factor mascara when I had absolutely nothing.
This is a book you want to take your time to savor and enjoy. Don't read it in a rush. Don't skim. Read every word and let the hopes and dreams of Dolly fill you.
View all my reviews
About the author


Hazel Gaynor:
Website
-
Facebook
-
Twitter
-
Goodreads
Find Deanna around SOCIAL MEDIA: