Learning Curves
by
Cathryn Fox
Purchase link:
Amazon
My rating:
Heat rating: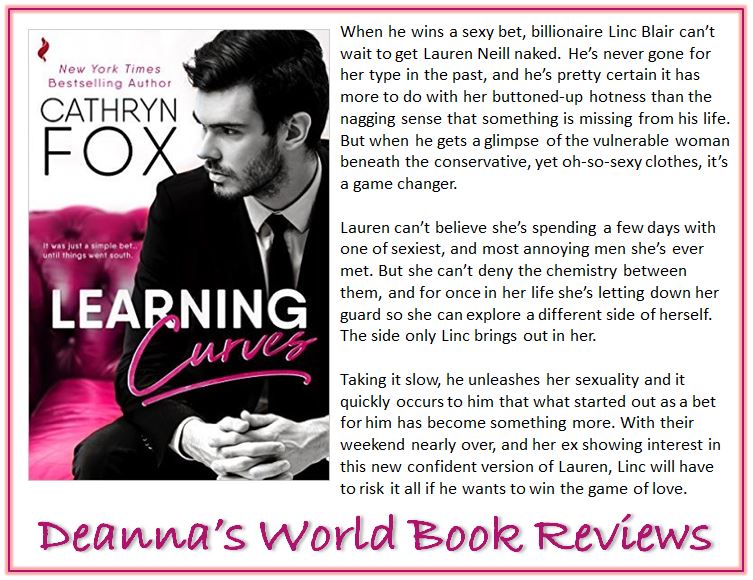 Cathryn Fox has delivered a short, sweet yet very sexy story which is also thoroughly satisfying. The sex is scorching hot and a perfect entrée into the Entangled Scorched line.
First off, this is a short story. It's only about 60 odd pages, but in those pages Ms Fox manages to pack in some excellent character development and plenty of sexy times. If you are new to the Scorched line, be warned. This is akin to erotic romance. There is a lot of sex in it but personally, me likey!
From first impressions, Linc comes across as a womanizing, love 'em and leave 'em kind of guy, but oh my, he turns out to be so much more than that. He's kind, caring, protective, possessive and hot as heck. And what a mouth on him. He can talk dirty to me anytime!
As for Lauren, I felt for her. It's terrible to have low self confidence because someone you trusted has put you down to the point where you believe it. I'm really glad she got her confidence back with Linc and he was able to prove to her how desirable she was.
This story is short. It gets down to business quickly and gets to the happy ending fast. Even so, Ms Fox manages to make the journey a believable one. Well done on your first Scorched, Ms Fox. I look forward to many more.
View all my reviews
Ab

out the author





Cathryn Fox:
Website
|
Facebook
|
Twitter
|
Goodreads
Find Deanna around SOCIAL MEDIA: