Desiring Red (Dark and Dirty #1)
by
Kristin Miller
Purchase link:
Amazon
|
Barnes and Noble
My rating:
Heat rating: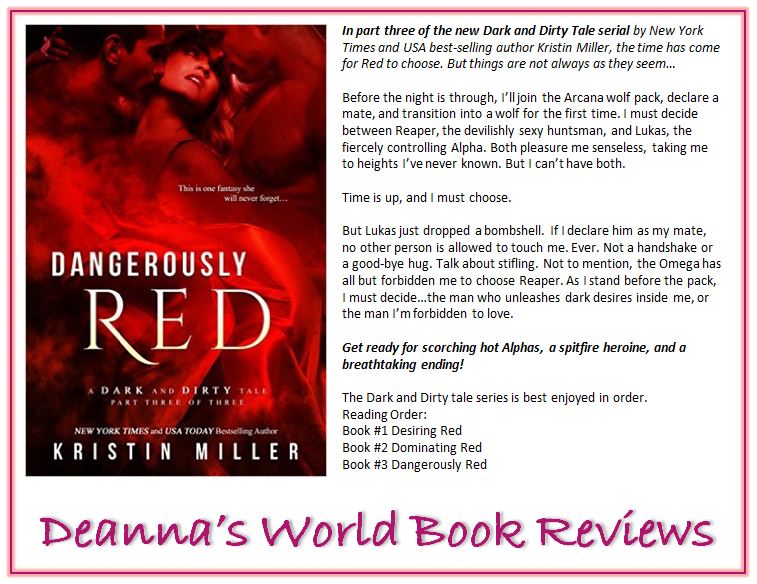 Desiring Red is short, sharp and sexy. It's also a serial which was a surprise to me. This is Part 1 of 3. It is also part of Entangled's new Scorched imprint. Scorched is supposed to be more sexy than the Brazen line and given how quickly this launched into the sexy times, I'd say yeah, they've definitely upped the heat scale in Scorched. I'd even go out on a limb and say this is much more akin to an erotic romance with a sex scene in almost every chapter. There much less world building and character development, and a lot of sex. I didn't mind the sex. I enjoy a good sexy read now and then, and this was definitely a sexy read.
In Desiring Red, we meet Ivy, new to the area and about to be initiated into the Arcana Pack. We also meet Reaper, estranged ex-Alpha of the pack, back on family business and Lukas, the current Alpha.
Ivy is about to be led before Lukas to be potentially be chosen for some sexy times with him before she has to choose a mate to bond with. Before the ceremony, she meets Reaper. Lots of sexy times ensue between her and Reaper, thinking she won't be chosen by Lukas.
It's hard to glean much about the characters of Ivy, Reaper and the Alpha in the short 50 pages of this serial. There's just so much sexy times going on!
From what I could tell Ivy seems to be a bright, curious girl who is trying to find a place to belong. Reaper is broody, dark, predatory and sexy as all heck which is a contrast to the Alpha who is suave, sophisticated and somewhat deceptive in his demeanor cos there's a hint of kink there that seems to be waiting to let loose.
I loved the dual POV in the story, switching between Ivy and Reaper. I particularly loved Reaper's POV because dang! I love getting inside the hero's head. It's so darned captivating. I adored Reaper's passion and desire for Ivy. How raw and uncontrollable it was. I know some people might take exception to how quickly Ivy and Reaper got it on, but hey, it's paranormal, it's an erotic romance, and I'm fairly certain there's some fated mate stuff going on in there somewhere which we haven't touched on yet.
I'm curious to see how this story continues as Ivy is torn between Reaper and the Alpha but dang! I hate serials and having to wait for each installment. If I had known, I would have waited to the end and all parts were out before reading it. I do feel somewhat cheated by having the serial aspect of the book creep up on me without me knowing. Personally, I'd rather wait longer for a complete book than get it dribbled out to me in a serial format. Grrr ... I'm still going to read the rest of it though cos now I'm sucked in and I'm committed. And heck, I love Reaper and I want more of him.
Ps. Desiring Red also ends in a cliffhanger. Don't say I didn't warn you. There's more to come. What happens between Ivy and Lukas? Will Ivy and Reaper be together again? Who's undermining the pack and trying to gain control? Will Reaper get over his need for vengeance? Will he find vengeance?
View all my reviews
Ab

out the author




Kristin Miller:
Website
|
Facebook
|
Twitter
|
Goodreads
Find Deanna around SOCIAL MEDIA: