Dominating Red (Dark and Dirty #2)
by
Kristin Miller
Purchase link:
Amazon
My rating:
Heat rating: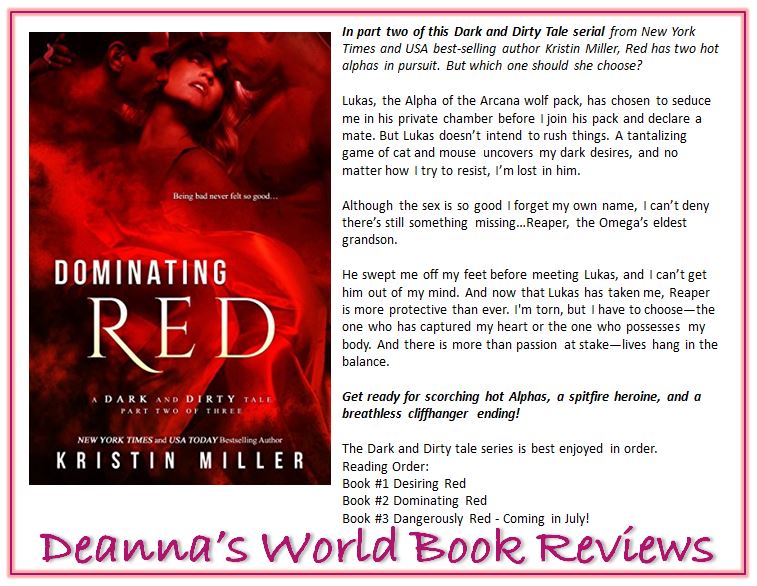 Dang serial! Dang good serial but still, dang serial! Ugh! This finished with a cliffhanger, a HUGE cliffhanger, and Kristin Miller has done a fantastic job of having me jonesing for the next book in the series. I. Have. To. Know. What. Happens. Next!!
Dominating Red starts where Desiring Red ends, with Ivy being summoned by Lukas. We get to see more of Lukas and well, what I saw? I liked very much. Lukas is a sensualist. He also likes to be in control. Even when he's not in control, he is. It's a very sexy thing to see. And ahem! Should I mention he's also very well endowed? *blushes*
After having spent time with both Reaper and Lukas, I can see where Ivy would be confused and not know who to choose. Caught between two strong, confident, alpha males. There are worse places to be! Understandably, Ivy is conflicted about Lukas and Reaper, but she has to choose between them. I'm anxious to find out what her decision will be. At the same time, mystery surrounds them and questions arise about Lukas.
We get to see a bit more of the Omega, Lukas and Reaper's grandmother. It seems she's the one who rules all the werewolves of the Arcana Pack, so I'm a little confused as to the ruling structure and hierarchy between Omega and Alpha in this world. I like the Omega a lot. She seems to be a lot more than she lets on. I hope there's going to be a surprise about her which we find out later on. I can't help but wonder if she's plotting something or if she's manipulated Lukas and Reaper into the position they are in now. I'm very curious about her. She certainly plays a large role in this installment in counseling Ivy.
As before, this is an erotic romance and it is sexy as heck. The Entangled Scorched imprint is seriously HOT and high on the sexy scale. This is also part of a serial. It's not a short story. If you haven't read Desiring Red (Part 1), do that before you read this installment.
Write faster, Ms Miller. I can't wait for Part 3.
View all my reviews
Other books in the series:
Ab

out the author




Kristin Miller:
Website
|
Facebook
|
Twitter
|
Goodreads
Find Deanna around SOCIAL MEDIA: