An Unlikely Bride for the Billionaire
by
Michelle Douglas
Purchase link:
Amazon
Helen's rating:
Heat rating: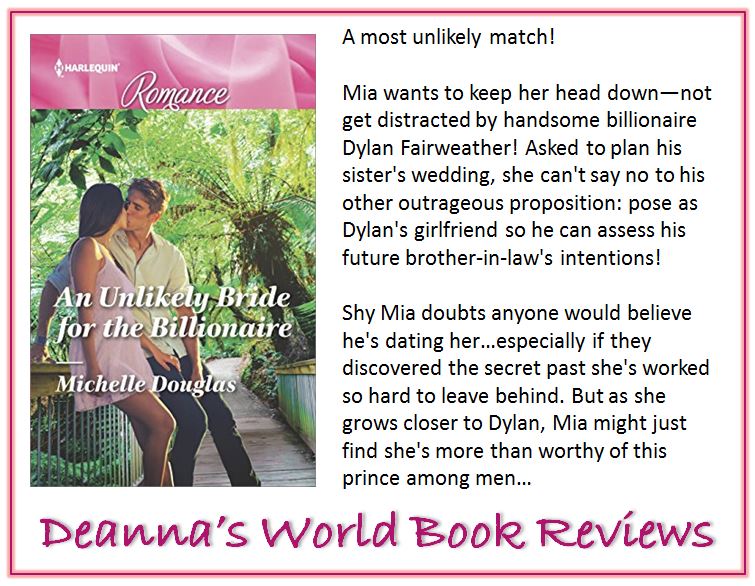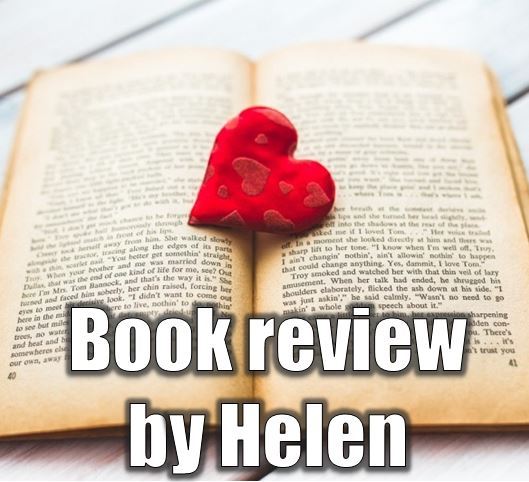 Ms Douglas knows how to pull a reader in and she has chosen what I think is a tough subject to write about. Boy! Has she done it beautifully! I loved this one from page one and I didn't want to be disturbed while reading it.
Mia Maydew wants nothing more than to keep her head down work hard and get her qualifications. She does not want to be in the limelight. Mia loves the job she has working at Plum Pines Reserve as part of Newcastle's Parks and Wildlife. She loves being with the animals and clearing weeds. She lives a quiet solitary life, that is, until her world is turned upside down when she is required to help plan billionaire Dylan Fairweather's sister's wedding. She has vowed never to become vulnerable to another man again but can she deny the spark that zaps between Dylan and herself.
Dylan Fairweather is a fabulous party planner known to the rich and famous but now his sister Carla is planning a wedding and Dylan is not overly convinced that her fiancé is the right person for Carla. When Carla chooses Plum Pines for her venue and gets to know Mia and requests her has part of the planning team Dylan steps up and asks Mia to help him out with another proposition, to pose as his girlfriend to help him get to know Carla's fiancé, Thierry better. Mia cannot refuse for fear of losing her job and Dylan cannot help falling for Mia as they work together.
This is so beautifully written. It is emotional and very moving as we see Mia get a second chance at a life she deserves with a true love in Dylan who sees her for the caring loving and strong person she is. Both Dylan and Mia have a lot to overcome and they do it so well together. Yes, there were ups and downs that made the journey so enjoyable and yes, I shed a few tears in such a good way and was left with a big smile. I highly recommend this story. The setting is awesome, sit back you won't want to be disturbed and enjoy this one. Thank you Ms Douglas another one for the keeper shelf. This is a fabulous romance that brings out the best in people and is sure to make the reader happy.
View all my reviews



About the author


Michelle Douglas:
Website
-
Facebook
-
Goodreads
About the reviewer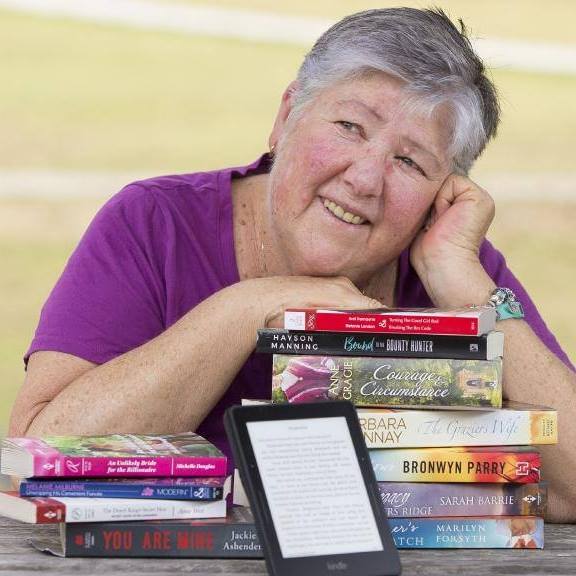 Helen Sibbritt:
Facebook
-
Goodreads
Find Deanna around SOCIAL MEDIA: