Crouching Tigress, Horny Dragon (Fire Mates #3)
by
Lexxie Couper
Purchase link:
Amazon
My rating:
Heat rating: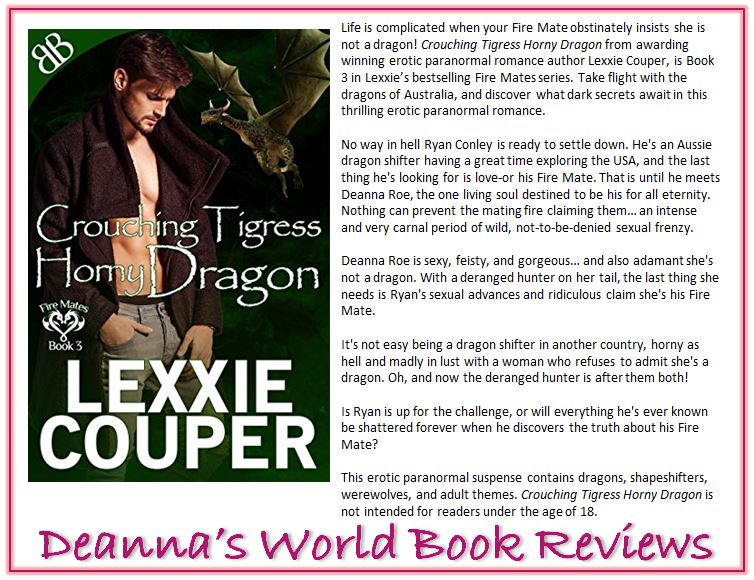 What a cracker of a dragon shifter story! Lexxie Couper certainly knows how to write sizzle with a dash of mystery mixed in to keep you guessing.
The story starts with Ryan, brother to Ty from the first Fire Mate story running to America to avoid the fall out from Ty's mating. While there, Ryan comes across Deanna who's been tracking and pursuing him across the country, while they both get hornier and hornier as the time passes.
I throughly enjoyed this story, as I do most of Ms Couper's work, and bonus points ... dragon shifter! This addition to the Fire Mate stories really got my heart pounding though. It was, of course, sexy as all heck, all of Ms Couper's stories are but there was an added element of mystery which got my heart rate going. It was unpredictable, which I enjoyed and at one point got rather dicey, and a little dark, which kept me on tenterhooks right through. I really did not know how this story would resolve itself. Not the HEA, but leading up to the HEA. There were so many questions that needed answering. Don't worry, Ms Couper wraps it all up rather nicely.
Now Ryan, sexy, funny, easy going Ryan, who likes Vegemite. Man after my own heart. A dragon shifter AND he likes Vegemite. I can't get my Steve to have Vegemite if his life depended on it but I love the stuff, so yeah, Ryan totally works for me. I would have liked to have more time with him getting to know him more but the story splinters at some points and focuses on Deanna while she finds her way back to Ryan.
Deanna confused the heck out of me, but she's named "Deanna" so how I could not love her, right? I should be allowed some biasness for my namesake! Well, back to Deanna ... I could not pin her down right from the start. I had my suspicions as to what she was but I couldn't tell for certain and then what Ryan thought of her (not the mating stuff) and that confused me even more. Ms Couper did an excellent job of keeping you guessing right to the very end while throwing out little bits and pieces of information along the way for you to piece together ... but not quite. The big reveal was devastating and satisfying at the same time.
Bravo Ms Couper! I really enjoyed Crouching Tigress, Horny Dragon. When's the next book coming out?
View all my reviews
Other books in the series:
Ab

out the author



Lexxie Couper:
Website
-
Facebook
-
Twitter
-
Goodreads
Find Deanna around SOCIAL MEDIA: