Body Contact (Hands On #2)
by
Cathryn Fox
Purchase link:
Amazon
My rating:
Heat rating: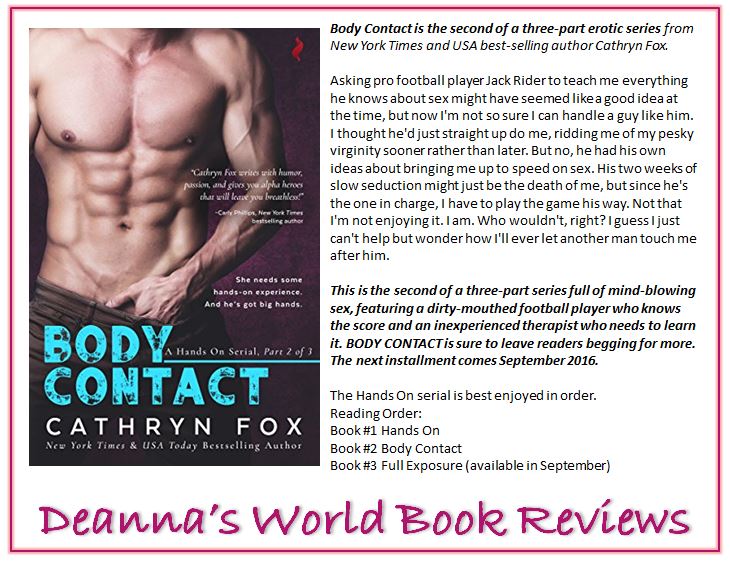 Body Contact is part two of the Hands On serial series. It picks up where Hands On left off, with Jack continuing his lessons with Danielle.
This installment of the series is seriously hot. I'm incredibly impressed with Ms Fox's ability to make everything sexy without Jack and Danielle jumping right to doing the deed. There's a wonderful slow build of hotness as Jack teaches Danielle one thing after another about the variety of sexual experiences there for her to learn.
Danielle, now that she's gotten past her awkwardness of part one is sweet and caring. She's also starting to develop confidence and there's a cute sassiness about her that is very endearing. I've grown to like her a lot in this story.
Jack is gorgeous. I'm completely in love with Jack. Jack could have been your typical famous athlete, brash, arrogant, sexist and a player but he's not. Instead, he's sensitive, caring and much more concerned about Danielle's welfare than his own pleasure. While he's not being entirely selfless (he does get a lot of pleasure out of what he's teaching Danielle!), he's very focused on ensuring Danielle gets the best experiences possible and learns what she needs.
I loved seeing the honesty and trust build between Danielle and Jack. The fact that she trusted him and was open about her desires and her uncertainties but knew she was in safe hands. And the fact that Jack is such an honorable guy, not once did he misuse or betray that trust. It was beautiful.
We see both Danielle and Jack start to struggle with their feelings a bit more here as well. This is starting to not feel like "just sex" for them even though that was the deal. Danielle is caring about Jack's sport injury and his recuperation. Jack is caring about Danielle's future and what she hopes to build as a career for herself. Neither of them realise they are getting more and more emotionally entwined in each other and it is lovely to see their growing affection for one another.
After the way part one ended, I knew part two was going to be a great read. Ms Fox did not disappoint. I can't wait for part three and seeing how Jack takes Danielle "all the way".
View all my reviews
Other books in the series:
Ab

out the author





Cathryn Fox:
Website
|
Facebook
|
Twitter
|
Goodreads
Find Deanna around SOCIAL MEDIA: