Heart Mates (Pull of the Moon #1)
by
Mary Hughes
Purchase link:
Amazon
My rating:
Heat rating: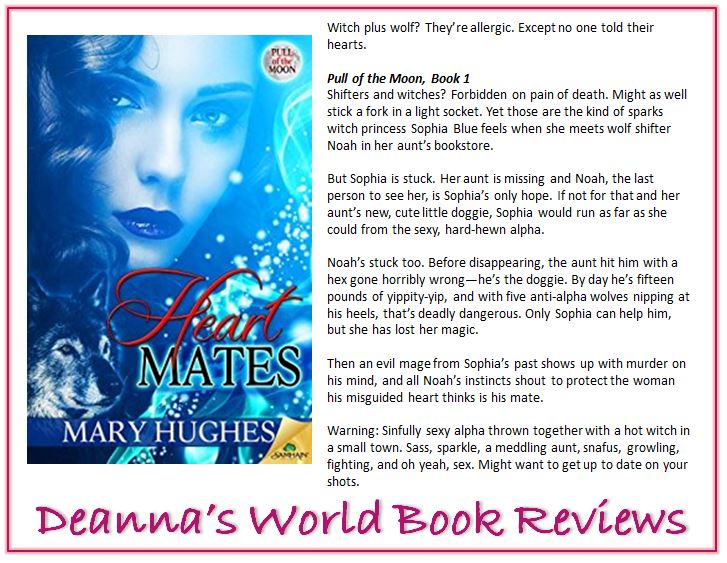 Heart Mates is a sexy, steamy paranormal where witches and shifters shouldn't mix, but they do. This brings about all sorts of spicy shenanigans on the supernatural kind with a witch who is without her witchy powers and an alpha werewolf who has been hexed into a tiny, yappy little dog. Fun and magic ensue.
Heart Mates is a fun read. It's the first in the series but there's a prequel called Masked Attraction before it. Strictly speaking you probably don't need to read Masked Attraction but you get the beginnings of the world building in Masked Attraction as well as the foundation for the overall story arc which spans across the series. It's all about a prophecy which was unearthed and the Pull of the Moon series starting with Heart Mates fulfill different aspects of the prophecy. Personally, I'm glad I read Masked Attraction before reading Heart Mates but I'm a bit OCD about reading a series in order, especially paranormal series where there tends to be world building in the early books and the overall story arc. I'm pedantic like that.
I have to say Ms Hughes does a nice job of world building. She doesn't plonk all the information down right away but injects is throughout the story in such a way that you feel you are learning the world without being overwhelmed with information. I also liked the way she handled the witchy and wizardy magic. She included enough mumbo jumbo to make it interesting without being overwhelming while keeping the spell casting fairly straightforward and understandable. Similarly, she imbues shifters with their own innate magic and manages to make the whole shifter shifting thing seem very natural.
The star of the book, of course, is Noah. Super duper gorgeous alpha werewolf who's been hexed. Yippy dog by day, hunky alpha werewolf by night. Noah is all the things I love in a hero. Honorable, responsible, protective. But Noah also carries around a HUGE secret. A punishable by death secret. And it's up to Sophia to discover what it is to help him and get him unhexed.
Our heroine Sophia is a witch who in the past did something which caused her to no longer be witch. We actually know this from Masked Attraction because both she and Noah appear briefly in the prequel. Here we learn more about the reasons for her no longer being a witch and having no powers at all. Sophia is compassionate and caring. She's also doing her best to help Noah in a seemingly difficult situation.
Between Sophia and Noah and the hex gone wrong, there's plenty of insta-lust (which I'm okay with BTW) and shenanigans. They get steamy quickly and continue to be steamy in between trying to figure out how to unhex Noah, sort out pack issues and protecting Sophia from danger. I loved how sexy the story was and enjoyed the moments when Sophia and Noah got down and dirty. Of course, my friend Anna would say: "where do they find the time to get anything done with all the bonking going on?" :-D Feh! Semantics!
The story itself is light and fun, with plenty of action and a little bit of mystery. All in all, it is a very enjoyable read. I'm looking forward to seeing how this prophecy unfolds. Gabriel is up next. We saw a little bit of Gabriel in Masked Attraction and he featured strongly as a secondary character in Heart Mates. Can't wait to see who swoops in and captures his heart.
View all my reviews
Other books in the series:
Ab

out the author




Victoria Davies:
Website
-
Facebook
-
Twitter
-
Goodreads
Find Deanna around SOCIAL MEDIA: