Shameless (Playboys in Love #1)
by
Gina L Maxwell
Purchase link:
Amazon
My rating:
Heat rating: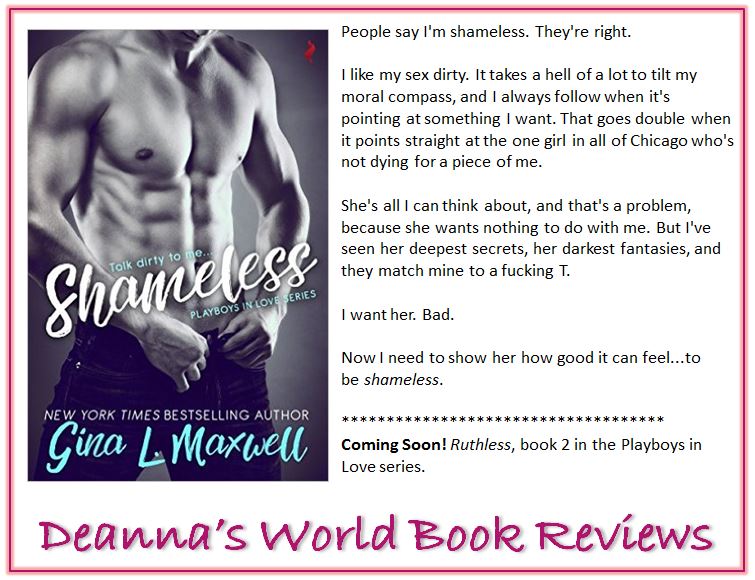 Gina L Maxwell delivers a hot, hot, hot and beyond sexy addition to the Scorched line with Shameless. Holy hotness, Batman! This is not my first foray into Entangled's new Scorched line but holy heck! This is seriously scorching hot. There is a whole lot of dirty, rough bangin' goin' on!! Be warned! This is erotic romance plus! If you're new to the Scorched line, you may find this story pushing your sexual boundaries as some of the sex gets very rough and quite extreme. If hard core sex is not for you, you might want to give this one a miss.
Chance is a stripper. Well, he's not just a stripper, he's also a successful businessman who runs two companies, but he started a stripping business with his two best friends during his college days and now continues to strip part time while running a construction business as his day job. Chance is hot, sexy and he knows what he likes sexually. Then he meets Jane and discovers she likes the same things he does sexually. Rough sex. Really, really rough sex, with a healthy dose of spanking and a little humiliation thrown in. It's not for everyone but it works for Chance and Jane. It's their kind of kink, but the first half of the book is really all about the sex. It's hard core erotic and Chance and Jane bonk like rabbits, and there's nothing cute about the way they do it. It's hard, fast, raw and rough. Things change about halfway through the story when Chance realises he wants more from Jane than simply no strings attached sex. Feelings start to get involved although Chance is wary after having been disappointed in love before.
Jane is a lovely girl. Smart, funny and overworked, with a plumbing problem, which is where Chance comes in. He gets hired by her girlfriend for her as a gift. There's a genuine misunderstanding in the beginning which is endearing but also a kinda sexy and dirty as Jane thinks Chance really is a plumber there to fix her broken plumbing in the bathroom and Chance thinks he's there for a stripping job. Things get interesting when Chance discovers the kind of sex Jane likes and well, the sexy stuff is history after that. I liked Jane a lot. While her feelings develop for Chance, she still is very cautious of how they met, careful not to make any judgments of his chosen part time career. I like her all the more for that. For being open-minded and sensible, but also embracing her feelings and trying to understand what drives Chance.
I want to get drunk and make myself numb against the jealousy and angry proprietary feelings clawing at my insides. I hate that I feel this way. This is his job—or one of them, at least. I've known all along that this is what he does sometimes on the weekends; it's not like he's been dishonest or kept this a secret. It's how I met him, for Christ's sake.
Of course, things go off track for a little while (as it would) while Chance needs time to get his head out of his behind to realise how wonderful Jane is and how he really shouldn't let his past experience color what could be the best thing that's ever happened to him.
I admit to starting to enjoy the story a great deal more when feelings got involved because I'm a romantic and I personally have a hard time with sex for sex's sake. I like my sex combined with a whole lotta emotion. I want it to mean more than a quick bang to satisfy physical urges.
Without words, our bodies speak about things our heads won't allow and our hearts will only half believe.
I'm really glad Chance found his way back to Jane and he did it in a way which worked for the both of them, speaking a language they both understood. The ending was the best part because I'm a hopeless romantic and I love my happy endings.
I'm surprised I enjoyed this as much as I did (because of the hard core sex) and I'm really looking forward to Ruthless's story.
View all my reviews


About the author


Victoria Davies:
Website
-
Facebook
-
Twitter
-
Goodreads
Find Deanna around SOCIAL MEDIA: