Time for another blog hop and this time, it's all about heroes. I love heroes. For me when I read a romance, it's the hero I'm drawn to. I've said it a few times in blog posts too. This hop is kindly hosted by
Herding Cats & Burning Soup
.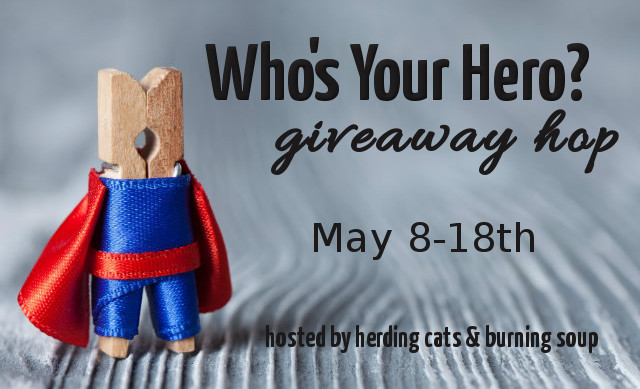 This month we're celebrating the men and women (and animals too!) that rock a uniform--whichever uniform that may be. Military, Police, Firefighter and all others who serve and protect. So...Who's Your Hero? Stop by each blog for a giveaway and to find out who OUR favorite fictional and real life heroes are...
For me, I love men in uniform. They are definitely my heroes. They are a combination of alpha strength, goodness, honor and underneath all the gruffness, a heart of gold and a vulnerability only the heroine can get through to. It makes my silly romantic heart go a little crazy. Of course, being a crazy avid romance reader, I have a ton of book boyfriends. I even did a
blog post last year about the book boyfriends I was crushing on
.
But before I go into super duper detail about my men in uniform heroes, I want to shout out to
Michael Stokes
and his
Always Loyal
book, which features veterans in their healthy, athletic glory. The images in the book are controversial, evocative and extremely well done. If you haven't experienced any of Michael's works yet, you need to check him out.
And here are some shots from within the book. (Source: Amazon)
And as for my men in uniform heroes from some of my favorite books here are some of my recent favortes:
And while not exactly men in uniform, honorable mentions also to go:
And finally, if you count superheroes in their superhero uniforms as men in uniform, Rebecca Royce has a very fun series of superheroes which I thoroughly enjoyed. Capes and spandex in a superhero uniform can still be considered men in uniform, right?
So that's it. Those are some of my recent heroes. I hope you've enjoyed this post and don't forget to enter the giveaway below.
And now for the giveaway - there will be three winners picked randomly:
Kindle version of The Edge of Courage by Elaine Levine gifted to you
Kindle version of Deadly Strain by Julie Rowe gifted to you
$10 Amazon gift card
Don't forget to follow this blog hop and visit the other Who's Your Hero blogs for more chances to win some amazing prizes.
Find Deanna around SOCIAL MEDIA: