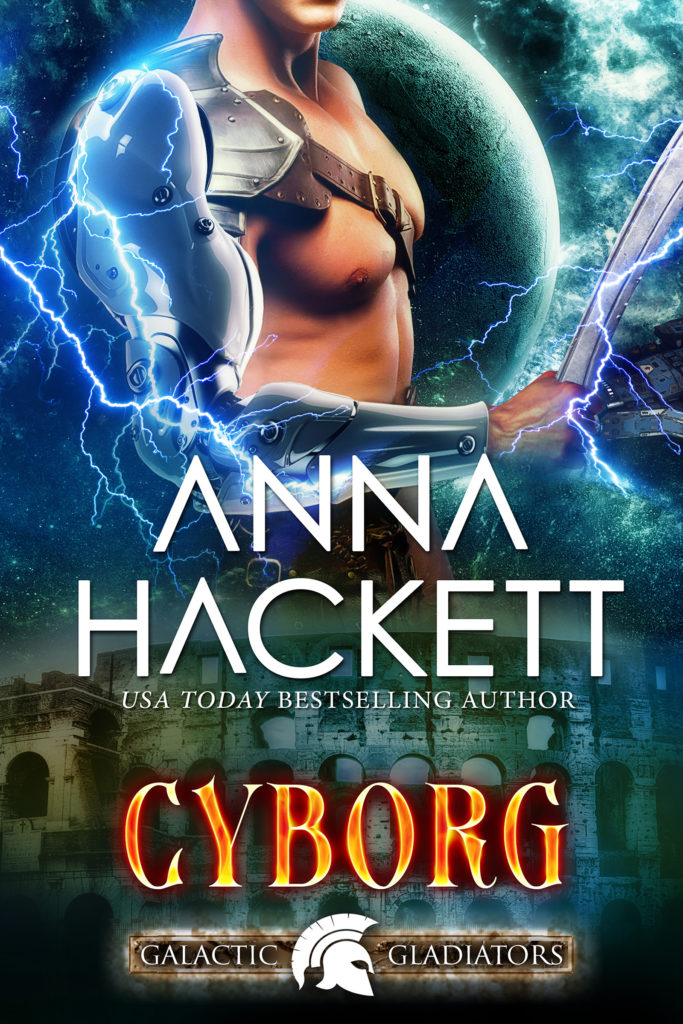 My rating:
Heat rating: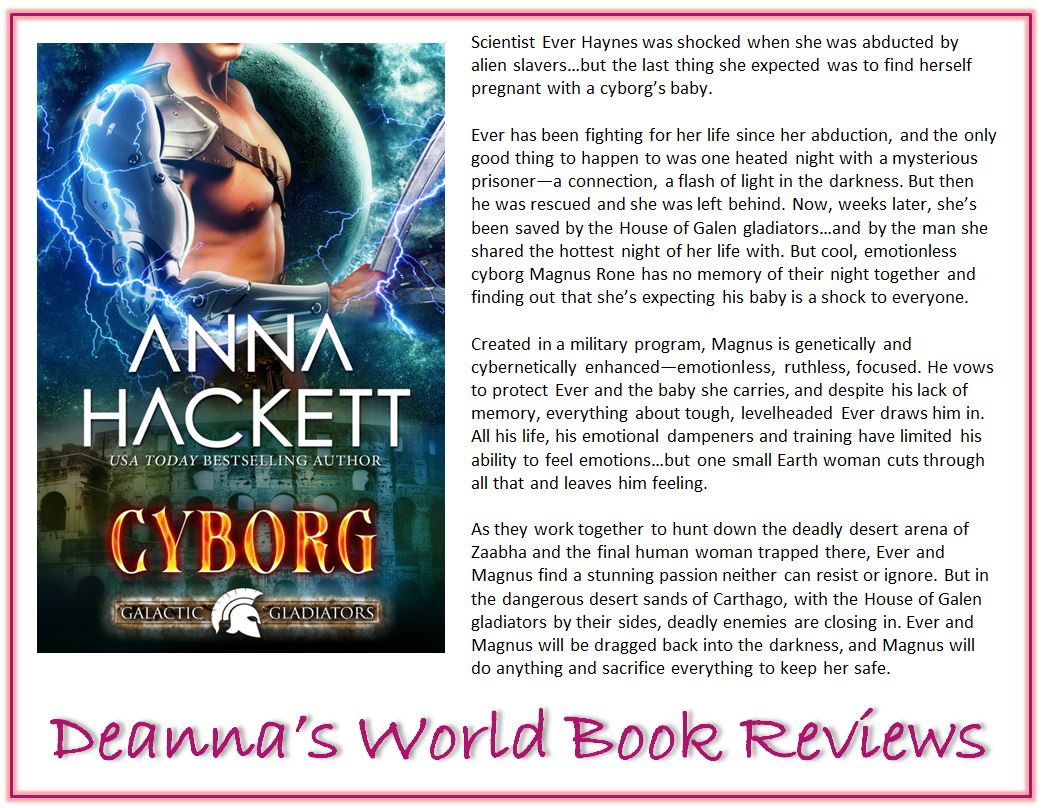 I can't contain my excitement over Cyborg. I read it the moment I got my grabby little hands on it. A cyborg imperator with no feelings, a fierce, tenacious, and pregnant human woman. Desire runs high and personalities clash as Ever and Magnus remember their time together in the desert.
Ms Hackett is a go-to author for me. When I'm not sure what I want to read, or when I want to read something I know I'll love and enjoy, I will pick up one of her books. They never fail to entertain me with high action adventure, fabulous worlds, and of course, heroes and heroines I know I will love. I am always left with a good feeling after one of Ms Hackett's books. And with Cyborg? I'm just feeling all googly-eyed and lovey-dovey. I want my very own Magnus.
I've been fascinated with Magnus ever since I met him in the previous Gladiator books. He seemed so silent and unapproachable but as Ever discovers, underneath that is an honorable and protective man with a noble streak a mile wide. I loved watching Magnus thaw and start to allow himself to feel under Ever's persistence. He was magnificent once he finally lets loose. Of all the gladiators I've read, Magnus is my favorite. I think I might lick him cos ya know, if I lick him, he's mine. :-p
Like all the Earth women in this series, Ms Hackett has made Ever strong, resilient and determined. Even while heavily pregnant she fights for Sam's freedom and insists on being a part of her rescue. The moments when Ever reveals her softer side, is a little fragile from the pregnancy with Magnus looking after her are my favorites. Don't get me wrong, I love that she's a strong woman but I like that she's not afraid to lean on someone else's strength when it's needed.
Honestly, I'm utterly tickled by the pregnancy. I'm a traditionalist at heart when it comes to my romances, and weddings and babies make me happy. Seeing Magnus' protectiveness over Ever and the baby was beautiful.
This is my favorite series by Ms Hackett. I can't wait for the next book. I think it's Galen's turn next and man, it's going to be great to see that tough, competent man fall.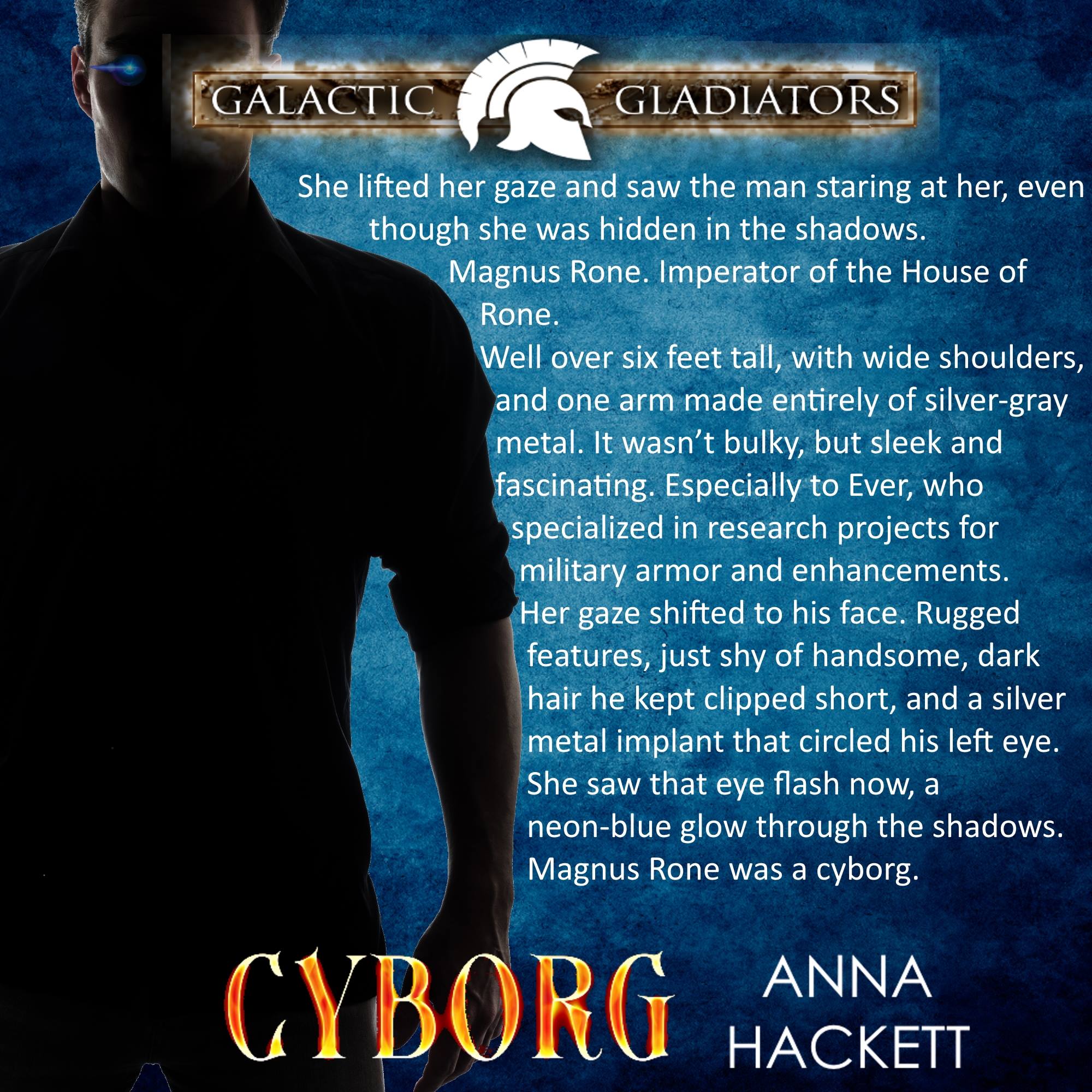 * teaser courtesy of Anna Hackett
View all my reviews
Ab

out the author




Anna Hackett:
Website
-
Facebook
-
Twitter
-
Goodreads
-
Amazon
Find Deanna around SOCIAL MEDIA: