My rating:
Heat rating: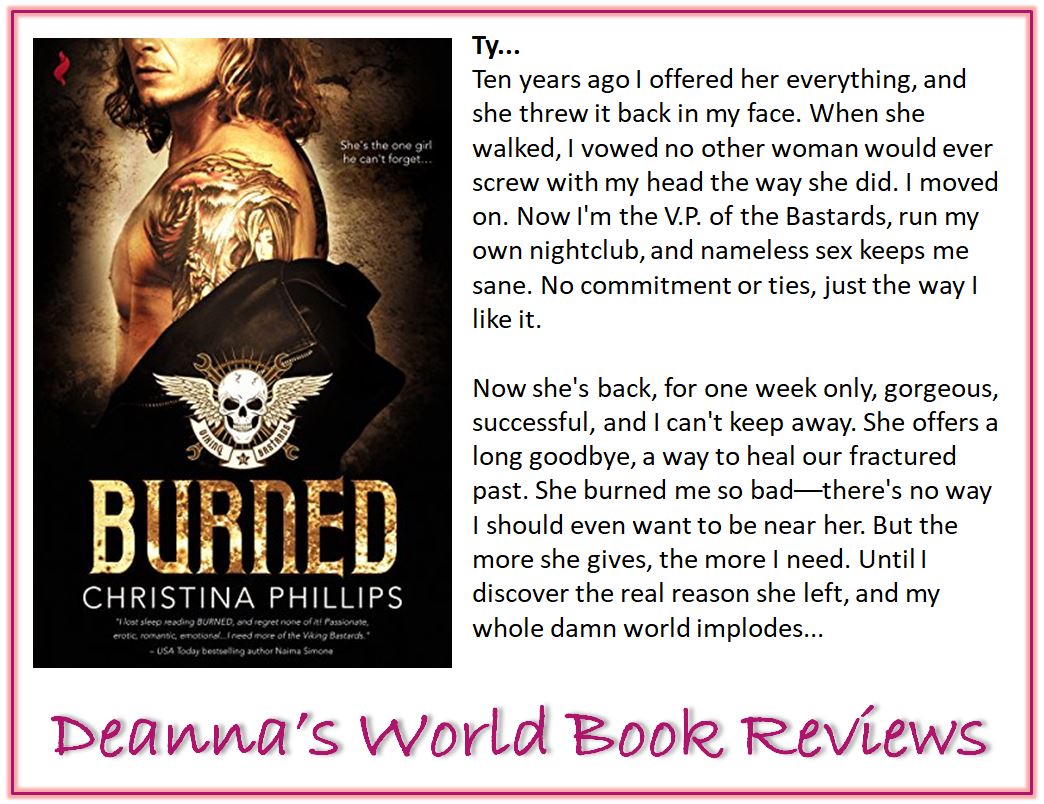 Burned brings us Jasmine and Tyler as they get a second chance together, heating up the sheets and working through their past with pain and secrets between the two of them. Even after ten years, there's unfinished between them that needs to find closure. A week hardly seems like enough time.
I have to admit to being hesitant about Burned when I started reading it. The inevitable clash between Jas and Ty upon reconnecting. The pain. The past. The regret. I was afraid it would be all angry sex and lots of pain and hurt hurled between the two of them, but fortunately, it was not like that at all. Yes, there was pain and hurt, but Ms Phillips handled it deftly and focused more on their unquenchable chemistry and attraction, and their heartache and regret, because underneath it all Jas and Ty never stopped loving each other, which of course is the entire point of a second chance romance.
I liked both Jas and Ty. They were both dealing with their past in different ways. Ty became a guy who never had a relationship and only slept around with women with no commitment. Unlike the previous generation of MC members, Ty was legit and ran a clean business. He was also honorable and loyal, and he never stopped loving Jas. However, being in an MC meant putting the MC and his brothers before his woman and that was partly what drove them apart. Ty needed to see that Jas was more important than the MC and put her first.
"The bad boy I fell in love with grew into the best man I ever met."
Jas is a brave and determined woman. She has to be given what happened to her which sent her fleeing LA and Ty. It was never Ty's fault that she left but he never knew that. It was never anything he did. He only knew that she left without a reason. She had secrets of what happened to her which she kept from him. For that, I felt bad for Ty because he never got a chance to fix things and they lost so many years together because of it. That made me sad, the lost years. I love the fact that Jas has reinvented herself and come out of her ordeal a strong woman. I applauded her for finally standing up for herself against the people who looked down on her and treated her poorly.
"It doesn't matter what I say to her. It never did. She's never judged or cared about my rep. Even the first day I spoke to her, and took her out for a milkshake, of all things, she never fawned over my tats or sighed over my connections to the Bastards like all the other girls. It was me she was interested in. My opinions she asked for. Her shy smile captivated me, and the arrogance and self-entitlement that had been part of me for as long as I could remember faded whenever we were together. With Jas, I let down my guard the way I never could with anyone else, even my brothers."
It surprised me how much I enjoyed this story once I got into it, but if there are other stories to this series, please no more second chance romances.
View all my reviews
Ab

out the author




Christina Phillips:
Website
|
Facebook
|
Twitter
|
Goodreads
|
Newsletter
|
Amazon
Find Deanna around SOCIAL MEDIA: