The Sheikh's Convenient Princess
by
Liz Fielding
Purchase link:
Amazon
My rating: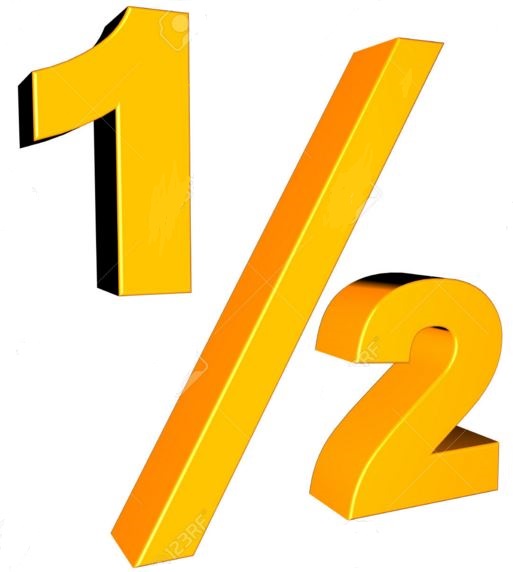 Heat rating: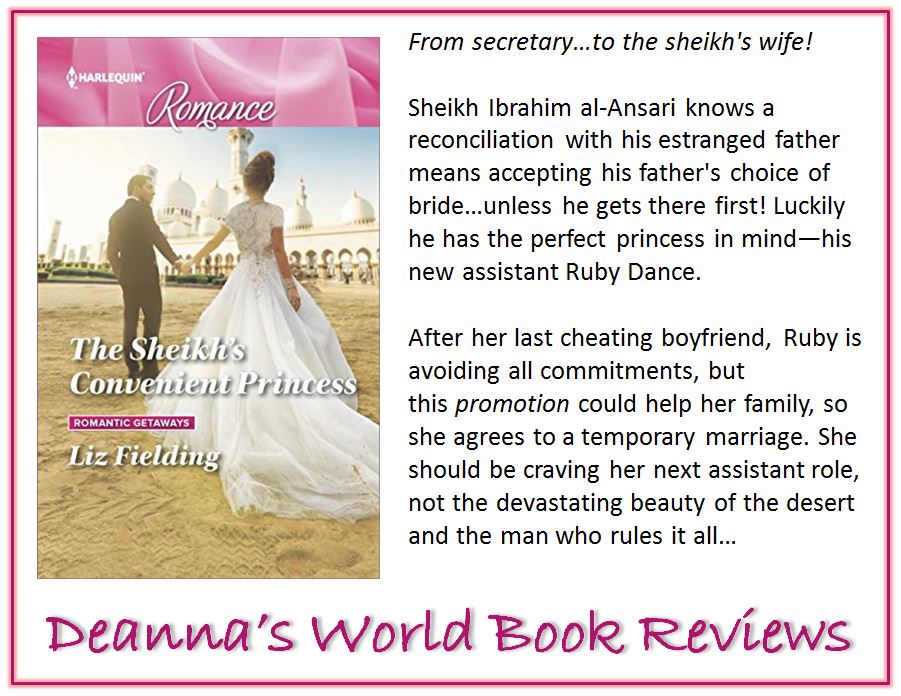 Liz Fielding writes some of the most romantic stories I have ever read and each one is better than the last. This one is no exception. The romance between Bram and Ruby will make your breath catch and your heart melt.
I don't even know where to begin in expressing my feelings for this book because my head and heart are both still reeling with all the warm, fuzzy romantic feelings I have from reading. I feel a warm, fuzzy, romantic book hangover coming on!! I just want to go back and re-read the ending over and over again.
I absolutely adored Bram from his initial aloofness to his softening as he got to know Ruby and fell in love with her. Bram was such an honorable man, and in spite of a rather madcap escapade in his youth which provided an incredible twist at the end of the story, he did what was right. My heart broke for him from when I read of his estrangement from his family and how much he missed them, longed to be welcomed back into his family again. I loved his reactions as he found himself falling for Ruby and yet stopping himself from reaching out to her because of the agreement they had. It was terribly, terribly romantic and sigh-worthy.
There's no way to not love Ruby. She's such a wonderfully efficient and organized girl and of course, I love the whole boss / secretary thing going on too. But aside from that, Ruby had heart and she cared. She cared about doing what was best for Bram and she cared about doing the right thing. She was so selfless right to the very end.
One of the most romantic parts of the story is actually early on when Bram and Ruby work out the details for the back story of their own little romance to their temporary marriage. I fell in love with both Bram and Ruby while they talked about how they met and how they fell in love in their made up story. The made up story was hugely romantic and definitely a courtship fit for a princess. And of course, with an assistant as efficient as Ruby on hand to help Bram with the details, their courtship and romance were perfect. :-)
There's nothing to not love about a romance by Ms Fielding. If you want something that will warm your heart and fill you with fuzzy, lovey dovey feelings, you need to read this book.
View all my reviews
Ab

out the author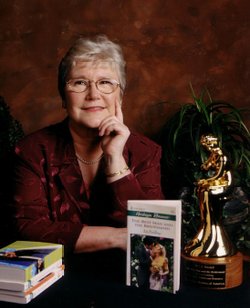 Liz Fielding:
Website
-
Facebook
-
Twitter
-
Goodreads
Find Deanna around SOCIAL MEDIA: