Rough & Tumble (The Haven Brotherhood #1)
by
Rhenna Morgan
Purchase link:
Amazon
My rating: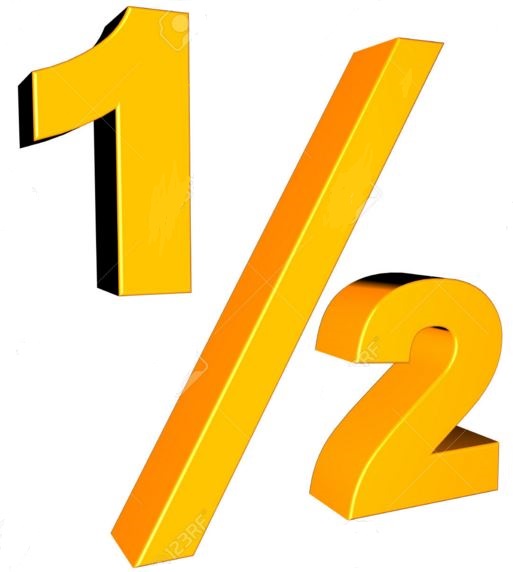 Heat rating: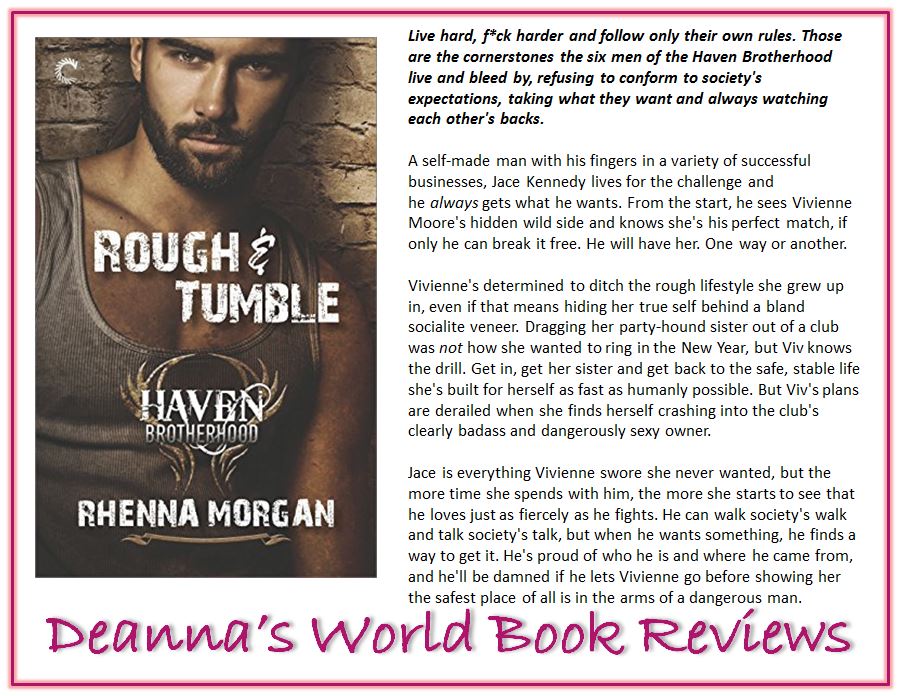 Rhenna Morgan is a very skilled writer and she has created a brotherhood of men you will fall head over heels in love with, especially if you love your men strong, protective and hot as heck. Rough and Tumble is an immensely emotional story which will keep your breath stuck in your throat as you savor the deliciousness that is Jace Kennedy.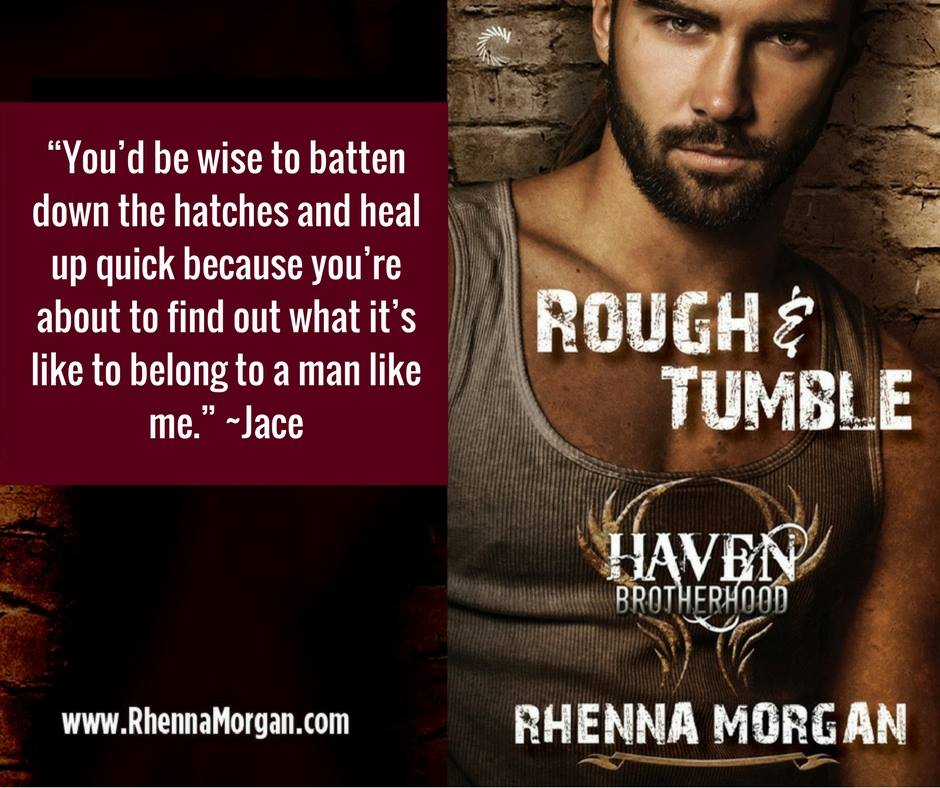 Let's start with Jace, shall we? Leader of the Haven Brotherhood. Tough, bold and lives by a set of rules that mean something to him and his brothers. Jace is totally bad ass and probably a bit too much of a caveman for a lot of women's taste but I love him. He is so unapologetic about who he is and so incredibly confident. There's a point in the story where you think he's in for a heap of trouble since he's done something rather naughty but nope. He's utterly unrepentant and undaunted by it.
"His mom was right. She got to choose what kind of man she wanted with her in this life, and while Jace might be a high-handed, presumptuous cave dweller, he also cared enough to have her back. "I'm in the car." "Good. Lock the doors and stay put until I get there." "How long?" "Ten tops. I'm halfway there already." Definitely a presumptuous, cave-dwelling type."
That's so sexy. And he is honest and direct. He tells it like it is and he means what he says. I adored his patience and the way he handled Viv, and carefully he worked on bringing down her barriers because he decided he wanted her. Even when things are tough, Jace does not hide behind platitudes and pretty words. His words are rough and raw but they mean everything. Be prepared to have your Kindle melt over Jace, ladies!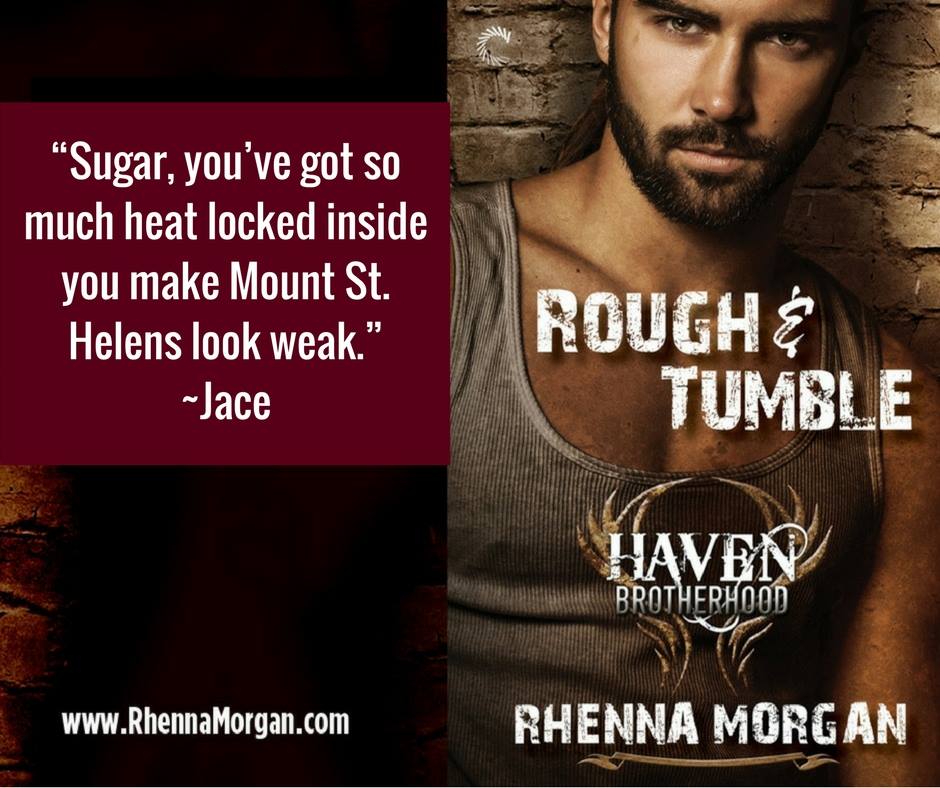 Viv took a while for me to warm up to. She was so twitchy and skittish right from the start and she hid so much of herself out of fear. She let her past dictate who she became as a women and how she behaved. I adored Jace for seeing through all the walls she put up and giving her the space and care to open up and be herself. It took Viv a long time to truly come to terms with who she was and feel safe enough to let that out but when she did and she stood up for what she believed in, it was a thing of beauty.
"You said I made you feel. Said I made you want to throw safe out the window. But here's the deal, sugar. You need an updated definition of what safe means. If it meant Emily Post and High Tea at four, then the road you were on might be the right one. But from my view, safe means knowing someone's got your back. That they think ahead and anticipate what you need before you even realize you need it. It means knowing someone else will put you first even when it might hurt the giver. Under that definition, you stick with me, you'll never be safer."
Aside from Jace and Viv, you will fall in love with all the other members of the Haven Brotherhood. I can't wait to read more about the other brothers. If Ms Morgan's writing of Rough and Tumble is any indication, we're in for a heck of a ride.
*teaser images courtesy of the author, Rhenna Morgan
View all my reviews
Ab

out the author




Rhenna Morgan:
Website
-
Facebook
-
Twitter
-
Goodreads
Find Deanna around SOCIAL MEDIA: