Plugging It In (Stimulated #1)
by
Lexxie Couper
Purchase link:
Amazon
My rating:
Heat rating: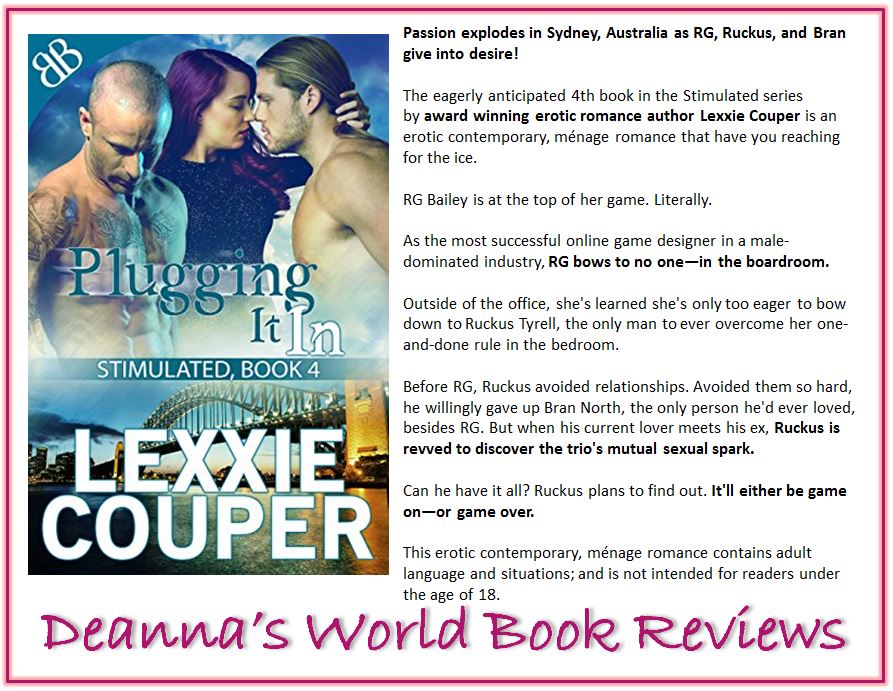 Plugging It In is raw, sexual and melt you Kindle hot but it is also a story of people who love and are afraid of it, and how they come together.
RG and Ruckus are a thing. Not quite a couple but RG hasn't kicked Ruckus out yet, except when he snores. :-) But as fiesty, confidence and fierce RG is, she's afraid of love and loving due to her past. The same goes for Ruckus and he has an ex in Bran to prove it.
As Ruckus forces RG to admit her feelings and Bran comes crashing back into Ruckus' life, emotions fly as high as their passions.
I have to admit, despite their flaws I like all three characters. RG for her confidence and her courage. Ruckus for his broody sexuality and raw strength, and Bran for his bravery.
Plugging It In is also classic Lexxie Couper. It's sexy and it's hot. If you don't want your senses to sizzle and your cheeks turning pink from blushing so hard at that these three get up to, you might want to give this a miss. This one will blow your mind or maybe just blow up your Kindle. :-)
View all my reviews
Ab

out the author



Lexxie Couper:
Website
-
Facebook
-
Twitter
-
Goodreads
Find Deanna around SOCIAL MEDIA: