Dr Bad Boy (Frisky Beavers #2)
by
Ainsley Booth and Sadie Haller
Purchase link:
Amazon
My rating:
Heat rating: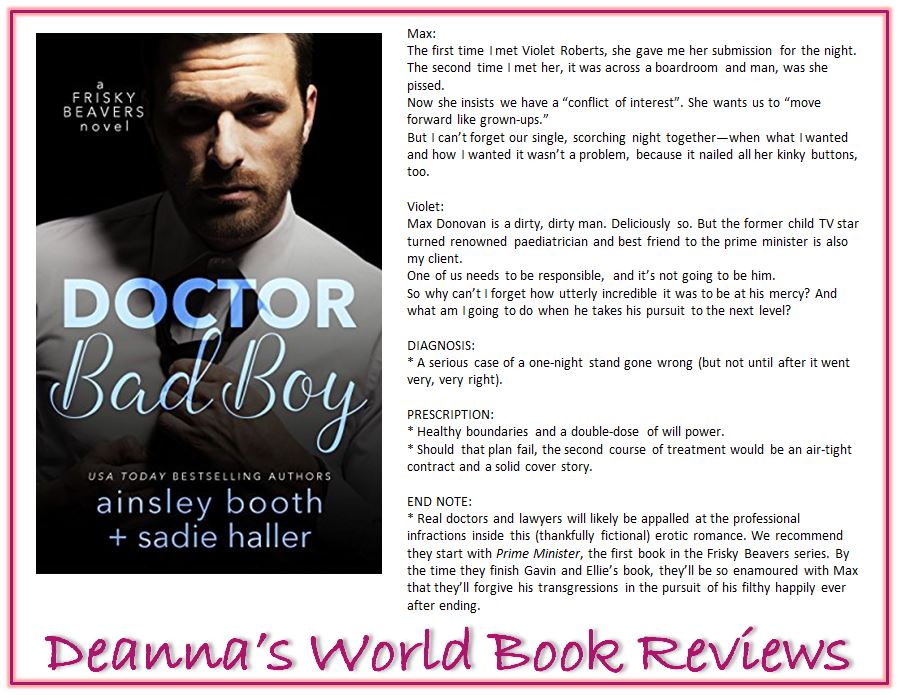 Ainsley Booth and Sadie Haller have done it again. They've brought us some serious kinky f*ckery this time with Max and Violet. This book is melt your Kindle HOT!!!
I've been excited about Max's book ever since I met him in Prime Minister and read a tease of his story at the end of that book. Ms Booth and Ms Haller do not disappoint. I loved Max. Max is all kinds of messed up from a rather unconventional childhood and he likes his relationships non-existent. Simple, straight-forward, paid for kink with no strings attached. Only that's not what he gets with Violet. Violet throws a whole different kind of curve ball into his life and he can't get her out of his mind after their one steamy encounter many months ago.
Violet was a difficult heroine for me to like. She starts off twitchy as all get out and puts a lot of conditions around her relationship with Max. I totally understand where she's coming from - she's afraid her relationship with Max will cause her to lose her job as it's a conflict of interest. I understand it. I don't have to like it. For the most part, aside from wanting to keep their relationship a secret, I mostly liked Violet. She's a great combination of career woman and submissive with a hint of sass. Both she and Max behaved like adults and communicated well. Unfortunately, though, something happens to Violet later in the story and it seems like with that event, her brains leaked out of her head. Again understandable given her circumstances, but she was all over the place and I felt she behaved poorly and treated Max very unfairly. Through it all, Max was a rock. I loved how he stood by her, tried to understand what was going on despite his own baggage and insisted on being an ongoing part of her life. It's a good thing Max was the strong one because I'm fairly certain given the opportunity, Violet would have bailed.
Some people might find some parts of this story a bit slow but I liked when the authors showed me everyday aspects of Max and Violet's lives. Just two people in a relationship doing what people in a relationship do. I enjoyed the everyday ordinary-ness of that aspect of their lives. It made me feel closer to them as people rather than simply being characters in a book I'm reading.
Also, this book needs to come with a serious heat warning. I knew going in that it was an erotic romance but holy hotness, Batman! I loved the way Ms Booth and Ms Haller handled the Dom/sub aspects of their relationship. There was enough of it to keep it kinky but not so much that it took over their lives and there where in a Dom/sub relationship 24x7. Even though there was a lot of sex, the sex scenes were all fresh and interesting. I certainly learned a thing or two!! But a warning, there's a lot of hanky spanky, kinky f*ckery going on. It might not be everyone's cup of tea.
Overall I enjoyed Max and Violet's story and once again, Ms Booth and Ms Haller have me excited about the next book, The Full Mountie which will be Lachlan's book. The little tease at the end of Dr Bad Boy was super hot and I've already pre-ordered the book.
View all my reviews
Ab

out the author




Ainsley Booth / Zoe York:
Website
-
Facebook
-
Twitter
-
Goodreads
Sadie Haller:
Website
-
Facebook
-
Twitter
-
Goodreads
Find Deanna around SOCIAL MEDIA: