Hooked (Viking Bastards MC #1)
by
Christina Phillips
Purchase link:
Amazon
My rating:
Heat rating: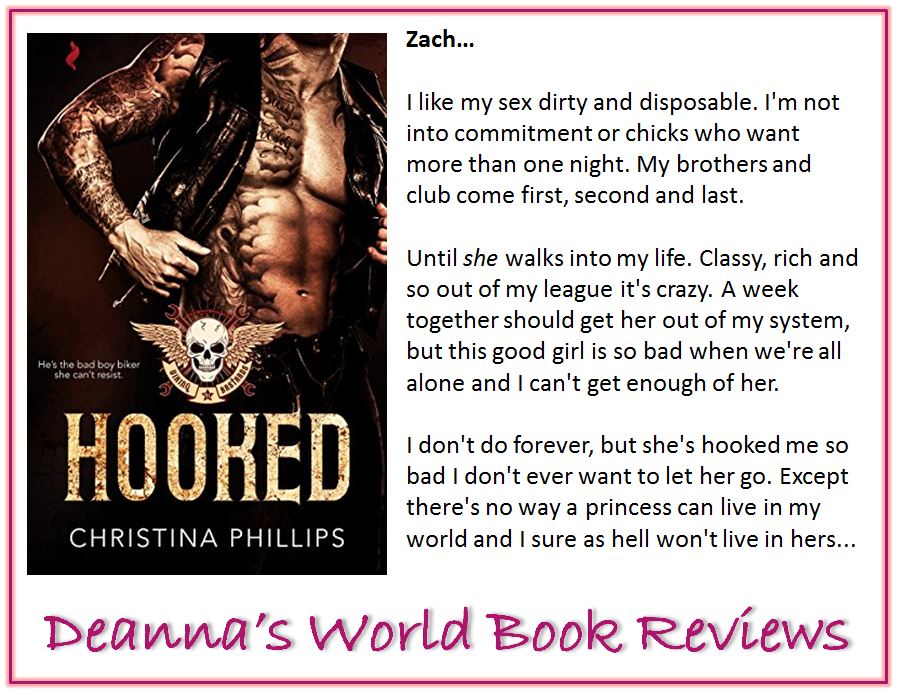 Hooked is a sizzling hot addition to my reading repertoire where tough MC club member meets society girl, they burn up the sheets together and a tough guy discovered love and tenderness.
As tough as Zach is, I loved him. I loved his confidence, his edge and his toughness. I loved the slight sense of menace that surrounded him based on how others responded to him, but he never once crossed the line into anything illegal or criminal even though some of this actions in the past could have been questionable. For a tough guy of few words, who can make men cower with a look, I loved the tender side of him as he interacts with Grace. It's also a side to himself that he discovers as he gets to know Grace which also surprises him but that's okay so long as none of his MC brothers see that side of him. Even when he's been a total idiot and needs to grovel to get back into Grace's good graces (pardon the pun) he does with it with such panache. I loved his internal dialogue of tough guy vs guy in love. Zach might come across as a bad boy but in reality he's a tough guy with a tender heart and that's exactly the kind of hero I fall for.
Grace is exactly as her name suggests. She is grace itself. She's kind, understanding, genteel and tough in her own way. She brings light, fun and laughter into Zach's life and he brings adventure and spice into hers. For a rich girl from the other side of the tracks, Grace is down-to-earth and very likable.
I loved the way Ms Phillips brought Zach and Grace together and kept them together. Right through the story I kept wondering how they would work as a couple since they were world apart but Ms Phillips made it work. As to how, you'll have to read the story to find out for yourself. :-)
I also enjoyed the glimpse into an MC club. This is the first MC club story I've ever read so I enjoyed learning some of the terminology and the way an MC club works. I would have liked to see more of the inner workings of the club.
I thoroughly enjoyed Hooked and I'm looking forward to the next Viking Bastard. I wonder who it's going to be?
View all my reviews
Ab

out the author




Christina Phillips:
Website
|
Facebook
|
Twitter
|
Goodreads
|
Newsletter
Find Deanna around SOCIAL MEDIA: