Changing His Game (Gamers #1)
by
Megan Erickson
Purchase link:
Amazon
My rating:
Heat rating: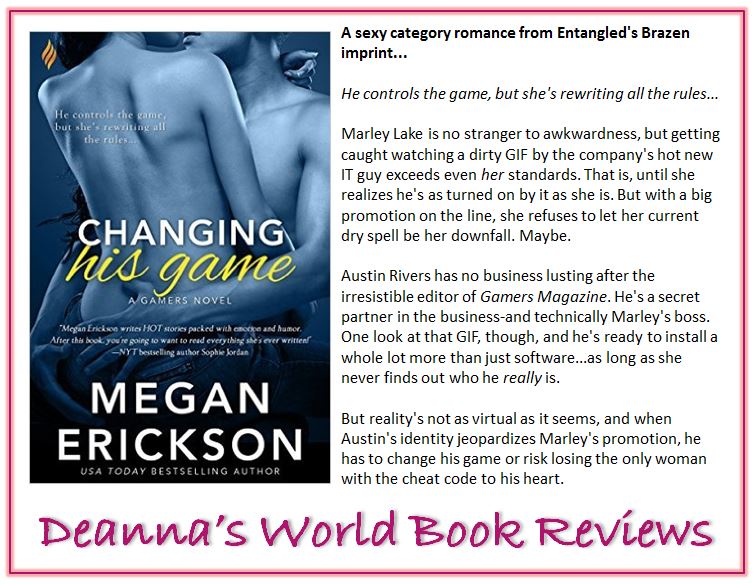 I'm a huge nerd, geek, whatever .... shhh ... don't tell my Steve. He's always telling me that and I'm always denying it. :-) So when I saw what this story was about, which looked like all sorts of geekiness, I definitely had to read it even if it did have one of my least favorite tropes, the mistaken identity.
Let's start with Austin shall we? OMG! How incredibly sexy is he? That voice, the control ... gorgeous! Then we have all his trust issues, and it makes him a little less perfect and a little more approachable. I get how hard it is to trust when you've been hurt the way Austin has been hurt and I think it made me a lot more forgiving of his lies of omission. I understood how afraid he was of being hurt again, being taken advantage of again and how it drove him to keep his silence. I also knew when it would all come crashing down around him when Marley found out who he was. Ouch! That part is always hard for me to read and it tends to make me slow down my reading. I had to forcibly make myself keep reading to get past it. It's one of the conflicts I dislike the most in a story. It's the deception. It's a pet peeve of mine and I have a hard time getting past it, but I loved Austin so much and really enjoyed Marley, so I soldiered on. I'm glad I did.
Marley was super fun. She's smart, ambitious and in control all the time with a very demanding job. She also likes to give that control away to someone who will take care of her. In that, she reminds me a lot of my friend Bambi. At the end of the day, after many hours of being high powered, in charge, aggressive and kick ass, you just want someone else to lead. You want to be able to give up the control and just enjoy, feel, be ... I totally get that. Marley finds that with Austin but it's also taken away when she finds out about his lies. Poor Marley. I felt for her when she found out who Marley was. And you always find out at the worse possible time, in the worse possibly situation, don't you?
All in all, I'm glad we got to the happy ending. This was a sexy, sexy story with plenty of nerdy geekiness thrown in. It made my geeky heart glad.
View all my reviews
The other book in the series:
About the author
Megan Erickson:
Website
-
Facebook
-
Twitter
-
Goodreads
Find Deanna around SOCIAL MEDIA: