Bound To The Bounty Hunter
by
Hayson Manning
Purchase link:
Amazon
Helen's rating:
Heat rating: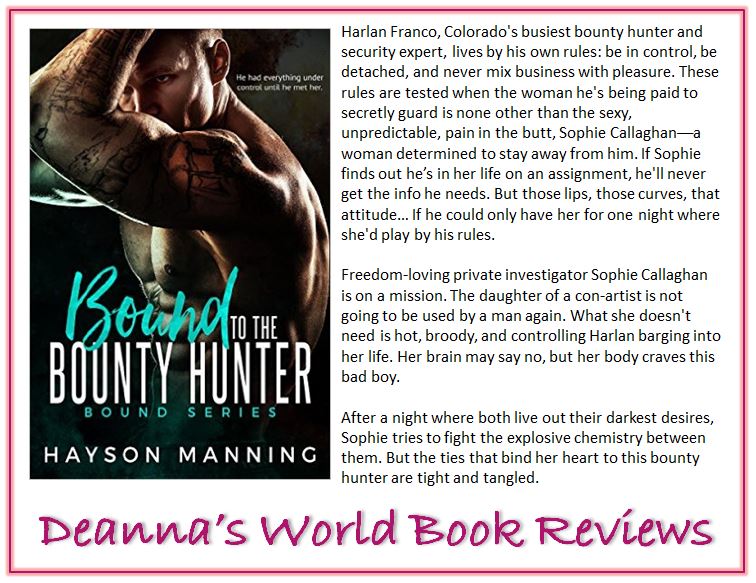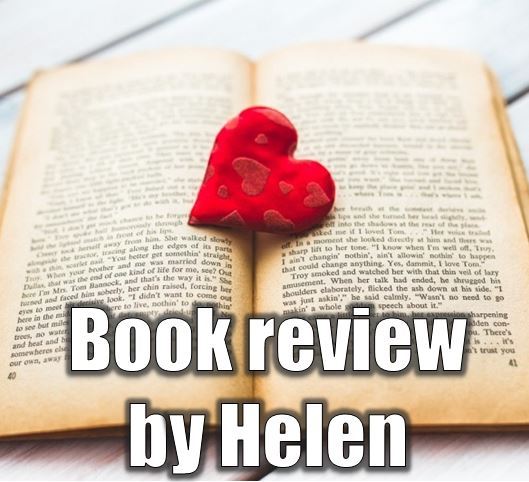 This is a story that will bring out so many emotions as you turn the pages. You will be laughing out loud, shedding some tears and sighing throughout this steamy, hot, fantastic story, as we get to know Sophie and Harlan on their journey to a HEA that is filled with so much pleasure and angst and danger. Grab a drink, sit back and enjoy!
Harlan Franco is a hotshot bounty hunter and security expert in Colorado. He is gorgeous and knows what he is doing but he also really likes to take control. When he takes on a job to keep Sophie Callaghan safe and find out the truth about her, he goes in blazing but he and Sophie have a bit of a past that has left him feeling a bit guilty. For Harlan, there is also this spark, this pull towards her but work is work and he must keep his mind on the job.
Sophie Callaghan is a tough PI in Colorado. She takes jobs to keep her going. She is such a caring person. She loves her dog that has a very good trick that can clear a room but underneath Sophie is vulnerable after the childhood she had growing up. She owes a lot of people thanks to her father and Sophie is determined to pay them all back. She is a loner and picks up bail jumpers when she can but she is also working on a personal case at the moment. The personal case is what has taken her to the sex club, Hostage in town and where she runs into Harlan Franco again, the man that she has a past with and is not keen on at all.
This is a fabulous story. Ms Manning writes stories that are witty, sexy and so full of amazing characters that come to life on the pages. The dialogue between Sophie and Harlan is incredible. This story is fast paced and one I couldn't put down. I fell in love with Harlan even though I could have smacked him at times with the way he wanted to be in control. Sophie was so strong and caring such a beautiful person. She aims to help wherever she can and to see her open up to the friends she finally makes is so moving. Both Harlan and Sophie have things from their past that they want to keep that way but the strength and love that is growing between them makes them finally open up. Yes, their journey is an up and down one but one that will keep you up late and thoroughly enjoying.
I highly recommend this story there are so many fantastic characters that add to the journey and I can't wait to read their stories. There are twists and yes, the sex is amazing and so beautiful. A hero with piercings is a first for me but the love that shows through what both Harlan and Sophie go through will really make you smile. This is one for the keeper shelf. It was a joy to read and ticked all of the correct boxes for a fabulous romance.
View all my reviews



About the author


Hayson Manning:
Website
|
Facebook
|
Twitter
|
Goodreads
About the reviewer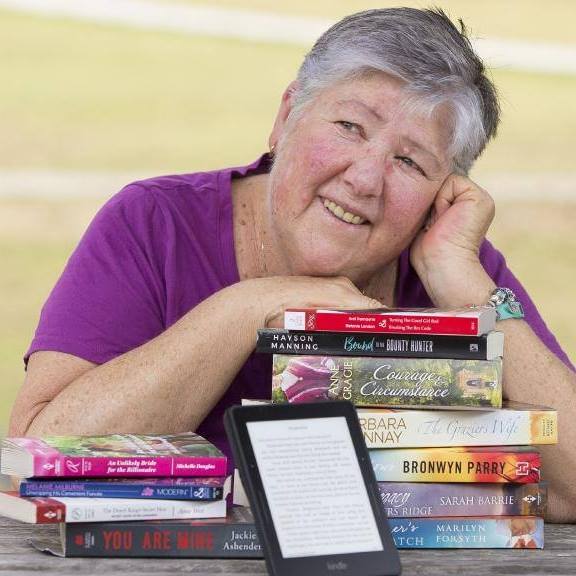 Helen Sibbritt:
Facebook
-
Goodreads
Find Deanna around SOCIAL MEDIA: