Rock Wedding (Rock Kiss #4)
by
Nalini Singh
Purchase link:
Amazon
My rating:
Heat rating: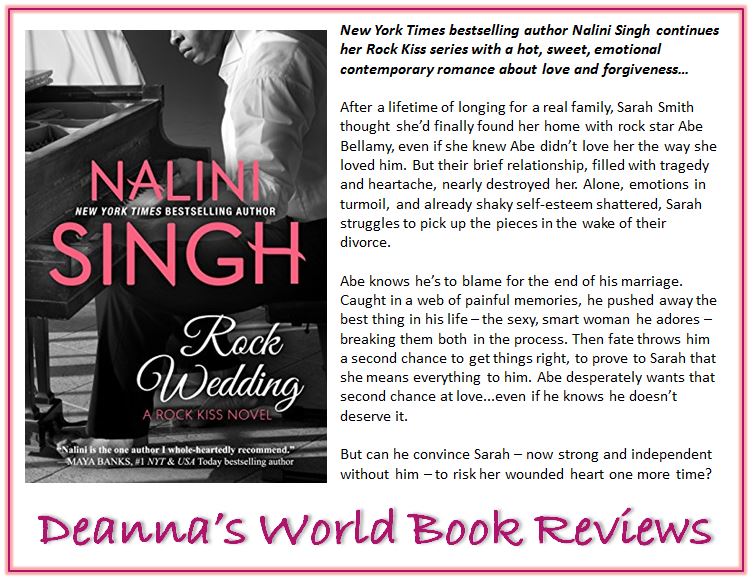 Rock Wedding is raw, painful, emotional. It cuts into your heart and makes you bleed. You feel every bit of Sarah's pain and Abe's remorse. Rock Wedding is also a journey. You travel through Sarah and Abe's reunion, Sarah learning to trust again, and Abe redeeming himself in her eyes and in her heart to win back that trust.
While Rock Wedding is predominantly about Sarah and Abe, which I will get into shortly, it is also a visit with old friends and members from the band from previous books. We get to see Fox and Molly blissfully happy and celebrate their wedding with them. Similarly for David and Thea, as well as Noah and Kit. This story is all about happy endings and celebrating the joy and love between all these couples. It's unapologetically mushy but I love it.
Rock Wedding is the most difficult book of Nalini Singh's I've ever read. My heart shattered in the opening chapters over the way Sarah was treated. It was harsh and painful and it left a gaping wound in my heart. I honestly didn't know if I could continue reading because Sarah's pain was so raw and Abe was so brutal with his words. There was a point early on in the book where I thought I could not finish it because I could not bear the pain Sarah had suffered. But then Abe showed up and piece by piece, as he rebuilt his relationship with Sarah, his perseverance and his determination gave me hope. Plus this is a romance, so knowing there would be a happy ending gave me the courage to carry on. Yes, I know, I sound like to total wuss. :-/
Nalini is likely the only author I know who writes broken, damaged heroines but writes them with such skill that I'm cheering for them every step of the way because let's face it, Sarah was very broken and damaged but man, was she strong. She rebuilt her life on her own from the foundation of her divorce from Abe and she made a success of her life. While she continued to remain emotionally fragile and plagued with fears, I knew they were justified and I did not get annoyed with her for holding on to them for as long as she did. Instead, I considered her brave for opening her life and her heart to Abe again, despite what she went through in the past. She was willing to give him a chance to prove himself while still having reservations and allowing some of her fears hold her back. She needed Abe to prove himself to her and that was exactly what he did, though it was not an easy journey. Fortunately, along the way, there was the rest of the Schoolboy Choir gang along with their ladies to provide encouragement and support.
Abe was a very difficult hero for me. I had an even harder time forgiving him of his actions than I did Noah from Rock Redemption and believe me, Noah did some pretty awful things. Abe has demons. His demons howl loud and long and chase him from a rich fulfilling life into one of excess, addiction and self-destruction. Along the way, it also destroyed the most important relationship in his life to the one woman he can't live without. Abe has a lot of making up to do. He has to prove himself to Sarah and it's hard work to rebuild a trust that was shattered as unequivocally as he did Sarah's. But Abe manages to come through for Sarah with sincerity and determination. As I read, I waited with baited breath for Abe to backslide and it was a rather nail biting journey for me to see how he did. But each time Sarah faltered, and he said "I've got you" with such strength and devotion, my heart melted for him. I wanted him to conquer his demons. I wanted him to be a better man for Sarah. And I most definitely wanted him to be able to prove himself to her and win her back.
Like I said, Abe and Sarah's story is a journey. It's the journey of how two people find each other again, believe and trust each other again, after a world of hurt and misunderstanding separated them. It's life. And as I read it, I realised Nalini managed to weave a story which showed us the ups and downs of life as Abe and Sarah reconciled. There were emotional moments and intense moments, but mostly, Nalini showed us with great skill what life was like in it's everyday ordinariness and yet managed to make it engaging and believable. Of course, the whole rock star lifestyle is a little outside of my realm of understanding, and that's where the craziness and extraordinariness comes in, but overall, I felt like this story was great because it was a reflection of life.
Well done, Nalini. You have another winner with Rock Wedding. I can't wait to read about Gabe's brothers in your next series.
View all my reviews
Other books in the series:
Ab

out the author




Nalini Singh:
Email
-
Website
-
Twitter
-
Facebook
-
Goodreads
Find Deanna around SOCIAL MEDIA: