Dangerously Red (Dark and Dirty #3)
by
Kristin Miller
Purchase link:
Amazon
My rating:
Heat rating: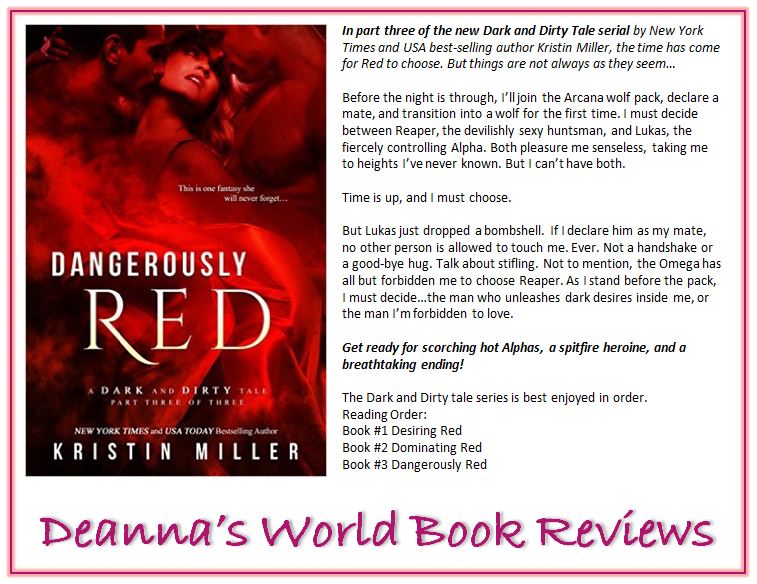 This is the last installment of the Dark and Dirty serial series by Kristin Miller. It's been one heck of a sexy ride. I've been looking forward to the conclusion of this serial to see who Ivy will pick for her mate.
It's a time of reckoning Reaper and Lukas clash over Ivy but we are reminded by the Omega that it is the woman who always chooses.
At the start of this part, Ivy is still stuck between a rock and hard place, or should I say between one sexy shifter Alpha and another?
As Ivy makes her decision for who she will choose as her mate, her heart does battle with her head between who she is instinctively drawn towards and who her head and the Omega tells her she needs to choose.
On the one hand, she is drawn to Reaper who is sexy and passionate, who makes her feel cherished and protected. On the other, there's Lukas who is demanding, dominating and controlling, who is able to take total control of her body and her responses.
While the time draws near for her to stand in front of the entire pack to make her decision, Ivy is still torn and as I read both how she feels and how Reaper feels from both their points of view, my heart aches for them and the impossible situation they find themselves in.
Ivy's decision surprises everyone and sets off a chain of events that is wholly unexpected.
I truly enjoyed the way Ivy's decision was revealed and all that transpired after. Ms Miller does a fantastic job of wrapping up the entire story in a very satisfying manner. And we also finally get to see the Omega in her true colors. Awesome!
No more cliffhangers. This is the end. I look forward to discovering what else Ms Miller might write. She's definitely won me over as a fan.
View all my reviews
Other books in the series:
Ab

out the author




Kristin Miller:
Website
|
Facebook
|
Twitter
|
Goodreads
Find Deanna around SOCIAL MEDIA: