Match Made (Love and Play #2)
by
Amelie S Duncan
Purchase link:
Amazon
My rating:
Heat rating: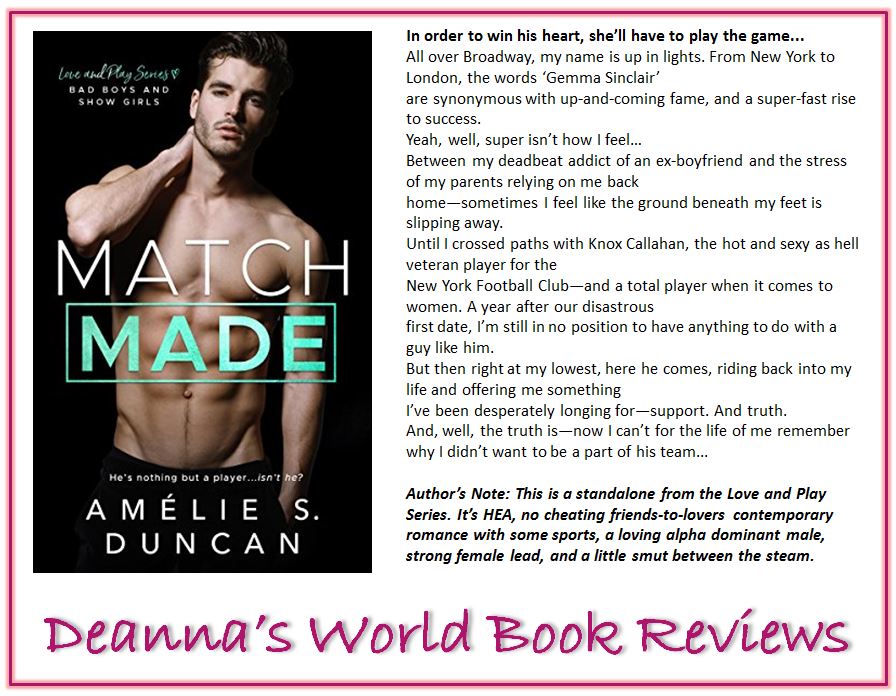 Amelie S Duncan has written another fun, sexy romp through the soccer fields of New York City with mid-fielder Knox Callahan and actress Gemma Sinclair.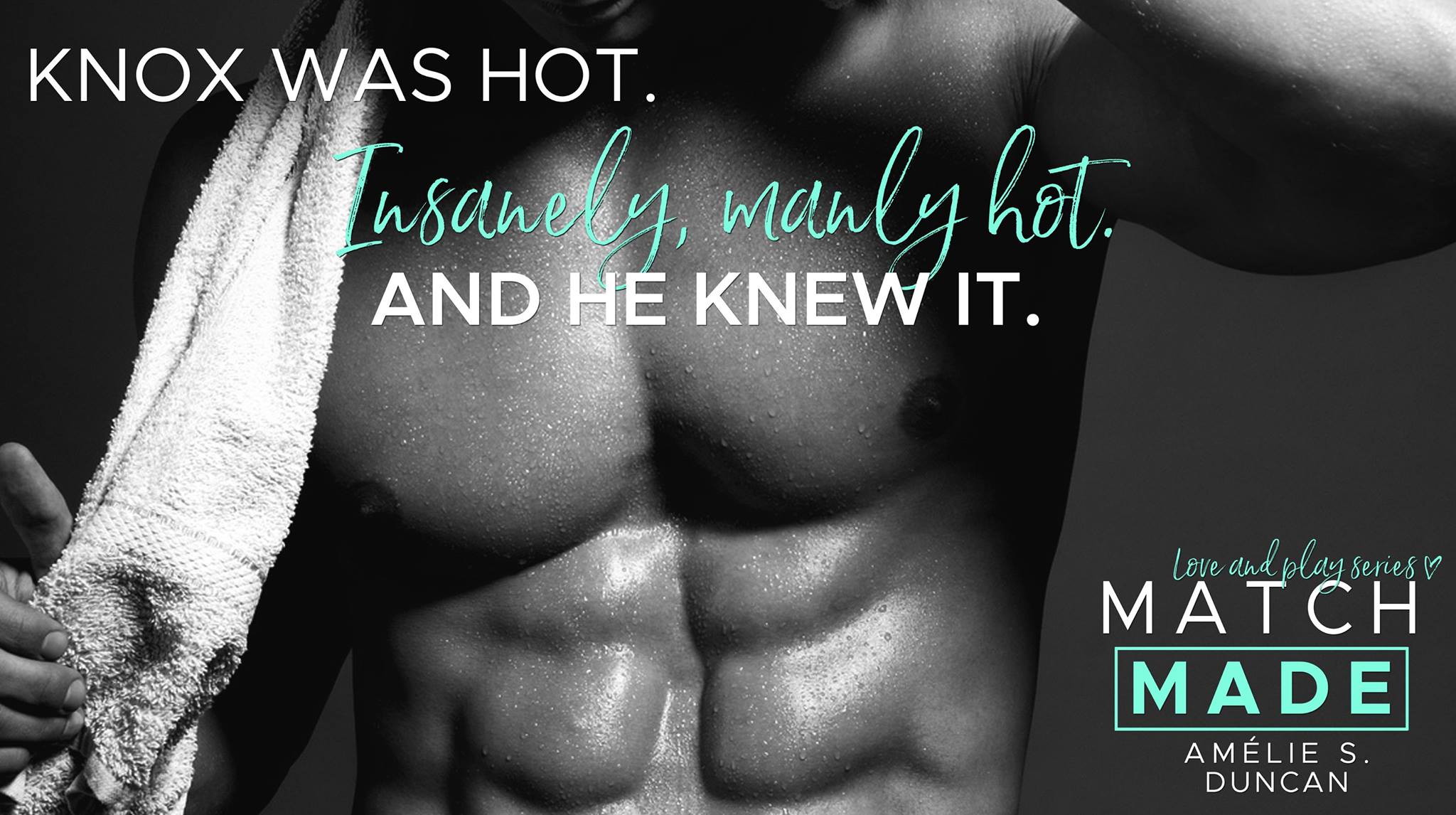 I met Knox in Match Fit as Dylan's friend and knew he was a player with a bad boy reputation and a tendency to love 'em and leave 'em. What I didn't know about him was he has a heart of gold, he's kind, generous and protective. He's also hard working and cares about his team mates like they are family. I loved the way Ms Duncan transformed bad boy Knox into someone I could fall in love with and someone that any girl would want to spend the rest of her life with.
As for Gemma, I also met her in Match Fit and I did not like her there at all. I remembered her as a shallow, good time girl who was also a lot of a drama queen. I did not like her antics at all. Again, kudos to Ms Duncan, but she managed to transform Gemma from an irresponsible troublemaker to some who is strong, caring, compassionate and independent with a stubborn streak a mile wide. I liked the way Ms Duncan portrayed and compared the old Gemma to the new Gemma - the person she wanted to be.
Ms Duncan did a fantastic job in the way she brought Knox and Gemma together, and them being together made each other better people. That's the kind of thing you want in a relationship between two people. To be able to believe that they complete each other and make each other better.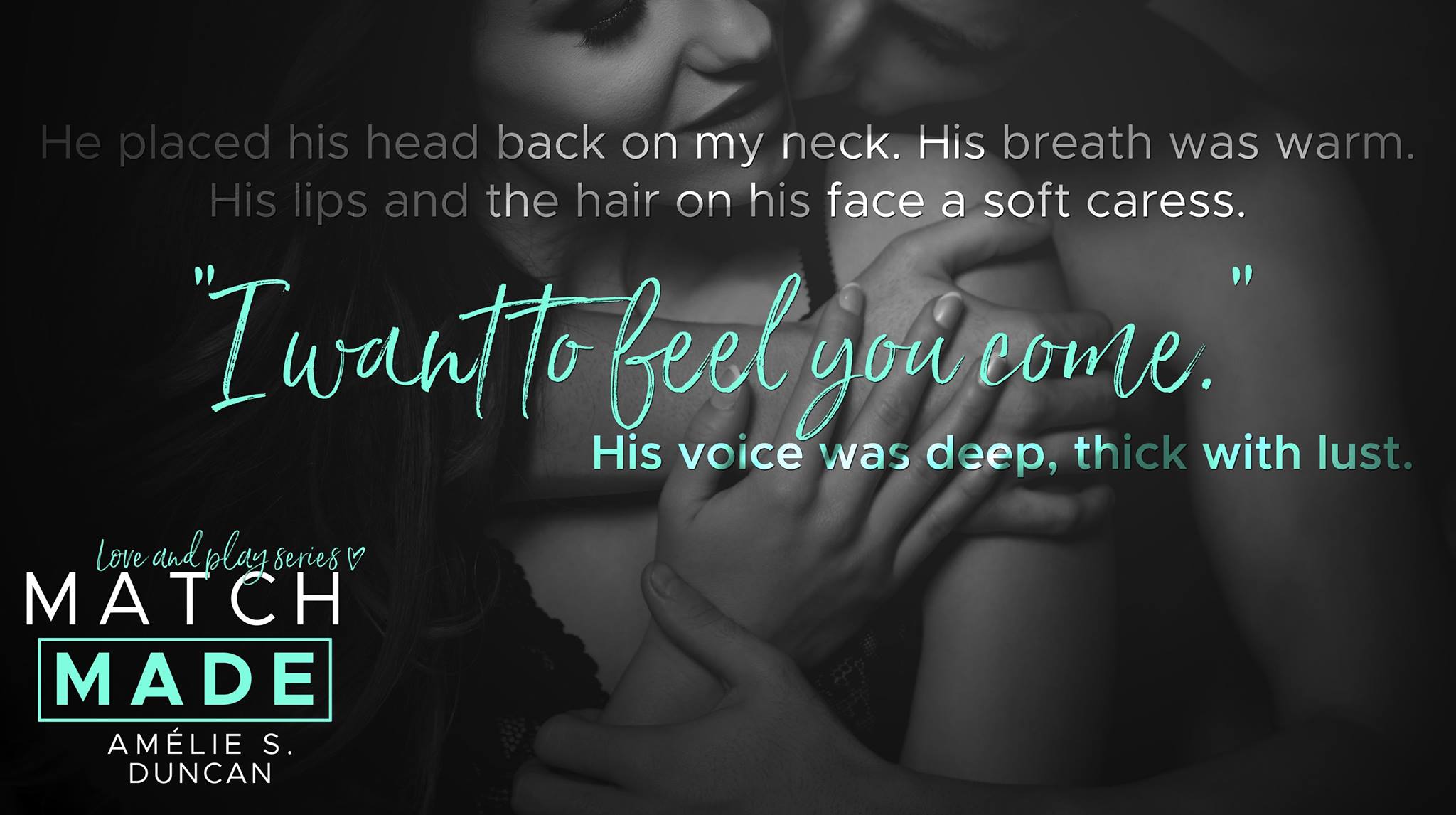 I was a little disappointed in the way Gemma handled a difficult situation between herself and Knox without even trying, and it broke my heart to see Knox so hurt. Her stubbornness got in the way of her happiness, of both their happiness but I'm glad they sorted it out in the end. This is a romance after all and I need my happy ending. I'm glad Ms Duncan didn't disappoint.
I've thoroughly enjoyed Match Fit and now Match Made. I hope there's a story for Tyler because I think that's going to be interesting since he seems to have the ability to really put his foot into things at the wrong time and I'd like to see how Ms Duncan deals with him digging himself out of it.
* teasers courtesy of Amelie S Duncan
View all my reviews
About the author
Author Links:
Website
|
Facebook
|
Twitter
|
Goodreads
Find Deanna around SOCIAL MEDIA: