Outback Wild (A Wild Irish Kindle Worlds Novella)
by
Lexxie Couper
Purchase link:
Amazon
My rating:
Heat rating: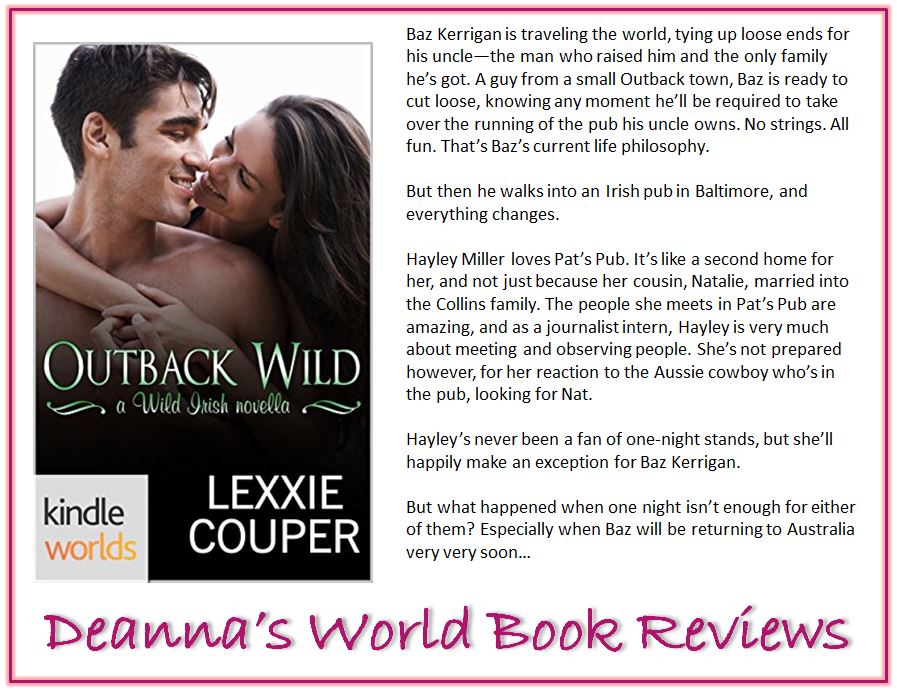 No one does fun, sexy and fair dinkum Aussie quite like Lexxie Couper. Especially when the hero says things like this:
"Crikey, love, you're a beaut lookin' sheila. Reckon you'd go off like a frog in a sock in the sack as well."
I had so much fun with Outback Wild. It was a short, fun, and sexy read. And classic Lexxie Couper.
I enjoyed the carefree and light-hearted way Ms Couper handled Baz and Hayley's relationship. Something that started as a one-night stand which evolved into something deeper and more meaningful.
Personally, I've never been bold enough for one-night stands but Hayley's joie de vivre and her confidence in herself and her attraction to Baz is really something to admire. I also loved when she saw through Baz and called him on his crap for distancing himself from people and meaningful relationships.
Baz is a very lovable rascal and I adored every single Aussie-ism that came out of his mouth. I loved how unapologetically Australian Ms Couper made him even the moments when he made himself sound like a total bogan.
This story has also made me think I'd like to read Mari Carr's Wild Irish series and the other spin-off stories that are being published by other authors written in the Wild Irish world. As a side note, I loved how protective Ewan was of Natalie in Outback Wild so I'm interested in reading their story too. Don't you love it when you read one book and that book opens up a whole host of other books for you to love and enjoy? Thank you, Ms Couper.
View all my reviews
Ab

out the author




Lexxie Couper:
Website
-
Facebook
-
Twitter
-
Goodreads
Find Deanna around SOCIAL MEDIA: