Alien Mate
by
Cara Bristol
Purchase link:
Amazon
My rating:
Heat rating: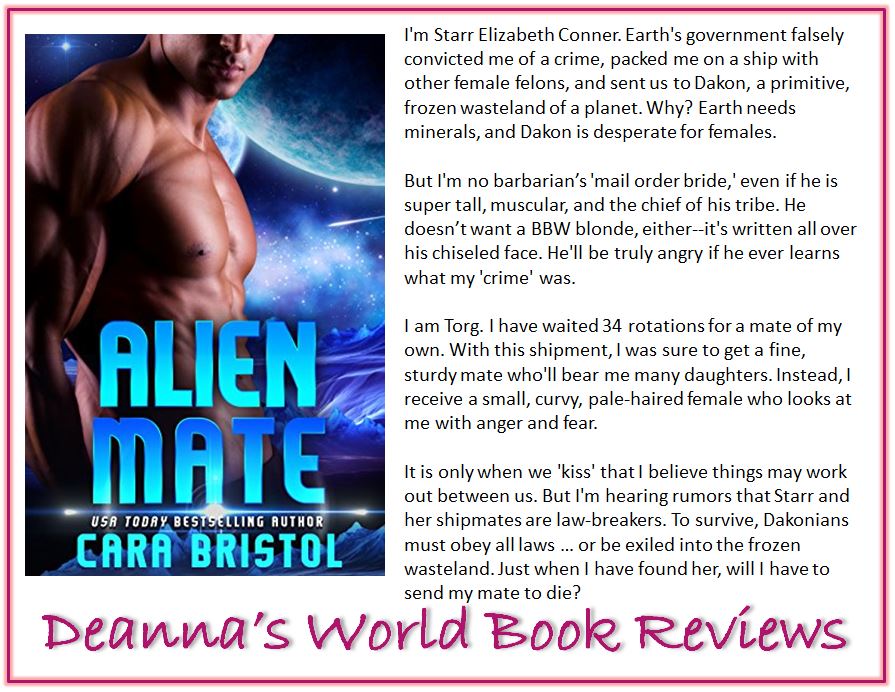 Cara Bristol delivers the alien mail order bride trope with fun, culture shocks, horned aliens, murderers and mayhem. This story is alien culture shock at it's most fun.
I have to admit I started this book with no expectations whatsoever. I had never read an alien mate story before and it didn't even occur to me these Terran women were sci-fi alien mail order brides until I got a ways into the book. What fun! That said, knowing what I did of Starr's past I was concerned that what she would say and to to survive was a concern for me but I need not have worried. Ms Bristol handled it with her usual dexterity and it was a rollicking fun ride.
I liked Torg right away. He was a huge, hunky alien with horns who was proportionate *everywhere* ... if you catch my drift - *wink wink, nudge nudge*.
"They are humanoid, genetically compatible with us, but they're taller, much more muscular, and bigger." She held her hands about a meter apart. "Are you talking about their penises or their bodies in general?" Tessa asked. Shit, I hoped Andrea was referring to their bodies. I eyed the span between her palms. Andrea rolled her eyes. "Their bodies in general. I did not research their junk."
He was also kind, passionate and honorable, and a good leader of his people. He treated Starr with care and tenderness, being mindful of how different things were for her and attentive to her needs. Where it mattered, he also fought for what he believed in and the leadership of his tribe with strength and integrity.
Starr was sweet and likable too. She took to her new life and a fresh start with a little trepidation to begin with but quickly adjusted to her new life. Having a sexy alien treat her like a princess probably didn't hurt either. They were not so different and yet different in so many ways. I liked what Ms Bristol did in terms of them getting to know each other, working through their differences and then coming together as a couple.
Dakon is not an advanced planet and that was something I liked. They did not travel to another planet where things were cushy and they had all the modern and technological advances known to man. In fact, it was quite the opposite and quite an adjustment for Starr and the other females who went to Dakon with them. I particularly enjoyed the role Starr and another female played in working for a better world and deal with Terra One World for the Dakonians so that they did not get taken advantage of due to their naiveté. It was wonderful how Starr thought beyond herself to the people of Dakon and how she could make things better for them. In her own way, she was as kind, passionate and honorable as Torg. They are well matched.
I know this is a one-off standalone story but there's potential for it to become a series. I wouldn't mind more alien mail order bride stories and particularly one for Darq, Torg's brother.
View all my reviews
Ab

out the author




Cara Bristol:
Website
-
Facebook
-
Twitter
-
Goodreads
-
Newsletter
Find Deanna around SOCIAL MEDIA: