Rescued By The Space Pirate (Ruby Robbins' Sexy Space Odyssey #1)
by
Nina Croft
Purchase link:
Amazon
My rating: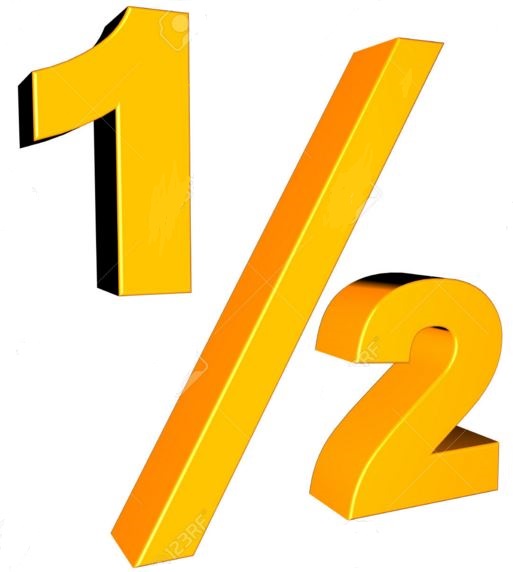 Heat rating: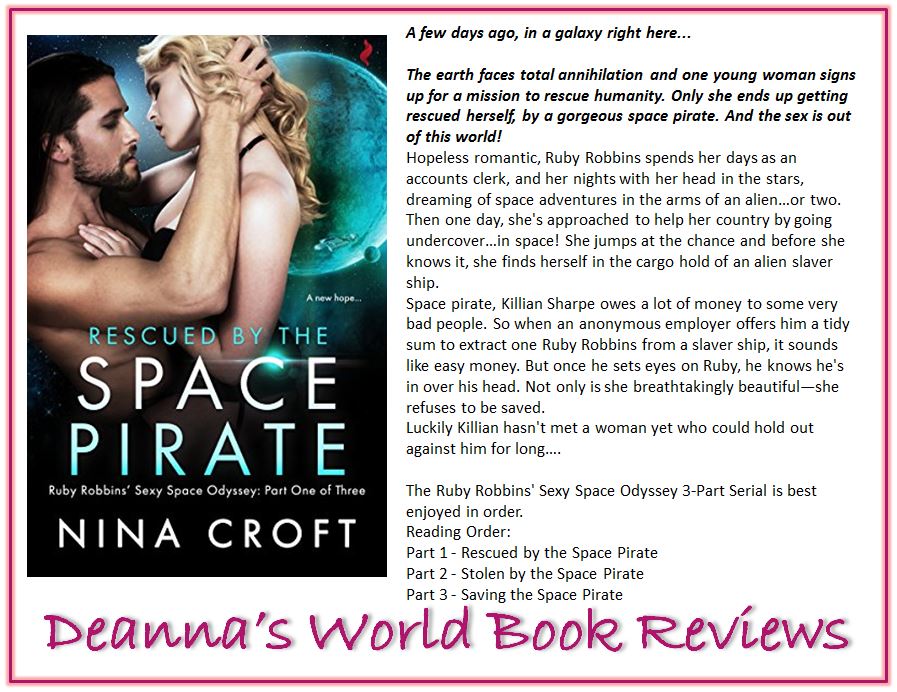 Rescued by the Space Pirate is a fun, sexy space adventure where human Ruby gets "kidnapped" by alien sex slavers and gets "rescued" by Killian, a human space pirate. Sexy shenanigans ensue, including a rather odd turn of events when it comes to Ruby and her desire to be rescued.
First off, this is a serial. It's a short 70 page read and is part one of three. If you're not a fan of serials, do not worry, these are being released in close succession so you can wait till they are all released and read them together.
With this first installment being so short, it's really hard to get a read on the main characters but I'll try. There's, of course, Killian, our human space pirate. Kiliian is not classically handsome but he's compelling. Ms Croft has been very creative and instead of giving him a eye patch like the pirates of old she's given him a mechanical eye. Just as interesting and much more in-keeping with with the space them. Killian likes to come across as a hardass but in reality, he's a good guy with a kind heart. And horny, let's not forget that he's horny as heck. :-p I liked that while being hugely turned on by Ruby, he's also kind enough to look after her needs first after rescuing her from weeks of mistreatment in the hands of the sex slavers.
Add to Killian, Zak. An alien. From the planet Groth. He's huge and he's blue. Personally, I prefer my heroes to be more flesh toned but Zak is a fun sort of fellow. And horny. Zak's also horny. And if at all possible, he's hornier than Killian. :-D He adds a lot of zing into a sexy menage scene.
And of course, last but not least, we have Ruby, who is on a mission after being kidnapped by sex slavers ... sort of. Ruby is somewhat idealistic but also looking for adventure. She's certainly found it with being kidnapped and then rescued by Killian and Zak. I also found Ruby to be a bit silly at points, which made me think the story was silly, but fortunately, that passed quickly and she came round.
This is a fun, sexy story and maybe a little bit silly. Whatever you do, don't try to take it seriously. It's a satisfying read for a short 70 pages and doesn't end with much of a cliffhanger but things are happening, and Killian and Zak are off to rescue Ruby again. You'll need to read this to find out why she needs rescuing a second time. :-)
Now, I'm off to read the second part. :-)
View all my reviews
Ab

out the author




Nina Croft:
Website
-
Facebook
-
Twitter
-
Goodreads
Find Deanna around SOCIAL MEDIA: