Head of Household
by
Lily Harlem
Purchase link:
Amazon
My rating:
Heat rating: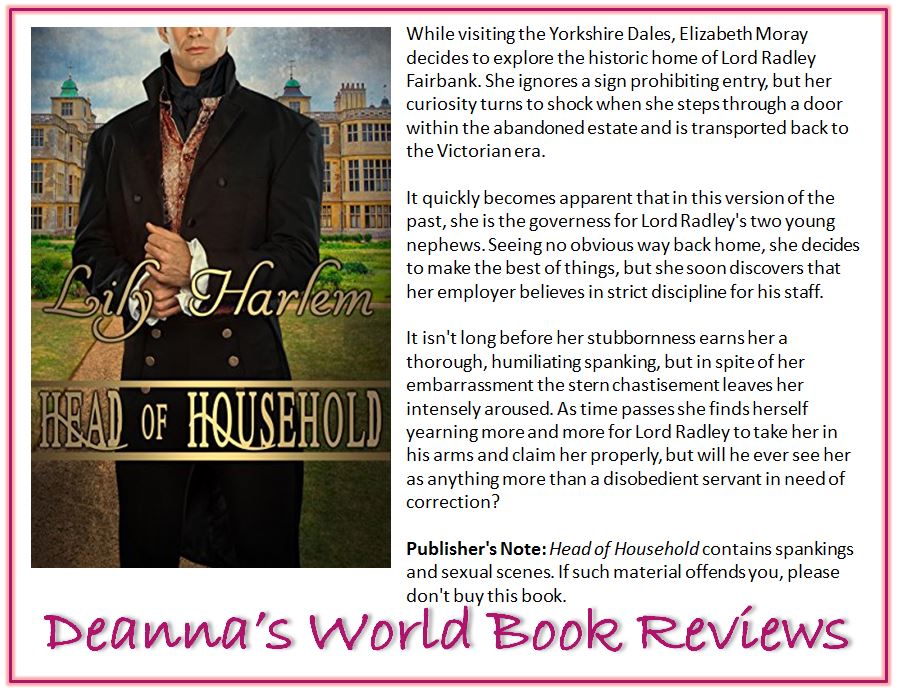 Lily Harlem brings us a fun, hanky, spanky story set in Victorian England which is full of heart and loaded with sexiness.
This story starts with Liz visiting the English countryside and going where she shouldn't only to find herself thrown back into Victorian England as a governess to two young boys in the household of Lord Fairbank.
I loved Liz. She is slightly kinky, not afraid to own her sexuality but also loving and caring. She also has a rather adventurous side to her since she manages to take the time travel all in stride and settles into a new life as governess. I loved too that she brought a sense of fun and laughter to an otherwise strict but caring household.
Lord Fairbank or Radley as he's known is a strict disciplinarian with rather kinky tastes for his time. He's never been able to find someone who accepted him entirely for who he is and is compatible with him, so he's always been rather aloof and lonely, even when he's a caring and generous employer and lord of the manor. I loved that Radley couldn't keep his spanky hands to himself where Liz is concerned and he found her irresistible.
While you'd think this story is filled with sexy, hanky spanky stuff (it is!), it's not just that. It's also filled with a lot of wonderful and endearing moments as Liz cares for and teaches the two young boys about maths, life and tadpoles. I also loved the moments when Radley unbent enough to show the boys a warmer, more caring side of himself, with the four of them bonding towards becoming a family. The boys were a wonderful touch to the story. Who can resist two cute 6 year old twin boys? And one of them has a teddy bear called Tiggy. So stinkin' adorable!
All in all, it was a quick, fun and sexy read.
View all my reviews
Ab

out the author






Lily Harlem:
Website – Blog – Twitter – Facebook – Facebook author page – Pinterest – Raw Talent – BritBabes – Hockey Romance – Newsletter subscription – Hot Ice – Google+
–
Harlem Dae – Goodreads
Find Deanna around SOCIAL MEDIA: