I'm delighted to have Jeffe join me on the bloggity today. Being a long time fantasy lover, I'm excited to discover Jeffe's work. I grew up reading fantasy the likes of David Eddings and Raymond E Feist and those were strictly high fantasy with little to no romance thrown in. I love discovering the fantasy sub-genre within romance because I love the added element of romance in the stories.

I can't wait to read what Jeffe has to say about the difference between fantasy and paranormal romance, since they both have similar elements. I want to know what distinguishes them.

Please give Jeffe a very warm welcome.
What makes fantasy romance different?


Hi, everyone! I'm delighted to be here on Deanna's World, celebrating the release of
The Shift of the Tide
, the newest book in my Fantasy Romance series, The Uncharted Realms. Deanna asked me to talk a little bit about what makes fantasy romance stand out as a sub-genre of its own and how it differs from Paranormal Romance.
This makes me think of a funny conversation I had with my husband, David, the other day. He's taken over doing a lot of marketing and other work like that for me – thank all the gods! – but he doesn't really know genres and subgenres a lot. Like he's forever putting Fantasy Romance books under Contemporary Romance on my Pinterest page and I'm all … just, no. And when I try to explain how truly Bad and Wrong and Terrible this is, he gets all bemused.
We romance readers are particular about our subgenres, right??
Anyway, he was making a new header for the website to show that my book,
The Pages of the Mind (Uncharted Realms #1
), won a RITA® Award. Which, yay!!! I'm still over the moon. But he asked me to approve the text – no doubt wary of another lecture about how Contemporary Romance is NOT THE SAME THING – and he'd put it as "Winner of the 2017 RITA® Award Paranomal Fantasy Romance."
The thing is, my award actually says "Paranormal Romance," because that's the RWA genre. Which is why the finalists in that RITA® category included Nocturne Paranormal Romances, Science Fiction Romance and Urban Fantasy.
I told him what he had was fine, because I do think it's important to distinguish Fantasy Romance (FR) from Paranormal Romance (PNR).
So, how do they differ?
What distinguishes FR from PNR is that, FR owes a great deal to epic or high fantasy – just with more romance. PNR arose solidly within romance, so the genre is essentially a love story with paranormal features – so with werewolves or vampires or magic users. But, while the world may be a magical one, the story is still primarily a romance. Conversely, FR follows an epic or high fantasy arc, with a Hero's Journey (usually belonging to the heroine!) where there's a quest and political ramifications. Sometimes we joke that it's like Game of Thrones, but with consensual sex.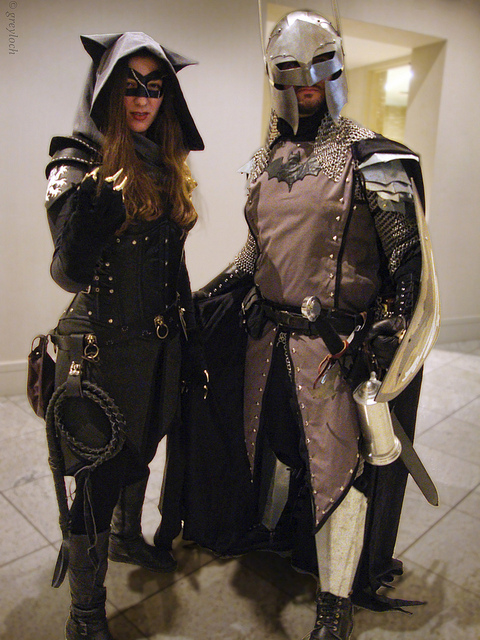 Photo credit:
greyloch
via
VisualHunt.com
/
CC BY-NC-ND
I recently wrote a blog article for the Science Fiction and Fantasy Writers of America (SFWA) on recommended FR reads, and I used this set of criteria to define the Fantasy Romance subgenre:
1. The story must take place in an entirely alternate world for the bulk of the story arc.
FR is differentiated from PNR in part by the extensive world-building. Though many PNR, Urban Fantasy (UF), or Contemporary Fantasy stories are similar to Fantasy Romance, they take place in a world that is ours but slightly different. To satisfy the fantasy portion of the genre, my choices had to be in created worlds.
2. The protagonists must have a calling, call to action, or travel something of the Hero's Journey.
Because the fantasy arc in general requires a Hero's Journey of some sort, or a mission or quest devoted to some sort of calling, I required the books I selected to have this as part of the story arc. Also, because this genre is female-centric, I greatly preferred if the heroine had a heroic arc to her story, as opposed to tagging along on the hero's quest. Some close candidates took place in an alternate world, but the heroic arc was lacking or assigned entirely to the hero. (I also looked at male/male and female/female candidates, in which case I looked for at least one to have a heroic arc.)
3. There must be a happily-ever-after (HEA) or a happy-for-now (HFN).
This satisfies the Romance genre requirement that the love affair resolves in an emotionally satisfying way. The protagonists don't have to necessarily ride off into the sunset, wedding rings in place and babies on the way, but they do have to be together with an optimistic hope that they'll stay together. This becomes more difficult to define with ongoing series. In those with the same protagonists, they will suffer ups and downs in their relationship. In those with different protagonists falling in love, there may not always be an HEA or HFN. I tried to account for both scenarios.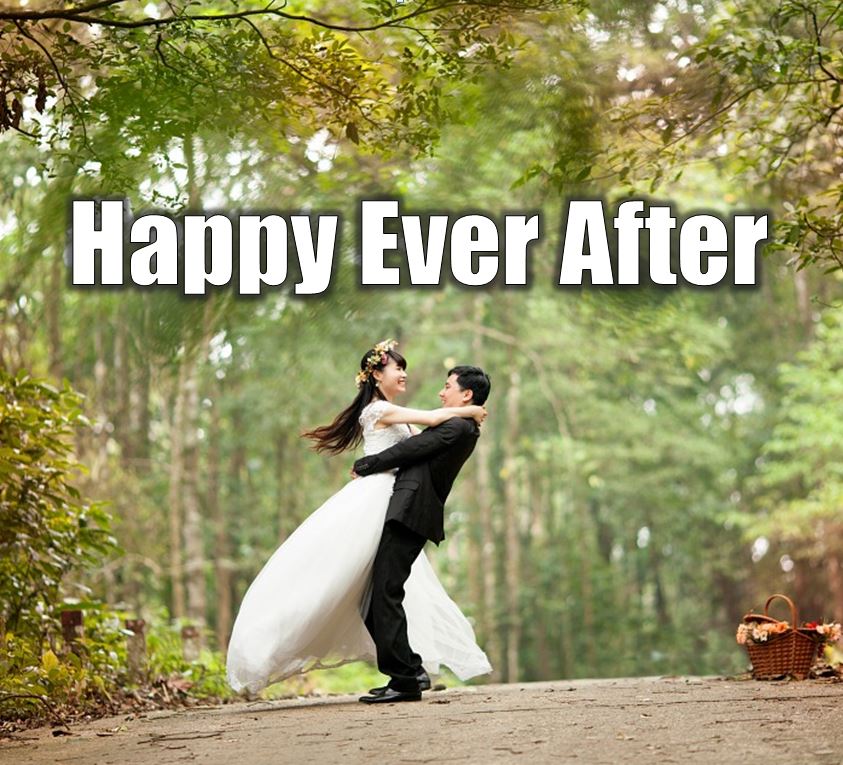 4. The romance arc must be a substantive part of the overall character transformation.
This often came down to a judgement call on my part, because the love affair occupies greater or lesser amounts of the story depending on the author, series, and often each book in a series. One key consideration was whether the romantic conflict extended throughout the story or ended early. If the couple resolved their difficulties and became harmoniously united too far ahead of the final conflict, it didn't feel like the romantic arc was as important as it should be for the genre. A fantasy book with a love story in it wasn't enough to qualify it as a Fantasy Romance.
5. There must be magic or … something.
In order to differentiate these stories from historical or alternate histories, particularly to draw a line between Fantasy Romance and Time-Travel or Historical Romance, the books had to include a strong magical, supernatural or paranormal element. It had to be present throughout the story and affect the plot to the extent that the story would collapse without that element present.
So, there's my analysis. What do you all think – what makes a book Fantasy Romance and not PNR?
I have a feeling I'm going to love Bren.
And now here's The Shift of the Tide.
The Shift of the Tide
The Uncharted Realms #3
By: Jeffe Kennedy
Releasing August 29, 2017
Brightlynx Publishng
Buy Links:
Amazon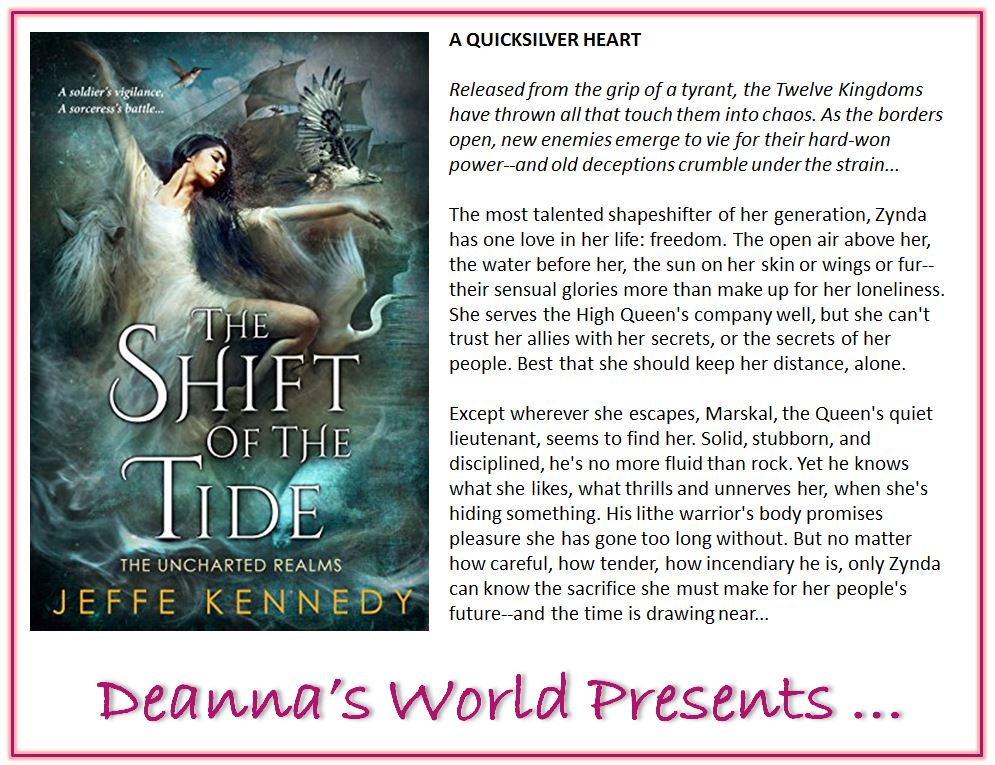 ---
Goodreads
|
Goodreads series
Other books in the series:
Author Info
Author Links:
Website
|
Facebook
|
Twitter
|
Goodreads
|
Amazon
Find Deanna around SOCIAL MEDIA: