Terran (Breeder #2)
by
Cara Bristol
Purchase link:
Amazon
My rating:
Heat rating: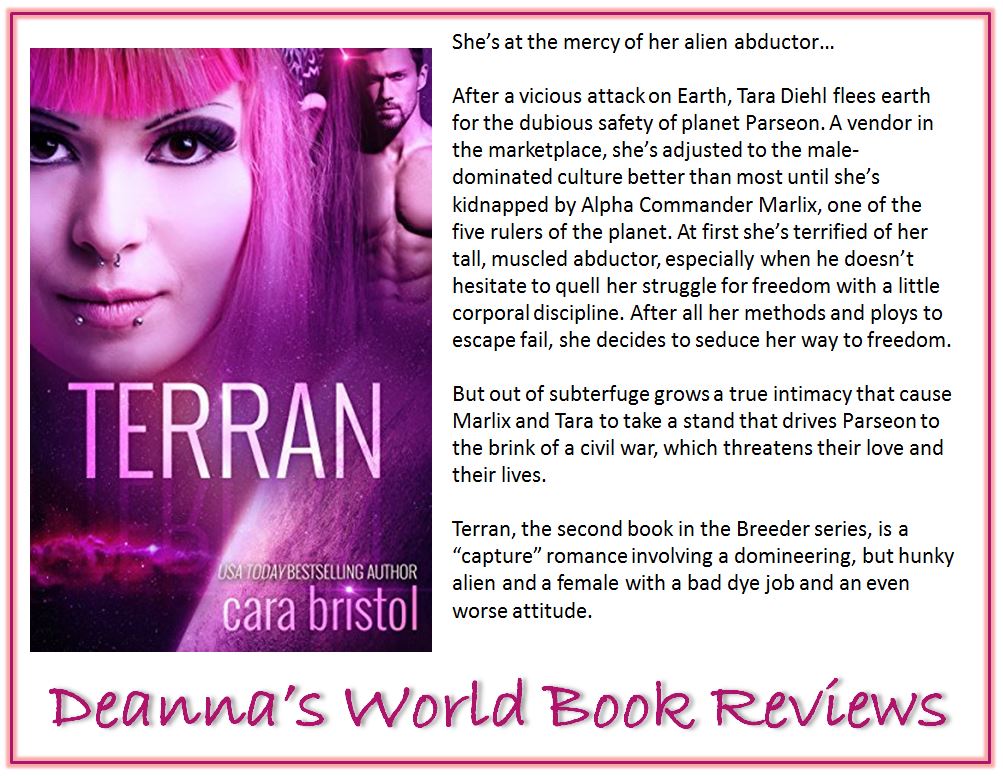 Terran continues the story of the plight of the Parseon women with a stubborn, sassy human and a dominating, Parseon Alpha who is determined to have her.
This entire
Breeder series
by Cara Bristol is a delight to read. It is well thought out and well written. It continues to shine a light on the status of the Parseon women who are little better than slaves and the changing tide within the planet as their leaders learn that females have value beyond what has been bestowed upon them for centuries. It is eye-opening to see the changes in attitudes of the men and also the people as the planet sits at the brink of civil war.
"" ... Males take. Females don't have a choice." Marlix pressed Tara against his chest. He was silent for a long moment, and then he sighed. "It is better when it is given and not taken," he said."
When I first encountered Marlix in
Breeder
, I did not like him. When I found out he was to be the hero in Terran, I did not know if I would like him as he seems to be a cruel and brutal man. However, Ms Bristol did not disappoint and while he appeared to be a real Neanderthal and a typical Parseon Alpha who treated women as objects, he was a product of his upbringing and his culture. Marlix underwent a huge paradigm shift when he meets Tara and then decides to kidnap her and keep her even though he does not understand his feelings or his need for her since they are so foreign to him. They are so culturally different Marlix doesn't even realise kidnapping is wrong. Tara brings out the softer emotions and characteristics in him and opens his mind to things like equality or at least more freedom for women. I grew to like Marlix as he underwent his personal transformation. He did act like a jerk a few times by Terran standards along the way but only because he was reverting to a culture and behaviour he understood. By the end of the book, I had become very fond of him.
Tara is a real spitfire. She's sassy and she's stubborn. She also demonstrates what a large cultural divide there is between herself and Marlix as they dance around each other and misunderstandings occur.
"It was as if he held strong feelings for her but didn't know what socially appropriate behavior was."
While I don't think Tara will think of herself as brave, I think she is. I love her sass.
""Thank you for your purchase. Come again. Don't let the door hit you on the ass," she said, sounding not at all sincere in her gratitude, invitation, or expression of concern."
She stood her ground to Marlix and she did what she could to try to get herself out of what she viewed as a bad situation. I liked that Marlix confused her as much as she confused him. There were times when she second guessed herself, her feelings and her decisions and I think those times of introspection showed a great deal of maturity on her part.
I am enjoying seeing how the Parseon society is evolving with its treatment of their women. Can't wait to read the next book to see how much the society changes as civil war sweeps through.
View all my reviews
Ab

out the author




Cara Bristol:
Website
-
Facebook
-
Twitter
-
Goodreads
-
Newsletter
-
Amazon
Find Deanna around SOCIAL MEDIA: