Werelock (Southern Shifters Kindle Worlds))
by
Mina Carter
Purchase link:
Amazon
Overall series rating:
Heat rating: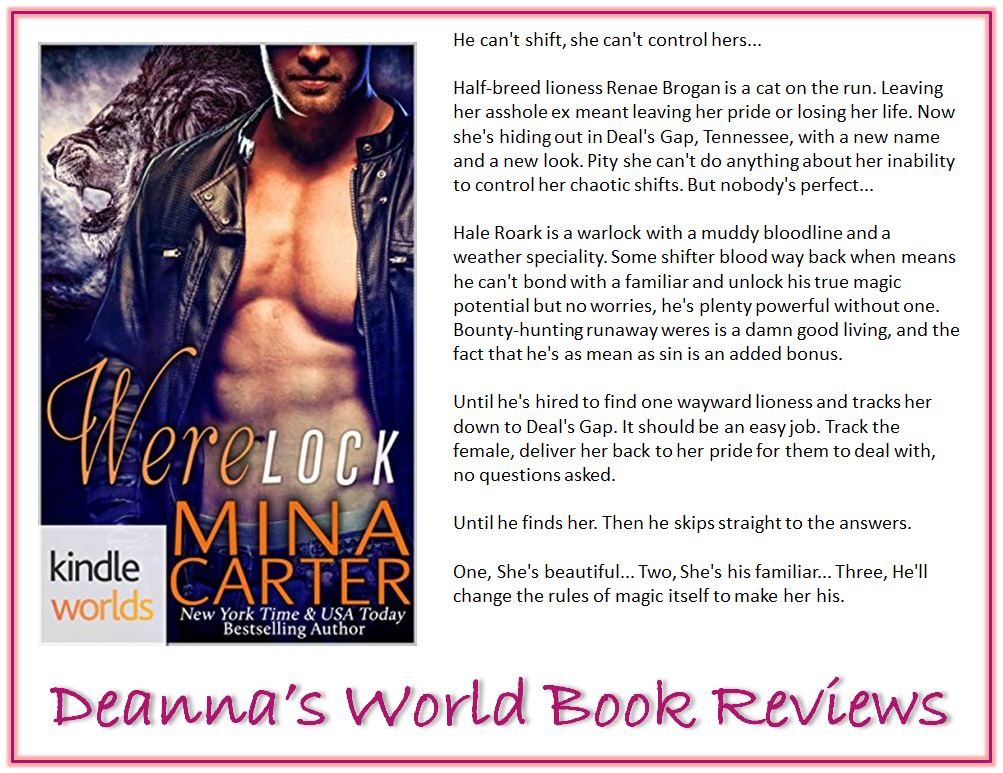 What a fun and entertaining story Mina Carter has written. Warlocks, shifters ... werelock.
I love the concept of a werelock, a warlock who is part shifter but doesn't know it, and then, when he meets his mate, his shifter half comes forward and he becomes an uber powerful werelock. Works for me!
And speaking of werelocks, let's sigh over Hale a little shall we? Overall, bad boy, tough dude, bounty hunter with a heart of gold. Can't have a bad boy with an attitude without a soft spot in him for us to love, can we? I loved all the magic Hale could perform and how powerful he was (I have a thing for powerful men!) even before he became a werelock. Loved the way he could sling magic around with such ease. And when he became a werelock and kicked butt? Super sexy.
Then pair Hale with the lovely Renae and we have a lovely match. I liked Renae a lot. Renae is strong and tenacious, and she's a survivor of an abusive ex-husband she has run from. Her ex-husband Lance really was a rather rotten sod and like most classic abusive husbands, he could not let go and sent a whole host of people, warlocks and shifters, on top of Hale after her. Good thing Hale found her first. :-) I could see Renae had a lot of baggage around her, between her cat's weakness, running for her life and the voices in her head from her ex-husband's abuse, but she managed to rise about all that to fight for her life. I really admired that.
There was also some humor mixed into the story at points where I least expected it. It brought a level of fun and brevity to the story which I really enjoyed.
In general, this is a short story, so you don't get a lot of detail and insights into both Hale and Renae but Ms Carter is very skilled at weaving character and action into a short story and have it still pack plenty of punch. I'm not certain, but I think this is the first of her Kindle Worlds stories in the Southern Shifters series. I hope there are more to come. I'm a big fan of Ms Carter's writing.
View all my reviews
About the author


Mina Carter:
Website
-
Facebook
-
Twitter
-
Goodreads
-
Amazon
Find Deanna around SOCIAL MEDIA: