Bound In Black (The Vessel Trilogy #3)
by
Juliette Cross
Purchase link:
Amazon
My rating:
Heat rating: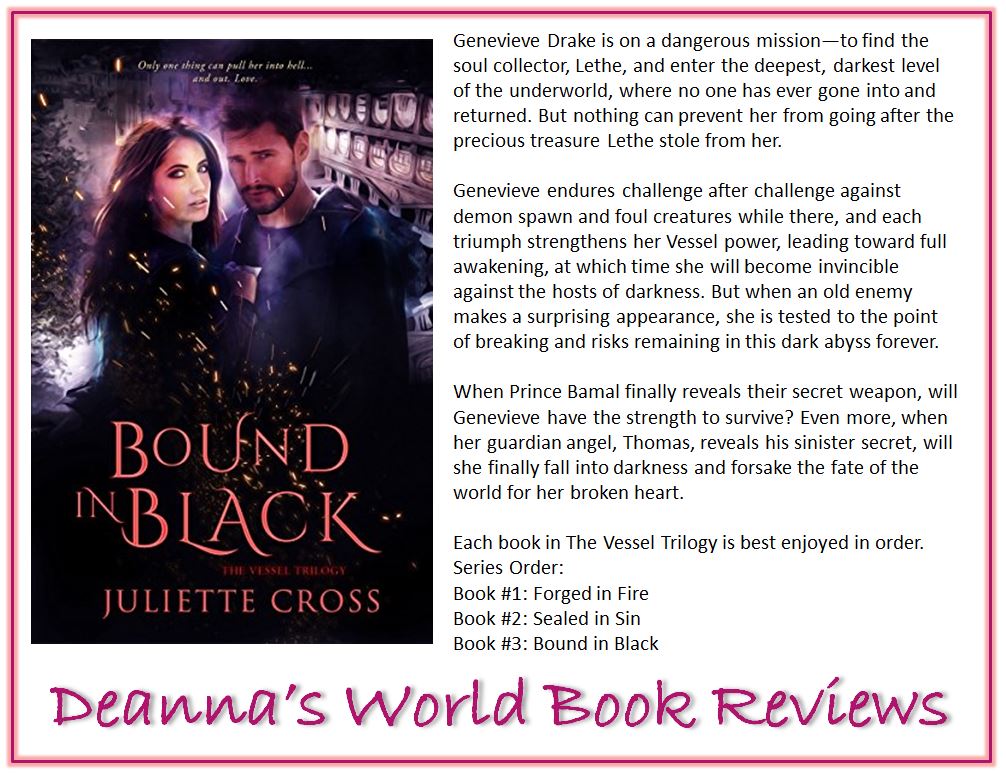 Juliette Cross has an amazing ability to build a captivating world and create a spellbinding story arc which will leave you breathless in anticipation and gasping with emotion. Jude and Genevieve will capture your heart and not let go as they battle demons towards their happy ending.
At the end of
Sealed In Sin
, we see Jude and Genevieve separated as Jude takes her place in Hell in order to spare her the terrible experience. Now Genevieve needs to venture into Hell to get her beloved Jude back.
From the end of the second book to this, Genevieve has some difficult things she needs to do in order to save the man she loves. There are surprises along the way, one of them brilliant which makes my romantic heart skipping with glee. It's so traditionally romantic that any old skool romance reader will swoon with love and happiness. I know I did.
While Genevieve continues to grapple with all the events leading up to the fulfillment of the prophecy, she is plagued by guilt and remorse caused by her previous actions. Though unintentional, her youth and inexperience has caused her to make some terrible mistakes. These mistakes cause a great sadness to dwell within her. Through it all though, Genevieve continues to grow and evolve, and her strength of character shines bright. Even though Genevieve is a very young heroine, she matures quickly and shows a depth and resilience that is admirable. Unlike other young heroines, Juliette has managed to make Genevieve very likable and even when she does things I don't agree with, I understand her motivations and I can see past what she's done to the bigger picture Juliette is painting. Juliette does a brilliant job in creating a fantastic heroine in Genevieve.
Jude, of course continues to smolder and burn with an intensity that is blinding. I've run out of words to describe Jude. He's everything I love in a hero and more. There is so much depth and mystery to him and as Juliette reveals him to you layer by layer, you can't help but fall deeper and deeper in love with him. It certainly allows me to experience the emotion swirling between him and Genevieve at all times and what she means to him, as a light in the darkness of his long, long life.
The Vessel Trilogy has been epic as a series. The story arc right from the beginning to the end has been spellbinding. There were so many twists and turns and surprises along the way, it will keep you at the edge of your seat and speed reading at the same time, while not wanting the goodness to end.
Bound In Black ties everything up very nicely in the end. We get to see a wonderful happy ending for Jude and Genevieve though with the coming of the Age of Gray there is more demon hunting and mayhem to come. If you haven't already, read The Deepest Well. That's brilliant too and it will bring you back into the demon hunting world Juliette has created as well as giving you George and Kat's story. I still get a little giddy every time I think of George and who he is. But seriously, read anything by Juliette. You will not be disappointed. You might swear and call her names along the way (I know I did!) but you will not be disappointed. If you love sweeping tales of good and evil that are deeply romantic and intensely emotional, you will love Juliette's writing.
View all my reviews

The entire Vessel Trilogy and the prequel to the Dominion series:




Ab

out the author




Juliette Cross:
Website
-
Amazon Author Page
-
Facebook
-
Twitter
-
Pinterest
-
Goodreads
-
Newsletter
-
Amazon
Find Deanna around SOCIAL MEDIA: