Downed (Gridiron #3)
by
Jen Frederick
Purchase link:
Amazon
Monique's rating:
Heat rating: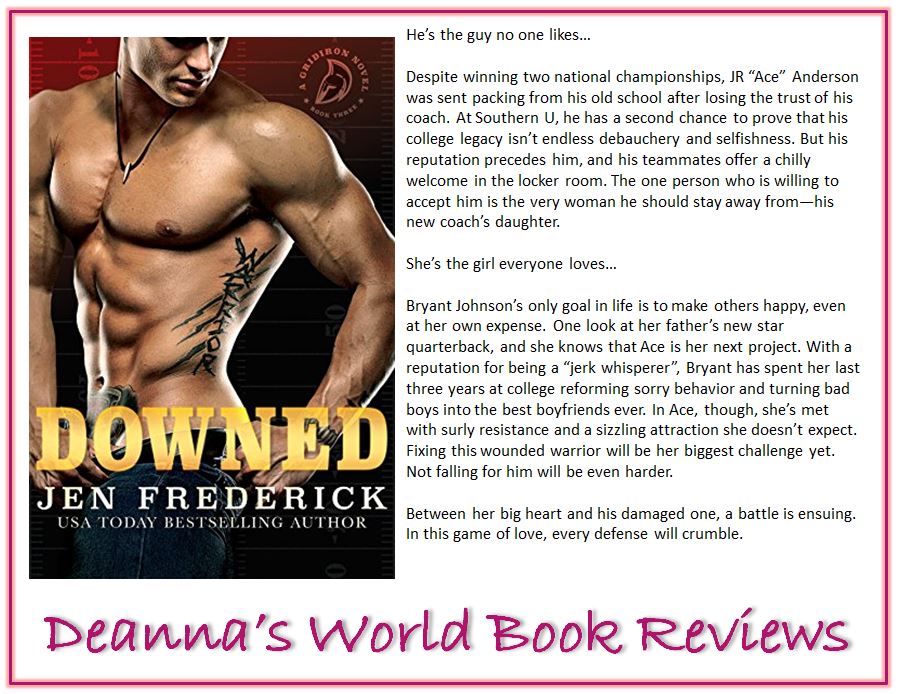 Bryant Johnson and Ace Anderson, met in a bar, and had sex only a few hours later. Bryant noticed the bad boy, and she knows Ace will be her next project: she does not intend him to become her boyfriend; Ace is only another bad boy to be reformed. It's Ace's last chance to prove himself: he was kicked out of his last school for sleeping with the coach's daughter, and if he wants to make something out of himself, he needs to shape up. At first, Ace thinks Bryant is a football groupie, however she's the coach's daughter, but her dad doesn't mind! Bryant seems like the ideal woman, in some ways, and she has Ace totally confounded!
And I must admit that Ms. Frederick had me rather mystified at the beginning as well. DOWNED seemed to me at first so surreal, that I was wondering if Bryant was a faerie or some sort of paranormal creature, but no. Bryant's whole "bad boy whispering" feels strange until, as the story progresses, I understood what she was doing and why she was doing it. Not that this surreal feeling was unpleasant, it was odd, but still fun. I presume that DOWNED is classified as a sports romance, and I must say Ms. Frederick's knowledge of football is impressive, and while there is quite a bit of football talk, a reader who knows – or cares - nothing about the game, will enjoy the book just as well, because it is about the characters.
From the quirkiness of the beginning, the story moves quickly to a very atypical bad boy-good girl trope. Bryant is a very good girl, and Ace is more of a bad boy serious about changing his ways; he is well-intentioned, but his teammates ignore him, and he is actually willing to improve himself. The characters are very well drawn, from the principals to bit players: Coach Johnson is fabulous; Bryant is intriguing and splendidly southern; Ace is just wonderfully complex, and I loved how his interactions with his new teammates were handled.
I must say I was very pleasantly surprised with DOWNED. It is extremely well written – and superbly edited - the narrative flows smoothly, and the dialogues are excellent. I really got the feeling that the characters were young, but not clueless, as they often feel in New Adult novels, the dialogues also suited every character, there was a difference in the voices. A very serious issue is tackled when it comes to Bryant's family, and I suppose this would be a trigger for some people, so beware, but it happened in the past and there is nothing graphic, but it touched a few people deeply, as it should have. I thought that issue was handled with a lot of care and compassion by the author and the characters. DOWNED feels to me exactly what I have always looked for in a New Adult novel. I loved how the characters naturally evolved, nothing felt manufactured. DOWNED is a fabulous, fabulous book: fun, surprisingly deep, with great character development! Ms. Frederick was a new author to me, and what an introduction!
View all my reviews



About the author


Jen Frederick:
Website
|
Facebook
|
Twitter
|
Goodreads
About the reviewer
Monique Daoust:
Facebooks
-
Twitter
-
Goodreads
Find Deanna around SOCIAL MEDIA: