Captive (The Druid Chronicles #2)
by
Christina Phillips
Purchase link:
Amazon
My rating:
Heat rating: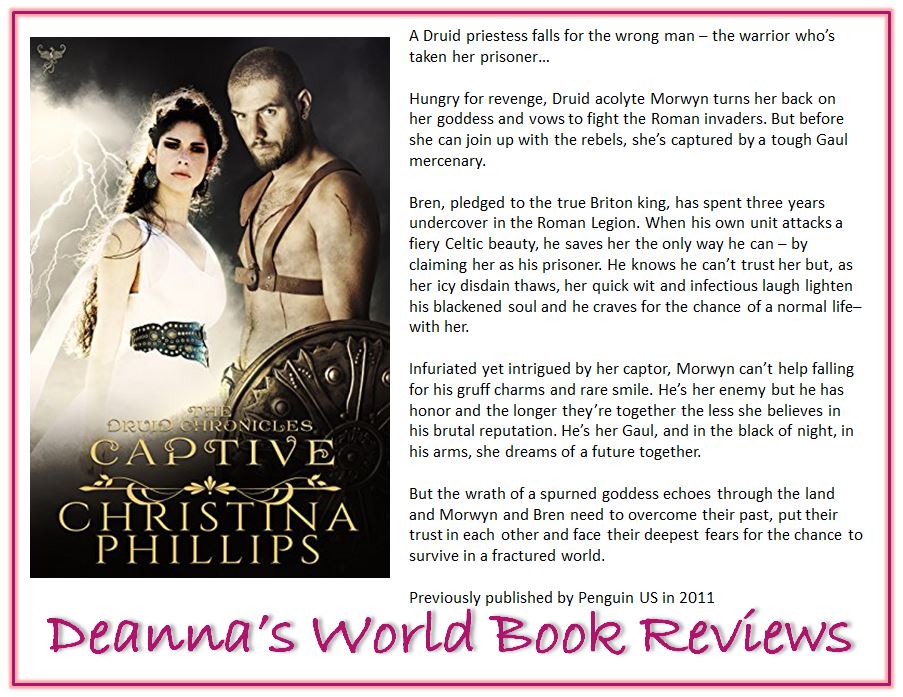 First off, I need to apologise to Ms Phillips because my reading did this book no justice at all. I started this book while I was "on vacation" which turned out to be two months of family emergencies and life happened. I started and stopped this book so many times, not because I didn't enjoy the book but because life got in the way of reading. Point in fact, I think it took me 1.5 months to read this one book. That's unheard of! Very sorry.
That said, I truly enjoyed this book. There's so much history between the pages as well as triumph and sorrow. As I read this series, it breaks my heart to know the Celts lost the war and the Romans did take over, but at the same time I cheered them on for their fighting spirit and their tenacity as they rebelled against the Romans when they fought for their freedom. It's very bittersweet for me.
Bren is such a tortured soul and I loved him. He was so torn between being the man the wants to be and the man he is pretending to be. I admired his dedication to the cause and fighting for the freedom of the Celts to the exclusion of all his own personal desires until he meets Morwyn. There's so much pain buried in him that all I wanted to do was hug him and tell him everything would be alright, even though I knew in the reality of history that was not true. I wanted happiness for him.
As for Morwyn, she's such a brave, feisty soul. I admired her tenacity and her desire to fight for the freedom for her people. I wept for her as she lost her faith in her goddess but I also cheered for her when she found love in spite of it. She had the courage to face herself and admit her feelings even when they weren't the right thing to do at the time, even knowing it would be frowned upon if her people found out who Bren was pretending to be.
Both Bren and Morwyn touched my heart with their strength, their faith and dedication. I really wanted a happy ending for the both of them because they deserved it. Fortunately for me, this is a romance. :-)
I loved the way Ms Phillips handled the "enemies to lovers" trope in this story. It's not a favorite trope of mine and in general, if I know that's the trope, I tend to steer clear of the story. However, I liked the historical setting of the story and I like Ms Phillips' writing. Morwyn starts off hating Bren and wanting to slit his throat, however, Ms Phillips does not dwell on the enmity between them for long because sexual attraction takes over and Bren proves himself to be a man worthy of love despite outward appearances.
Thank you for a bittersweet glimpse into Celtic history, Ms Phillips. I look forward to the next books in the series.
View all my reviews
Ab

out the author




Christina Phillips:
Website
|
Facebook
|
Twitter
|
Goodreads
|
Newsletter
Find Deanna around SOCIAL MEDIA: