The Hero (Sons of Texas #1)
by
Donna Grant
Purchase link:
Amazon
My rating:
Heat rating: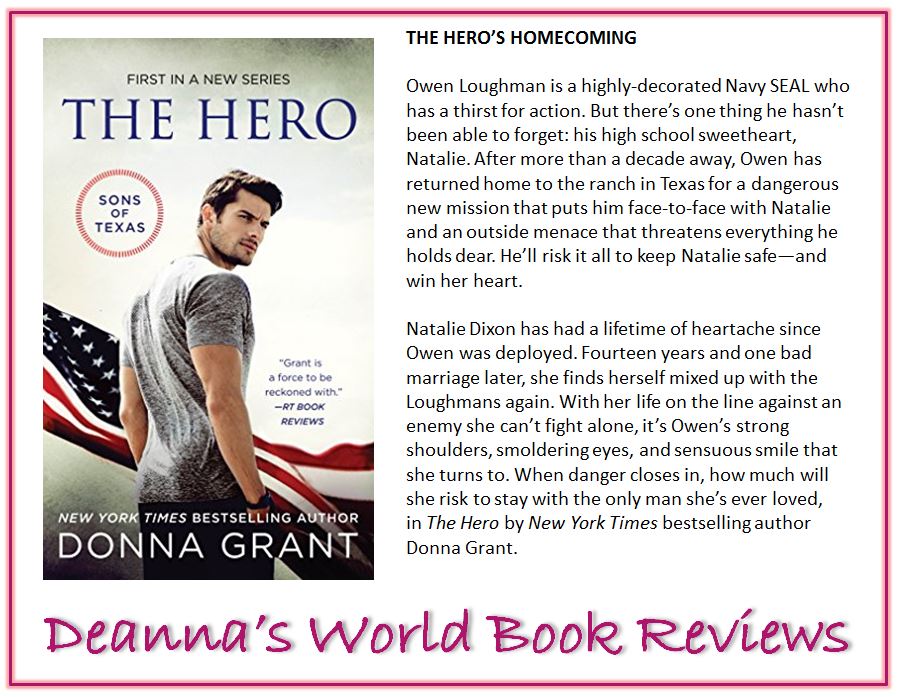 I might be a little partial to this book based purely on the fact it got me my reading mojo back after a really long and bad reading slump. I can tell you, I am hella glad to be back to reading and enjoying it again. It also helped that this is a good book.
The Hero is the start of what I think is a trilogy for the Sons of Texas series. The hero of this story is Owen, one of three of the Loughman brothers. Their father was a Navy SEAL and all three sons have followed in his footsteps to serve in various arms of the military.
Since this story has an overarching story arc, the book starts of a bit slow with a lot of back story and world building. It sets up all three of the Loughman brothers and who their potential heroines are. While we are introduced to Owen and Natalie early on in the story, we really see a lot of all the players for the better part of a third of the book before we get to fully concentrate on Owen and Natalie, and their relationship. However, while off to a slow start, once the story takes off it goes along at a nice clip.
I loved Owen right from the start. The book is aptly named "The Hero" and him being the hero of the story suits. He really is a hero. He's served his country well for fourteen years, even giving up the girl the loved to do it. There are other reasons he gave up the girl but I'll let you find that out for yourself. Owen is honorable, strong, well-trained and dedicated. He's also your fit, gorgeous alpha male. Aside from being your typical, kick-ass, take no prisoners hero, I loved the fact that Owen was very honest with himself. He examined his feelings about Natalie and admitted to his mistakes and his desires. I love a man who does not run from himself and will go after what he wants.
"For so long, he'd lied to himself that the loneliness didn't matter. But it did. Coming face-to-face with Natalie again had proven that."
As for Natalie, I started off liking her, thinking she was very level headed and reasonable about her breakup with Owen and having moved on with her life. Of course, most of the things she had been telling herself over the years about Owen were lies to herself and after she and Owen got together the first time, she turned into a bit of a bitch and became rather hypocritical. Her whole "consenting adults" speech really got on my nerves. That kinda soured me towards her.
"But she didn't need him—or any man for that matter. She was in a good place. Why did she keep telling herself that? Was she stating a fact, or trying to convince herself?"
Methinks the lady doth protest too much! That said, she was thrust into a very difficult and scary situation, and on that front she handled herself very well. She was brave and resourceful, and she knew where her strengths and weaknesses lay. She was willing to listen to people who had more experience than herself and even when she was resisting her feelings for Owen, she trusted him with her life.
Owen and Natalie made a good team in tracking down the bad guys and trying to work out what is going on. Their chemistry was believable and while I did not like the way Natalie treated Owen for a time, it was also understandable. I liked the way Ms Grant handled the ending of the story too. It was a satisfying ending with the promise of a happy ever after, but with the troubles still brewing none of the loose ends were tied up. There's more intrigue and problems to solve.
I think the next book is Cullen and Mia's story. I'm looking forward to that. What I'm anxious about is Wyatt and Callie's story. I think Callie will be paired with Wyatt (maybe?) and there's been hints of a rather bitter history and animosity between them. Not sure I'm looking forward to that but I'll have to see after Cullen's story.
Overall, a very good start to the trilogy.
View all my reviews
Ab

out the author




Donna Grant:
Website
-
Facebook
-
Twitter
-
Goodreads
Find Deanna around SOCIAL MEDIA: