Claimed with the Cyborg (Cy-Ops Sci-Fi Romance #5)
by
Cara Bristol
Purchase link:
Amazon (Paperback)
|
Amazon Kindle
|
iTunes
|
Kobo
|
Barnes & Noble
My rating:
Heat rating: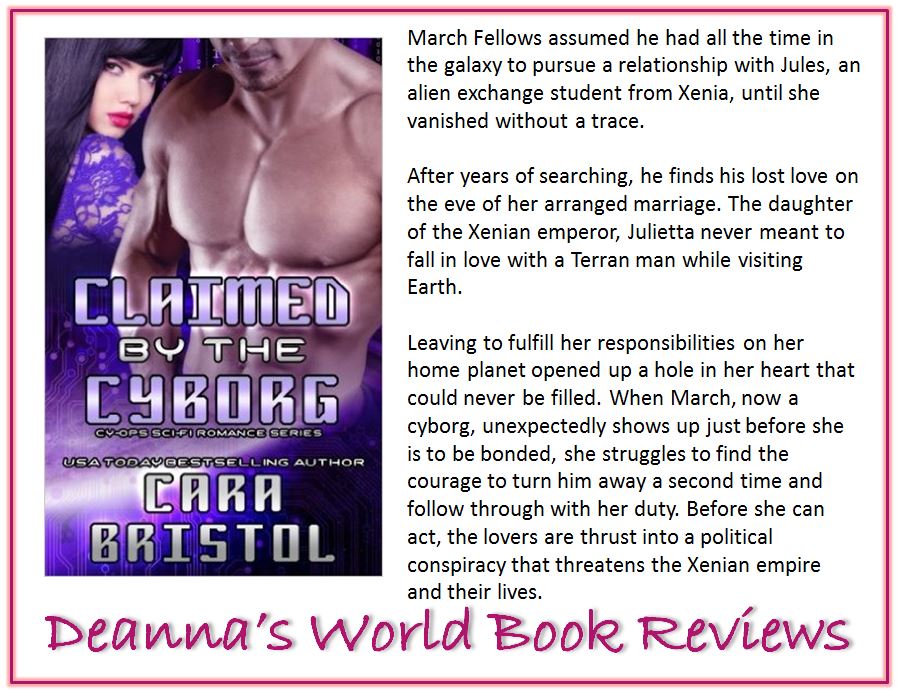 Cara Bristol continues to shine with her Cy-Ops Sci-Fi Romance series with this latest installment: Claimed By The Cyborg. The story of March Fellows finding his long lost love only to discover she's totally unattainable is romantic and touching, with a healthy dose of rollicking adventure thrown in. And what's not to love about a cyborg and the way they operate?
I was instantly taken by March since he is a man who has loved and lost, and he is still seeking his lost love after many years. It was wonderful that he had not given up hope of finding her even though the chances were slim. It's also incredibly romantic. Like all the other cyborgs before him, March is very drool-worthy with his hunky cyber-enhanced body and the computer in his brain. The geek in me loves the computer in his brain. March is also the most feeling of all the cyborgs we've met so far in the series probably because he's still in love with the woman from his youth. He exhibits a vulnerability because of his feelings that make him all the more lovable to me but when push comes to shove, he shows he is all man and all cyborg, and able to fight for the woman he loves. That's swoon-worthy stuff right there.
Jules is a bit of a mystery. At first, she's a woman who is resigned to her fate, accepting duty and willing to sacrifice her happiness for her planet. Then comes March and reconnecting with him shows her a life she's only dreamed of and wish she had. I really felt for Jules because she was hemmed in at all sides - tradition, duty and later, love and sacrifice.
The beauty of this story is March and Jules reuniting and discovering their love had not dimmed over the years. It's also March opening Jules eyes to what she wants from her life and being strong enough to make a life that will bring her joy.
I have a little confession to make. I was so excited about this book I ignored my reading schedule and skipped to reading this first. I blame Ms Bristol and her excellent marketing of the book prior to its release but that said, this book was worth waiting for. For a sci fi romance with hunky cyborgs, this was hugely romantic.
I can't wait to see what Ms Bristol has install for us readers with the next book in the series. She can't write fast enough for me.
View all my reviews
Ab

out the author




Cara Bristol:
Website
-
Facebook
-
Twitter
-
Goodreads
-
Newsletter
Find Deanna around SOCIAL MEDIA: