Kadin (Dragons of Riddich #1)
by Mel Teshco
Purchase link:
Amazon
My rating:
Heat rating: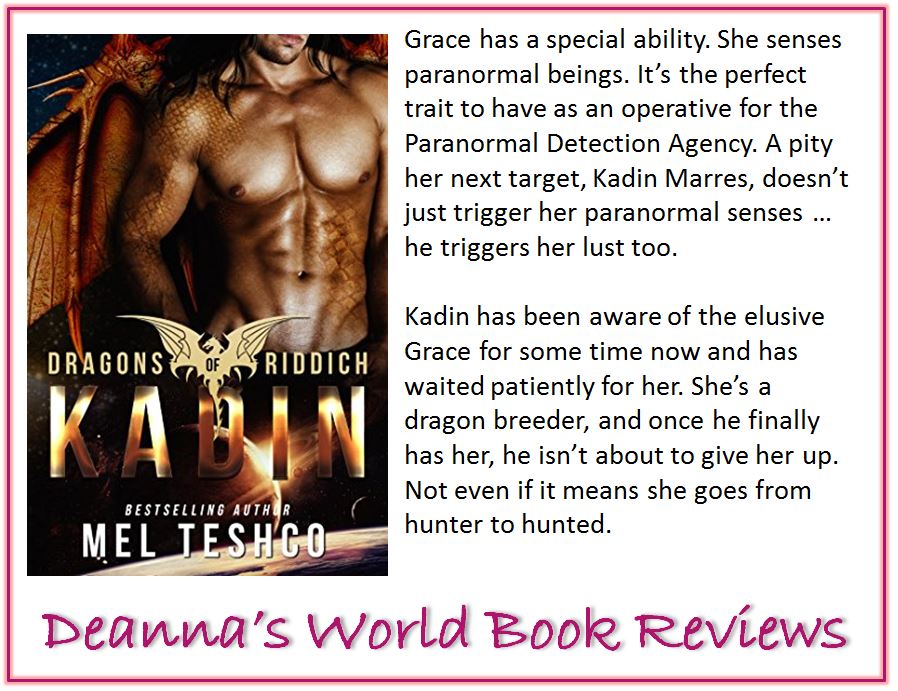 I was so excited about this book I read it the moment I saw it land on my Kindle because ya know ... dragon shifter! It's like my version of romance novel catnip.
Mel Teshco has created a fascinating world where paranormal creatures are hunted and dragons are from an alien planet. Ms Teshco has also done an amazing job of some excellent world building in a very short novella to set the scene for the Dragons of Riddich.
Of course, I was predisposed to love Kadin since well, ya know .. dragon shifter. He's everything a sexy dragon shifter should be and then some! I loved all the special abilities that Ms Teshco gave him. Made things super fun.
Grace took me by surprise since she was originally sent to assassinate (I think? it was not clear) Kadin but ends up falling for him instead (of course!). There's the whole dragon mating thing going on to explain the insta-lust which works just fine for me. Her back story was also very interesting and I found myself wondering right through the book who she was, what her motivations were and why they were being hunted. The big reveal is eye opening, to say the least.
I almost forgot to mention ... this book is raunchy. Ms Teshco knows how to put a lot of sexy, steamy into less than a hundred pages! And Kadin, well, he does the kind of sex I like to read about. Phew! Did it get hot in here?
This is a great start to the series and I can't wait for the next book because ya know ... dragon shifter. Do you think I've mentioned "dragon shifter" enough for you to know I love them? :-)
Write fast, Ms Teshco.
View all my reviews
Ab

out the author




Mel Teshco:
Website
-
Facebook
-
Twitter
-
Goodreads
Find Deanna around SOCIAL MEDIA: