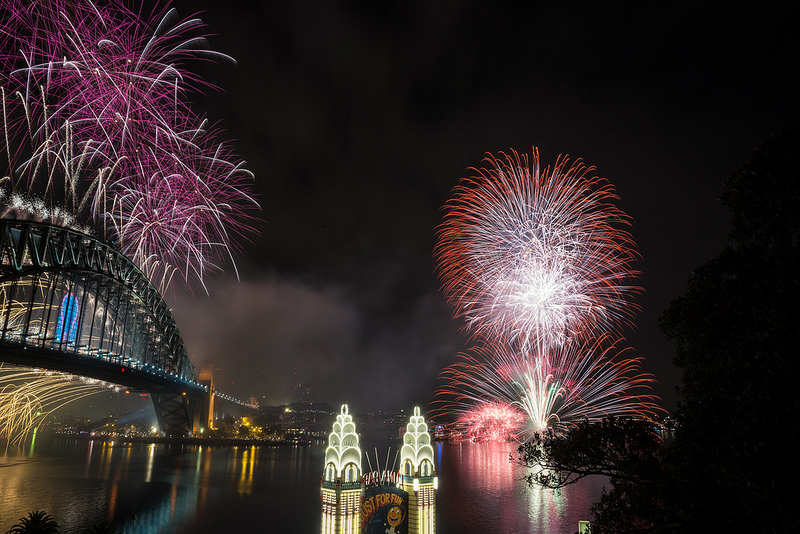 Photo credit:
Ross Fowler
via
VisualHunt
/
CC BY
Hello and Happy New Year!!
I hope you had a wonderful New Year's Eve celebration. We had a quiet one which is normal for us. Steve likes to take the time to contemplate the year before and consider what he would like to accomplish for the year ahead. I treat it like any other night and often even forget to put the fireworks on on TV. It's a quiet night in for us, just the way we like it.
How did you celebrate?
And now, with the New Year, let's do a little 2016 recap shall we? In the coming weeks, I will be bringing you top reads by the Deanna's World bloggity reviewers and I've also asked a few authors to contribute and tell me what their top reads for the previous year were. After all, authors are readers too!!
To start it off, here's my list of top 10 reads for 2016. You will notice a bit of a pattern here. A lot of favorites and repeat authors. I may have indulged in some favorites this year on top of reading a lot of new stuff. These were all 5 star reads for me.
Not in any particular order ....
The Vessel Trilogy series by Juliette Cross
Forged In Fire
|
Sealed In Sin
|
Bound In Black
Usually when I start a series, because of my reading schedule, I tend to not binge read an author. I haven't done that in years, but with the Vessel Trilogy, I couldn't help myself. I became completely hooked on Jude and his broodiness, and the incredible storytelling of Juliette Cross. This story was intensely emotional, gut wrenching and at the same time, a kick ass adventure. The Vessel Trilogy has been epic as a series. The story arc right from the beginning to the end has been spellbinding. There were so many twists and turns and surprises along the way, it will keep you at the edge of your seat and speed reading at the same time, while not wanting the goodness to end.
The Sheikh's Guarded Heart by Liz Fieling
Usually, when I pick up a Harlequin Romance, I do so because I want an lighthearted, warm and comforting read. This is all those things but so much more. It's about two hearts that have been hurt by the world and people around them, and it's not only The Sheikh's Guarded Heart but Lucy's too. It's about love and forgiveness, and about putting the hurt and pain of the past behind and being brave enough to move forward with life, because life is not always kind, but it is what you make of it. It's about being brave enough to take life by the horns, look it in the eye and say, I've going to conquer you and make the most of you.
Archangel's Enigma by Nalini Singh
I have been looking forward to this book because Naasir is one of my favorite characters, with his feral wildness and his sense of playfulness and Nalini Singh does not disappoint.
Shadow's End by Thea Harrison
Thea Harrison has written a compelling and breathtaking story with Shadow's End. This story shattered my heart. It broke it to pieces and slowly put it back together again. Gray and Bel's love is heart wrenching and tragic. So much happens over such a long period of time and they go through so much heartache and pain before they can be together.
The Deepest Well by Juliette Cross
This is a tense emotional story of the age old battle between good and evil woven into a wrenching love story which is certain to make your heart ache. I warn you though, it is also the one story where I held a grudge against Juliette Cross for an entire year for what she put me through with George and Katherine. If you read it, you might feel the same way. Oh, the suffering! Ms Cross will rip your heart out but she also puts it back together at the end.
'Til Death Do Us Part by Amanda Quick
This is likely the most suspenseful story I have ever read by Ms Quick. It was immensely engaging and captivating. I could not put it down. She did a masterful job of building the mystery in the story and keeping me guessing all through the book. The whole aspect of the memento mori or death gift was morbidly fascinating. The twist at the end with the big reveal truly took me by surprise.
Crown Prince's Chosen Bride by Kandy Shepherd
At one point, I needed something deeply romantic to cleanse my palette, something I knew would lift my heart and make me smile, and also turn into a puddle of mush. Kandy Shepherd was an obvious choice, of course. And Ms Shepherd definitely does not disappoint. In fact, she had me at "Crown Prince". If there's royalty in a romance, I'm in. I grew up watching Disney's Cinderella a little too many times as a young girl and to me a prince or a princess in a romance is the ultimate fairy tale.
Allegiance of Honor by Nalini Singh
All the words which come to mind to describe it are brilliant! Breathtaking! Stunning! Did I already say brilliant? Nalini Singh is a genius with words and Allegiance of Honor is a sensational culmination of the previous 14 books in the series. It makes the series lover in me dance with joy to see her bring together so many familiar and beloved faces, to see how they are doing, to share in their joy and to root for them as they face challenges.

Prime Minister by Ainsley Booth and Sadie Haller
Prime Minister is a wonderfully written story, full of emotion and sexiness, but most of all, it had a depth and deftness to it while reflecting the (sort of) inner workings of a country's CEO. Ms Booth and Ms Haller brings you gently into the world of BDSM (it's mostly BDSM lite, really) and gives you a meaty glimpse of the what it's like to run a country and fall in love at the same time.
Dragon Heartstring by Juliette Cross
Dragon Heartstring will stir your soul and make you fall in love with the humans and Morgons who live in Gladium Province. You'll enter a spectacular world where dragon hybrids live amongst men, prejudices abound and love conquers all. Not only that, you will also fall in love with Demetrius. Personally, I became more than a little obssessed with him. I think he's even overtaken Kol as my favorite hero in the Morgon world and that's saying a lot since he's human and I love me some Morgon male yumminess!
And finally, two honorable mentions because both books were excellent and it would be remiss of me to not include them.
Stolen Dreams by Maddie Wade
Maddie Wade has definitely stepped up her writing game with Stolen Dreams, her second book and also the second book in her Fortis Security series. This book has fantastic suspense with an ongoing story arc that continues to develop, and a heck of a lot of heart. For a romantic suspense story, this story will not only get your blood pumping but it will also cause you to fall in love and care for all the characters in the story, and what a lot of characters there are!
Rough and Tumble by Rhenna Morgan
Rhenna Morgan is a very skilled writer and she has created a brotherhood of men you will fall head over heels in love with, especially if you love your men strong, protective and hot as heck. Rough and Tumble is an immensely emotional story which will keep your breath stuck in your throat as you savor the deliciousness that is Jace Kennedy.
Note: not all books were published in 2016 but they were all READ in 2016.
So that's from me for my favorite reads of 2016. What were yours?
Find Deanna around SOCIAL MEDIA: