Forced Disappearance (Civilian Personnel Recovery Unit #1)
by
Dana Marton
Purchase link:
Amazon
My rating:
Heat rating: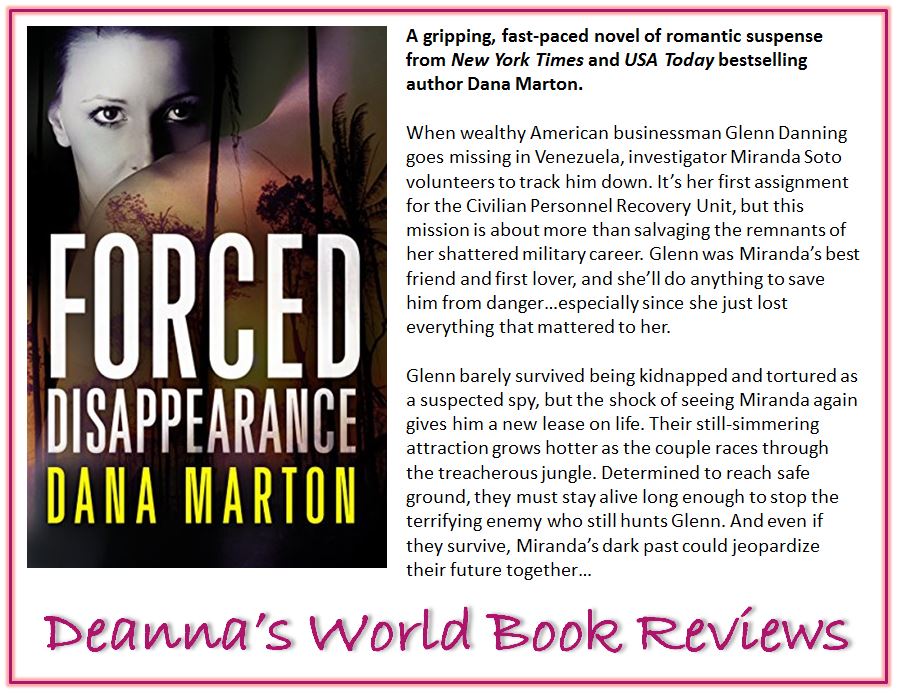 Dana Marton writes a suspense-filled, action-packed romance in Forced Disappearance which will keep you turning the pages to find out what happens next.
The suspense in this book is exceptional. It's non-stop action from the very first line and it doesn't let up as we follow Glenn and Miranda through the jungles of Venezuela in order to see if they escape with their lives or not and the many trials and traps that befall them along the way. Ms Marton certainly knows how to amp up the tension and keep you at the edge of your seat.
However, this story is I would say more suspense than romance, even though the romance element is there. This is a second chance romance, so it's easier to focus on the suspense and not have to work as much to build the romance and relationship between Glenn and Miranda since they have a past. I have to applaud Ms Marton in how she handled this particular trope (not a favorite of mine) as it could easily have been full of negativity and recrimination, but she got most of the unpleasantness out of the way early and dealt with it in such a way that you could see both Glenn and Miranda were mature adults who have the ability to communicate. I love that. It also showed how strong a bond Glenn and Miranda had from their past and allowed their mutual caring and respect for each other shine through.
I adored Glenn in this story. He was strong, resilient and resourceful. Even though he was in a situation that was entirely out of his depth, he hung on and he survived. I truly admired his strength of character and his survival instincts because in his situation I would have folded like a house of cards, especially after reading what he had been through. He was also confident enough in himself where when he saw himself in situation where Miranda was clearly the one with superior skills and experience, he graciously allowed her to lead without an issue. And on top of that, with Miranda, he fought for her. He knew what he wanted and he pursued it with single-minded determination. You have to admire a man for that.
Miranda was a complex woman and I have rather mixed feelings about her. She had been through a tremendous amount of loss and was weighed down by an immense amount of guilt. In spite of that, she was dedicated to her job and she did it well. Like Glenn, she was strong, resourceful and brave, and she never gave up. However, I also felt she was a bit of a coward when it came to her personal life and her own emotions. Rather than feel and go after what she wanted in life, she took the easy route or rather she took the route she thought would be better for Glenn. I didn't feel that her self-sacrifice for Glenn's sake was warranted or justified considering what Glenn continually told her. I felt like she should have fought for what she had lost and been confident enough to look beyond the past and how she was treated then to the woman she has become today. I wanted her to fight for her life and her love with the same grit and determination she showed she fighting to save and rescue Glenn from Venezuela.
Overall, a great start to a series I am sure to enjoy. I'm looking forward to the next one.
View all my reviews
Ab

out the author




Dana Marton:
Website
-
Facebook
-
Twitter
-
Goodreads
Find Deanna around SOCIAL MEDIA: