Well, I am still on the recaps for 2016 and there are a few left for some author focused ones.
For starters, how about my
AUTHOR OF THE YEAR
for 2016? This is the first time the bloggity is running this particular title because after doing my top reads for 2016, I felt it was appropriate. I don't promise this will be an annual feature. It really depends on the year, the reading I've done and whether any author has made a big impression on me for the year.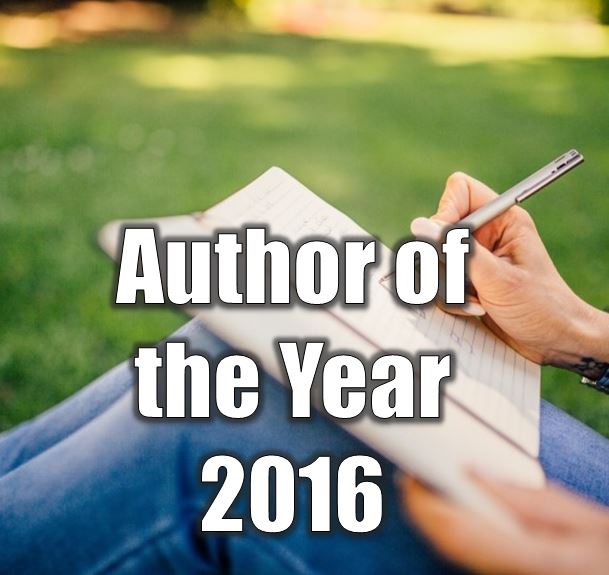 I give you ... *drumroll* ....
Congratulations Juliette!
And you ask, why did I pick Juliette for my Author of the Year for 2016?
When I mentioned this decision to Steve, he asked me what I was basing it on. It was not until after I explained the math (explained below) behind the decision that he was accepting of it. No, I didn't pull her name out of a hat. No, I didn't decide on her just because I like her writing or she seems like a nice person. I actually read all the books and rated them highly. Her books were my most thrilling and heart-felt reads of the year and I have the math to support the decision. :-)
As I went through my 5 star reads for the year, I discovered 2 things. (1) there were a few of repeat authors on the list, and (2) Juliette Cross was on the list 5 out of the 14 books that I read and rated 5 stars in 2016. Plus, I also read a sixth book of hers which only got a paltry 4 stars (I didn't like the heroine!).
This means that Juliette Cross took an overwhelming majority of 36% out of all my top reads for 2016.
Note: as with my 2016 top reads, not all the books were written in 2016 but they were all read in 2016.
Here are the books that put Juliette Cross on my Author of the Year list, in no particular order (psst! you may have seen some of this in
my top reads post
).
Forged In Fire (Vessel Trilogy #1)
-
Forged in Fire is dark, edgy and intensely emotional. It will make your heart pound, your breath catch and your heart melt. If you want something which will captivate you from the first page, step into Juliette Cross' world of demons and the men and women who hunt them.
Sealed In Sin (Vessel Trilogy #2)
-
I have run out of adjectives to describe Juliette Cross' writing. Sealed In Sin is another stellar example of well-crafted storytelling. The emotions I experienced while reading this ran the gamut from heartache to hope and anger to joy. All the while, Juliette had me in her grips as I raced to the end of the book. I couldn't put it down. And if you are reading this series, and this book in particular, make sure you have book three handy because you will want to start it right after this one ends. This ends in a doozy of a cliffhanger and you need to find out what happens next.
Bound In Black (Vessel Trilogy #3)
-
Juliette Cross has an amazing ability to build a captivating world and create a spellbinding story arc which will leave you breathless in anticipation and gasping with emotion. Jude and Genevieve will capture your heart and not let go as they battle demons towards their happy ending. The Vessel Trilogy has been epic as a series. The story arc right from the beginning to the end has been spellbinding. There were so many twists and turns and surprises along the way, it will keep you at the edge of your seat and speed reading at the same time, while not wanting the goodness to end.
The Deepest Well (Age of Gray #1)
-
This is a tense emotional story of the age old battle between good and evil woven into a wrenching love story which is certain to make your heart ache.It is also possibly the darkest story that Juliette has written to date. The depths of darkness and suffering that Katherine falls into and the agony George suffers while the both of them fight for their love is utterly, utterly heartbreaking. Even now, whenever I think of George and Katherine's story, my heart aches. If you need a theme song to listen to while reading this book, listen to
this
and this
instrumental version
of the song is also stunning. After you read the book, you will see why this song fits perfectly for George and Katherine's love story.
Dragon Heartstring (Vale of Stars #0.5)
-
Dragon Heartstring will stir your soul and make you fall in love with the humans and Morgons who live in Gladium Province. You'll enter a spectacular world where dragon hybrids live amongst men, prejudices abound and love conquers all. Not only that, you will also fall in love with Demetrius. Personally, I became more than a little obssessed with him. I think he's even overtaken Kol as my favorite hero in the Morgon world and that's saying a lot since he's human and I love me some Morgon male yumminess!
Dragon In The Blood (Vale of Stars #2)
-
This story is very much an action adventure. Very in-keeping with Conn and Valla's characters. With Con's charm and Valla's fighter heart, this story sets the right tone to balance their personalities as they journey both literally through Aria and emotionally through to their happy ending.
Beyond the simple the story of the hero and heroine finding their happy ending, the Vale of Stars series is shaping up to be rather epic, in my opinion. There are hints of a greater story arc we don't know about and you can tell Juliette is building towards something big. There's definitely a bigger picture we are not seeing which will be revealed with each book that is released. I sense echoes of the kind of overarching story arc you see in series like Nalini Singh's Psy-Changelings, J R Ward's Black Dagger Brotherhood, or Elaine Levine's Red Team. There's something bigger than just the hero and heroine finding their happy ending going on. There's a broader world Juliette is building we haven't fully explored as she reveals different aspects of Morgon-kind to us with each book. I can't wait to see what develops.
There you have it. Those are the books that sealed the deal for Juliette Cross as my Author of the Year for me. I am looking forward to more books from Juliette in 2017.
If you'd like to find out more about Juliette, here are all her links:
Website
-
Amazon Author Page
-
Facebook
-
Twitter
-
Pinterest
-
Goodreads
-
Newsletter
If you had to pick one, who would be your Author of the Year?
Find Deanna around SOCIAL MEDIA: