The Wife's Tale
by
Christne Wells
Purchase link:
Amazon Australia
|
Booktopia
|
Dymocks
Helen's rating:
Heat rating: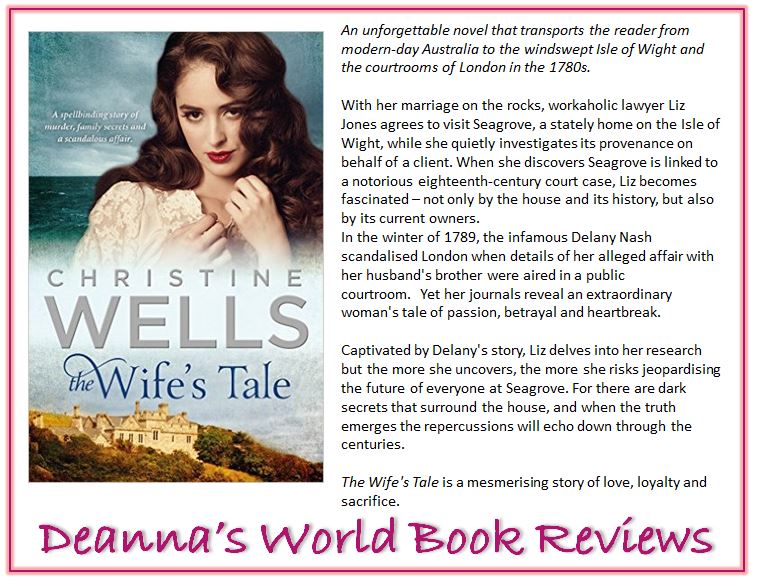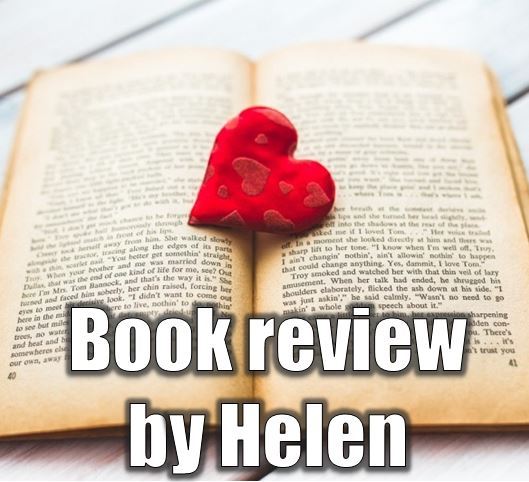 I have been looking forward to this book and can I say: WOW! what a fabulous story it is! This is a book that is moving and enchanting as we slip from present day in Brisbane, Australia back to an eighteenth century estate Seagrove on The Isle of Wight. This is a story that is going to stay with me for a long time and be read many times over.
Where do I begin? There are so many fabulous characters in this story. Liz, the lawyer is sent by her boss, Nick to investigate the family. She has to do her best so Nick can buy the estate. Theo, the current Lord Nash, who is a quiet landscaper doing the best he can to keep the estate going with help from his fiancée, Valerie. Then when we slip back in time and we have the strong and courageous Lady Delaney Nash, her husband, Lord Richard Nash, his brother, Julian. There is also Lady Verena Richard and Julian's mother and the scheming Margaret, Lady Verena's companion. There are so many more characters who add so much to this wonderful story.
I don't want to go into their individual stories too much as I don't want to give anything away but what I will say is this is a story that will stay with me for a long time to come. It is so well written you can feel the emotion reaching out to the reader as you turn the pages. Lady Delaney Nash has been through so much yet she is courageous in her journey as we read her memoirs. The setting is wonderful. It makes me want to visit The Isle of Wight and see it for myself.
I highly recommend this story. I savoured every word and I didn't want to put it down. It was emotional, moving and the romance arcing between the characters in the two time periods is so very beautiful. Thank you, Ms Wells for a glorious story that was a joy to read. There were tears smiles and lots of cheering for some of the characters. I am certain this one will be a keeper on many bookshelves. It has everything that will keep the reader turning the pages.
View all my reviews



About the author


Christine Wells is a former corporate lawyer who exchanged contracts and prospectuses for a different kind of fiction.
Undergoing life-saving brain surgery as a 2 year old made her want to be a brain surgeon when she grew up. However, a love of the humanities, particularly English history and literature, not to mention the fact she wasn't great with blood, made her revise that plan.
Christine had always been interested in the law and after winning a half-scholarship to Bond University in a high school moot competition, she decided to follow in her father's footsteps and become a solicitor. Having completed her Bachelor's degree, Christine worked for city law firms advising on capital raising and mergers and acquisitions.
While still working as a lawyer, she started her first novel, a historical murder mystery which is now (thankfully) lost in the bowels of a defunct hard drive. Eventually, Christine set her sights on publication in the United States, where it seemed British-set historical romance was highly popular. A keen devotee of Georgette Heyer novels, Christine decided to give these a try.
Ten years later, she is an award-winning author with ten novels published by major New York publishers, St. Martin's Press and Penguin. These novels have been translated (variously) into German, Japanese, Dutch, Spanish, Russian and Portuguese.
Now, a change in direction sees Christine combining her abiding interest in the law and her passion for English history in one novel, THE WIFE'S TALE.
Christine lives with her husband (also a lawyer) and two sons in Brisbane, Australia.
Author Links:
Website
|
Facebook
|
Twitter
|
Goodreads
About the reviewer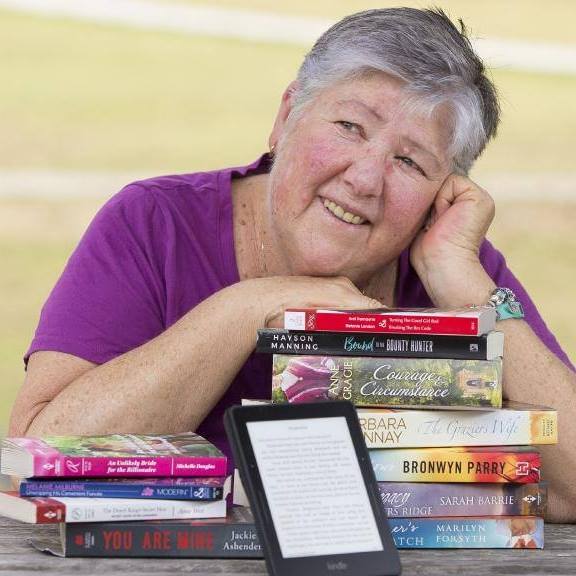 Hello, I am Helen. I am a romance reading addict and love it. I have read for as long as I can remember and this was encouraged by my mother who also always read. We shared a love of the romance genre specifically historical and Mills & Boon back then. Sadly, mum has left me to read for both of us and these days I read across all of the romance genres. They give me great pleasure as I get to I travel the world, go back in time, and dream of billionaires. I have lots of fun doing so.
I have been happily married for 39 years. We have 4 grown up children and 7 grandchildren whom I love dearly. After working in the hospitality industry for 25 years, I am now happily retired which gives me more reading time but it never seems to be enough. I am a member of the Australian Romance Readers Association (ARRA) and have met many romance authors and made many new friends who share the love of romance reading with me. Since I joined in 2009 this group has opened up a whole new world for me which I love.
Reviewer Links:
Facebook
-
Goodreads
Find Deanna around SOCIAL MEDIA: