Dragons Among Them
by
Kyra Jacobs
Purchase link:
Amazon
|
Barnes & Noble
|
iTunes
|
Kobo
|
Samhain
My rating:
Heat rating: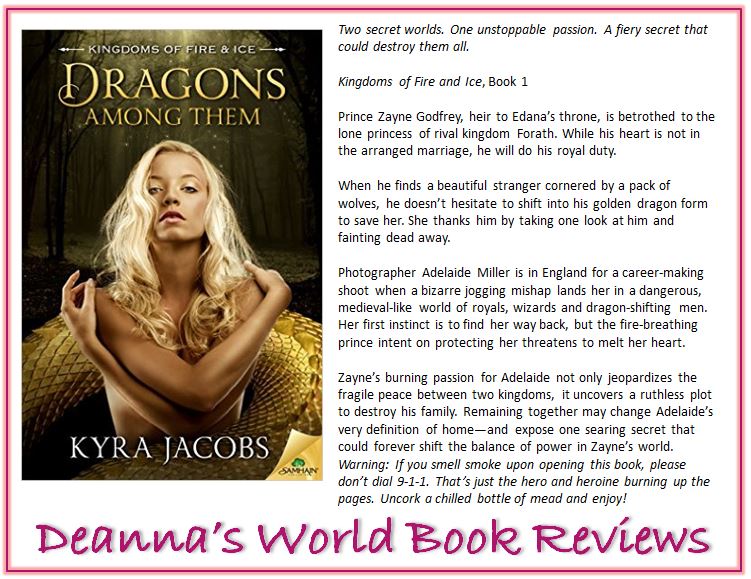 Dragon shifters, inter-dimensional time traveling, meddling wizards and handsome princes. What's not to love about Kyra Jacobs' Dragons Among Them?
I'm a sucker for anything dragon. Dragon shifter? Even better!! This story from Kyra Jacobs is so different from any other dragon shifter story I've read, which makes it fresh and unique. Why do I say it's fresh and unique? Because most shifter stories these days are set in contemporary times and while they live an alternate paranormal world, it's a contemporary world. Ms Jacobs has created a dragon shifter world set in the medieval times but brings a freshness to with with the heroine's journey from modern times "across the veil" so to speak.
It was interesting to read of this medieval dragon shifter world which Ms Jacobs has created. Oftentimes, medieval settings can feel heavy with history and a language which is somewhat foreign to the modern reader, however with Addie traveling back in time (sort of) and injecting her modernisms into the world, it keeps the medieval jargon to a minimum and sets a brisk pace for the story to follow. Ms Jacobs sets a light touch to the medieval world building and I look forward to seeing the world being fleshed out in future books. There's a bit reveal about the world towards the end of the story which is super interesting.
Since I've mentioned Addie a few times, let's talk about her. I love Addie. She's bright, fun and resilient. I loved her inquisitive nature and her persistence in building a good life for herself. When she finds herself in a strange land, once she gets past her confusion, she embraces her surroundings (and Zayne) and immerses herself in the world. Her exuberance seems to shine a light into the darkness that is facing a world on the brink of war.
Zayne is a gorgeous hero. He comes across as a bit of a devil-may-care fellow as he tries to avoid his fate and delay an arranged marriage. It seems rather irresponsible at the onset but as I got to know him, and saw how he fell for Addie and what he felt for her, I decided I was rooting for him and Addie to get their happy ending (of course!). I love Zayne's protective and possessive instincts where Addie is concerned but Zayne is not your typical dragon shifter, though he's a prince and a leader of men. He doesn't come across as your typical hulking alpha male shifter. There's a gentler, more emotional side to him which I really liked. I think I would have liked to see Zayne mature beyond how he felt for Addie and what he would do to protect her, to what he would do for his kingdom and how he would grow to become a ruler.
The ending was interesting (I'm not giving anything away) in that it seems to me like there's more trouble brewing and I can't say for certain, as I do not know, but I feel like the ending of this story has more of an fantasy rather than a paranormal romance feel to it, with Addie and Zayne having to face more excitement in the future. I know there are other books planned for the series. I'm wondering if they will continue to follow Addie and Zayne or if it would focus on another couple. I feel like I want to see more of Addie and Zayne's characters and relationship develop.
Well done on this first installment, Ms Jacobs. I'm looking forward to book 2. Hurry up and write, Ms Jacobs! :-)
View all my reviews

About the author


Kyra Jacobs is an extroverted introvert who writes of love, humor and mystery in the Midwest and beyond. When this Hoosier native isn't pounding out scenes for her next book, she's likely outside, elbow-deep in snapdragons or spending quality time with her sports-loving family. Kyra also loves to read, tries to golf, and is an avid college football fan.
Be sure to stop by her website
www.KyraJacobs.wordpress.com
to learn more about her novels and ways connect with her on social media.
Author Links:
Website
|
Facebook
|
Twitter
|
Goodreads
Find Deanna around SOCIAL MEDIA: