Falling for the Single Dad (The Hollywood Hills Clinic #2)
by
Emily Forbes
Purchase link:
Amazon
Helen's rating:
Heat rating: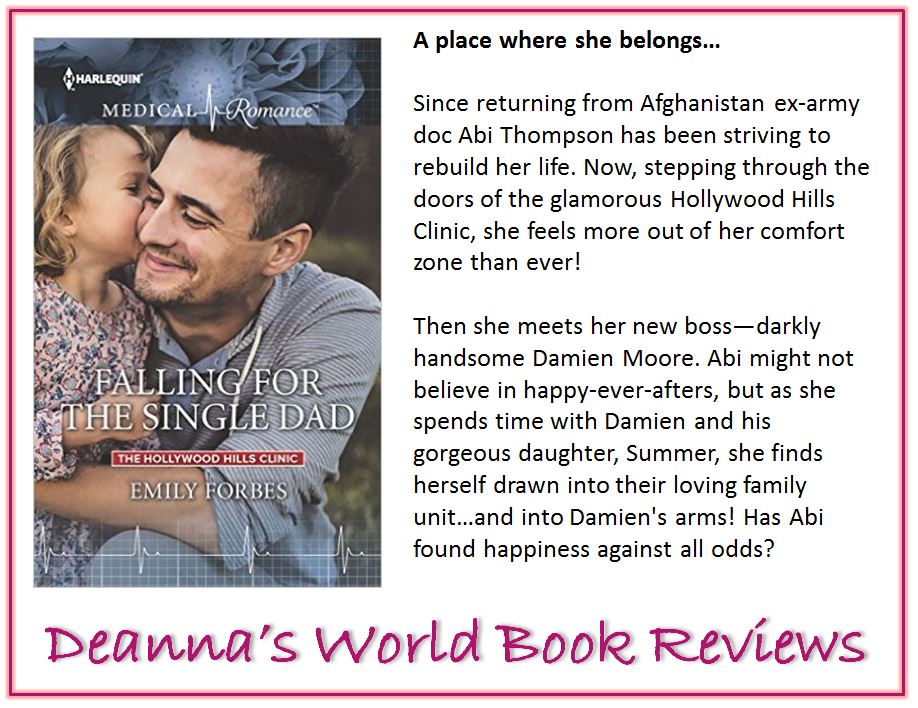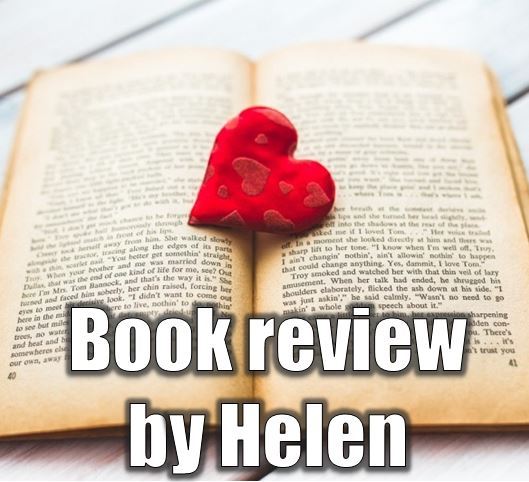 This is such a great story. It is emotional and moving as Dr Abi Thompson takes a job at The Hollywood Hills Clinic after returning from Afghanistan. Abi is suffering from PTSD and still has a few issues that cause her problems but her work as a re-constructive surgeon never falters. She is great at her job and she has the help of her assistance dog Jonty, who is an absolute treasure. Abi has been through a lot in her life but she is very strong in so many ways. She is very determined to get on with her life but with just her and Jonty. Abi is not looking for a partner or family but when she meets her new boss, Dr Damien Moore, there is a spark that could light up the clinic.
Damien is a single dad to five year old Summer. He works hard and has a protective streak in him which was what got him involved with his ex-wife. He loves his daughter and will do anything for her but he isn't planning on finding her a new mother after his previous experience. He is a bit terse when he first meets with Abi but when there is a problem with a patient Abi steps in to help him. In their first couple of days of working together he feels a pull that is getting harder to ignore. His protective streak also comes to the surface with Abi. Abi is strong but also vulnerable and Damien feels he needs to shield her with care and affection.
This is a lovely story that will have you smiling as Abi, Damien, Summer and Jonty become close and work through a few problems. This sees Damien and Abi open up to each other and give in to the spark between them. I loved the openness of the characters and the dialogue between them. They both have big responsibilities in their jobs and lives. They worked together to overcome their pasts and join together for a future that will be filled with laughter and love and fun as a family.
I really enjoyed seeing how the author treated the PTSD and the way Jonty the assistance dog helped Abi. Jonty played such an important role in Abi's life and I loved learning what they are trained to do. The overall journey to the HEA felt natural and open. Summer was such an adorable little girl that pulled on my emotional strings. All in all, I highly recommend this one. It is the second book in The Hollywood Hills Clinic series and I loved it.
View all my reviews



About the author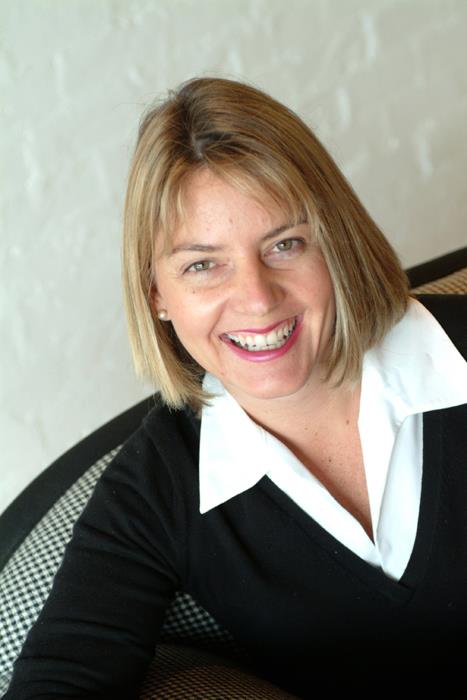 Emily's first novel was published in 2004 and since then she has had over twenty Medical Romance novels published with Mills and Boon. Her books are sold around the world and are translated into several languages including French, Italian, German, Afrikaans, Swedish, Danish, Norwegian and Polish.
She has twice been a finalist in the Romance Writer's of Australia Romantic Book of the Year Award and was thrilled to win in 2013 for "Sydney Harbour Hospital: Bella's Wishlist".
Growing up Emily wanted to be a mermaid but she has had to be satisfied with getting her open-water SCUBA license instead! Emily lives in Adelaide, South Australia with her husband and two teenage sons. When she's not writing she will be daydreaming about her next holiday or reading (or both) while avoiding the ironing, the cooking and the cleaning. She still thinks it would be fun to be a mermaid - they don't have to do house work - but the downside would be having to give away all her shoes!
Author Links:
Website
|
Facebook
|
Goodreads
About the reviewer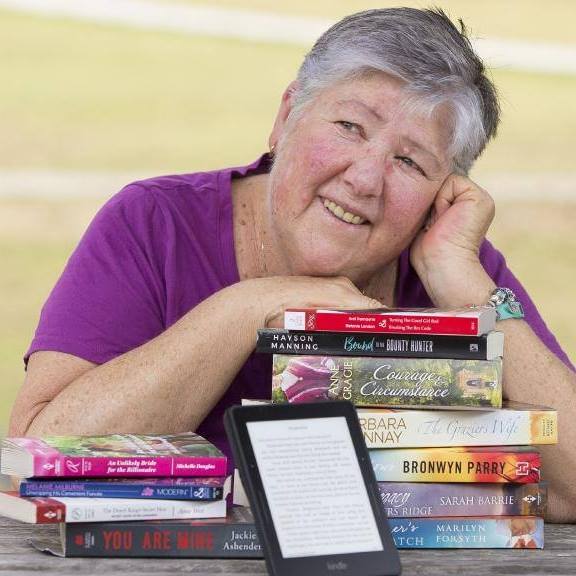 Hello, I am Helen. I am a romance reading addict and love it. I have read for as long as I can remember and this was encouraged by my mother who also always read. We shared a love of the romance genre specifically historical and Mills & Boon back then. Sadly, mum has left me to read for both of us and these days I read across all of the romance genres. They give me great pleasure as I get to I travel the world, go back in time, and dream of billionaires. I have lots of fun doing so.
I have been happily married for 39 years. We have 4 grown up children and 7 grandchildren whom I love dearly. After working in the hospitality industry for 25 years, I am now happily retired which gives me more reading time but it never seems to be enough. I am a member of the Australian Romance Readers Association (ARRA) and have met many romance authors and made many new friends who share the love of romance reading with me. Since I joined in 2009 this group has opened up a whole new world for me which I love.
Reviewer Links:
Facebook
-
Goodreads
Find Deanna around SOCIAL MEDIA: