His Royal Princess (Billionaire Boys Club #3.5)
by
Jessica Clare
Purchase link:
Amazon
My rating:
Heat rating: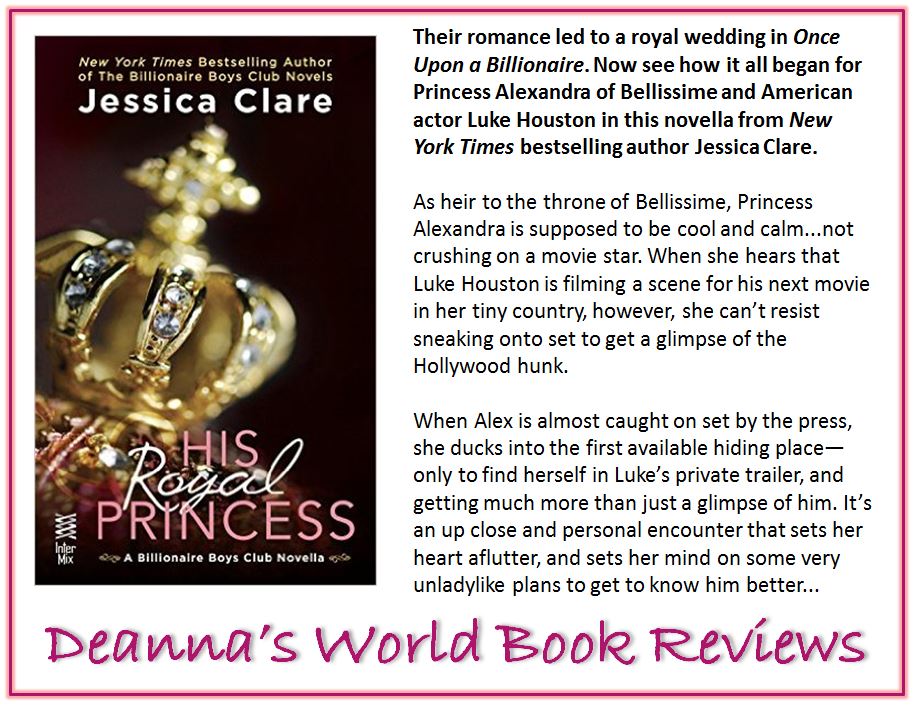 Such a cute and fun story. Everything I want in a royal romance which just makes my sappy, romantic heart giddy with glee, and I do adore a good royal romance. By now, anyone who reads my reviews or knows my readings tastes would know what pushes my romance buttons. :-) Royal romance recommendations, anyone?
This is the prequel to the royal wedding which takes place in Once Upon A Billionaire, Book 4 in the Billionaire Boys Club series. It can be read completely as a standalone because while slightly related, none of the characters from previous or subsequent books appear. This is important to an OCD series reader like myself, so I thought I'd give this point a shout out.
This is a delightful story. I adored Princess Alexandra aka Alex. She's sweet, slightly naughty and everything a princess should be - reserved, dignified, polite and poised, but she's also a woman, with a crazy crush on a Hollywood actor, which makes her seem so much more approachable, even if she is a princess. I totally get having a crush on an actor, I've had a few of those in my teenage years. I love she was adventurous enough to crash a film set to try to meet Luke and had a good enough sense of humor when he mistakes her for someone else entirely. I love how she had her moments on insecurity and a very normal girly reaction of not knowing what to wear on a first date. It made her relate-able and it made her human.
"Rise," came a smooth, familiar voice.

Astonished, Luke straightened, and when he did, he looked up into blue eyes with strong brows, an elegant but not pretty face, and a dimple that he remembered all too well.

Oh, sweet Jesus. He'd called the fucking royal princess a hooker. He was horrified. Almost. Then he noticed the impish look on her face.
Luke was a fun character. I'm glad Ms Clare didn't make him out to be a macho, alphahole actor but an up and coming one with lots of potential. It made him down to earth and not jaded by the glitz and glam of Hollywood but yet aware enough of its going ons and trappings to be wary. I like how genuine Luke is as a person. He's kind, considerate and one of the good guys even though he's from Hollywood.
I had a lot of fun reading this story since this is one of my favorite tropes, royalty and a virgin princess? You had me at "royalty"!
I think I might go back and read the rest of the series. I've enjoyed Ms Clare's writing. I hope the rest of the series is as much fun.
View all my reviews
About the author


Jessica Clare is a New York Times and USA Today Bestselling author who writes under three different names. As Jill Myles, she writes a little bit of everything, from sexy, comedic urban fantasy to zombie fairy tales. As Jessica Clare, she writes erotic contemporary romance.
She also has a third pen name (because why stop at two?). As Jessica Sims, she writes fun, sexy shifter paranormals. She lives in Texas with her husband, cats, and too many dust-bunnies. Jill spends her time writing, reading, writing, playing video games, and doing even more writing.
Author links: -
Website
-
Facebook
-
Twitter
-
Goodreads
Find Deanna around SOCIAL MEDIA: