The Most Scandalous Ravensdale
by
Melanie Milburne
Purchase link:
Amazon
Helen's rating:
Heat rating: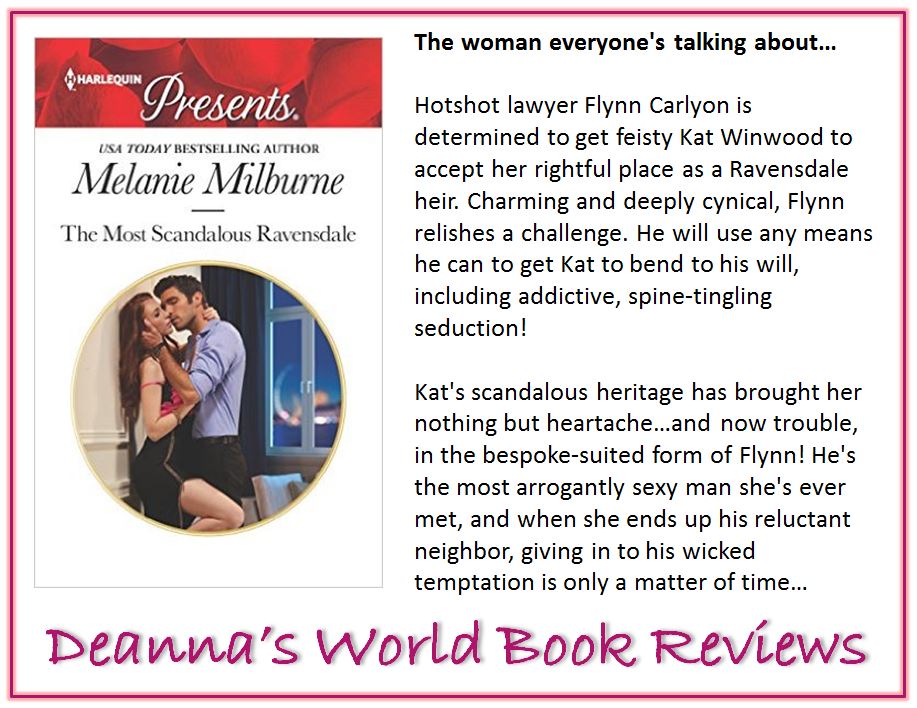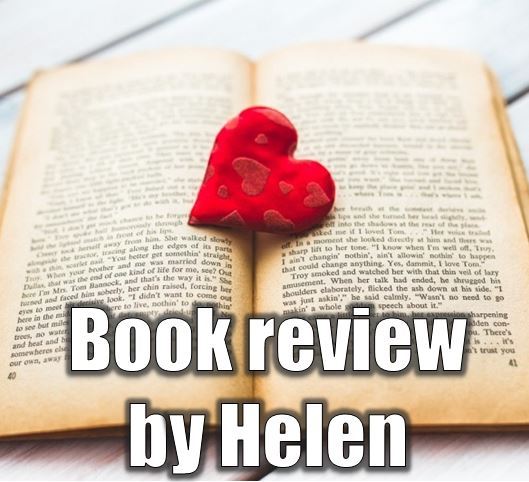 This is the fourth book in the Ravensdale series and what a beauty it is. I have thoroughly enjoyed them all so far and was eagerly awaiting the last Ravensdale, Kat, although her journey to become a Ravensdale is far from what her brothers and sister had. Kat is feisty and so loveable as the Ravensdale family lawyer, Flynn Carlyon will find out.
Kat Winwood is an only child with a single mother and has led a very under privileged life, moving around with her mother, but she has always wanted to be an actress and has worked hard to get a start. Just before her mother passes away she finally tells Kat who her father is, none other than the famous actor Richard Ravensdale. Wow! Kat is a love child. When her father finds out about her, he sets his lawyer Flynn on the case, to get Kat to attend a party in order to meet him and her brothers and sister. Flynn is nothing but persistent, and while Kat keeps refusing there is a spark between them. This starts a journey for Kat that will change her life in such a great way.
Flynn Carlyon never loses and he will get Kat to this party. Flynn has been through a failed relationship that changed his life. He also has issues from his childhood that add to his determination to stay single but this pull that Kat causes is troubling Flynn. When she moves next door to house sit, there is a small accident that brings them closer together and with Cricket, Flynn's dog added to the mix, there is no denying the electrical spark between them.
I loved this story. It is so very sensual and moving as Kat who needs a bit of confidence building and the gorgeous Flynn journey to a beautiful HEA - one that will have you very entertained. This book was such an awesome read with characters that are so real and alive and the internal dialogue from Kat will have you laughing. I loved how Kat finally met her family and became a part of a proper family. I can highly recommend this one. It will keep you turning the pages as two very strong and determined people who are also a little vulnerable give in to a very hot and steamy affair that makes them open up and brings them closer to each other. You will not be disappointed. Ms Milburne knows how to pull a reader in with her magical stories. Thank you, Ms Milburne for another fabulous read. This one goes onto the keeper shelf!
View all my reviews



About the author


I grew up on a small farm on the outskirts of Sydney and as a keen horse rider, often competed in local gymkhanas and even broke in a few horses from time to time. As I was surrounded by animals, I decided at an early age to become a nurse, however I couldn't stand the sight of blood and so opted for a career in teaching. It's a bit ironic that I married a surgeon.
I read my first Mills & Boon novel when I was 17 and that encouraged me to continue reading romance novels; the lure of the tall dark handsome hero, who in reality I fell in love with and knew I was going to marry on our second date! After marrying a year later, we moved to Scotland with our six week old baby so my husband could work and study for his MD in surgery. After the birth of our second son we came back to Australia to settle in Tasmania.
I went back to University and up-graded my teaching diploma to a degree and then went on to do a Masters but still I felt as if something was missing. I sat down one day and began writing and everything clicked into place - I had finally found 'my brilliant career'! I used to write from instinct rather than a specific plan, but now, so many books later I find a loose plan doesn't go astray. An idea will pop into my head, sometimes it will be just a simple phrase or a what if question and I'm away.
Writing is a skill that can be learned and the best way to learn it is to read and to write. So many people feel they have a novel in them and very probably they are right-the only trick is to get it out. My advice to 'would be' writers is to write, write, and write even more. Carry a notebook at all times and jot down ideas. And like any other activity the more you do, the more it feels comfortable.
I hope you enjoy my stories and look forward to hearing from you.
Author Links:
Website
|
Facebook
|
Twitter
|
Goodreads
About the reviewer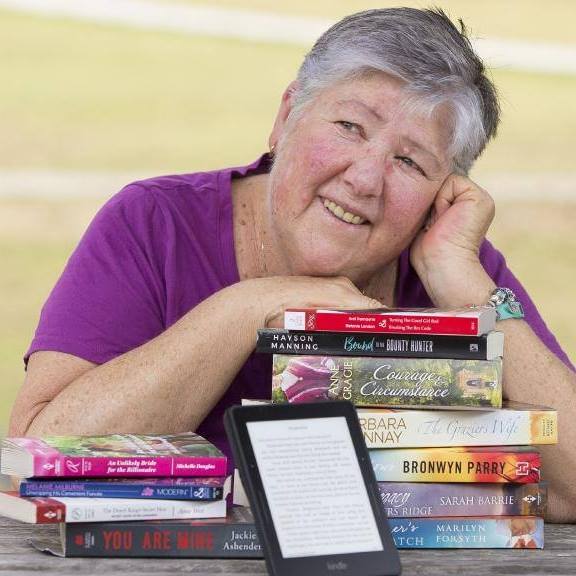 Hello, I am Helen. I am a romance reading addict and love it. I have read for as long as I can remember and this was encouraged by my mother who also always read. We shared a love of the romance genre specifically historical and Mills & Boon back then. Sadly, mum has left me to read for both of us and these days I read across all of the romance genres. They give me great pleasure as I get to I travel the world, go back in time, and dream of billionaires. I have lots of fun doing so.
I have been happily married for 39 years. We have 4 grown up children and 7 grandchildren whom I love dearly. After working in the hospitality industry for 25 years, I am now happily retired which gives me more reading time but it never seems to be enough. I am a member of the Australian Romance Readers Association (ARRA) and have met many romance authors and made many new friends who share the love of romance reading with me. Since I joined in 2009 this group has opened up a whole new world for me which I love.
Reviewer Links:
Facebook
-
Goodreads
Find Deanna around SOCIAL MEDIA: