I'm finally getting round to pulling together all the reviews I've written for Enslaved by the Alpha. I had originally read this as a serial before it was released as a box set / standalone book, so my reviews are for each part as I read them. This is what you are going to get. I don't have a review for the entire book as a whole, but let's just say I really enjoyed it and I ADORED Erik. Of course, I also could not resist putting in all the covers for each part of the series because ... pretty!
Enslaved by the Alpha (Shifters of Nunavut #2)
by
Viola Rivard
Purchase link:
Amazon
Overall series rating:
Heat rating: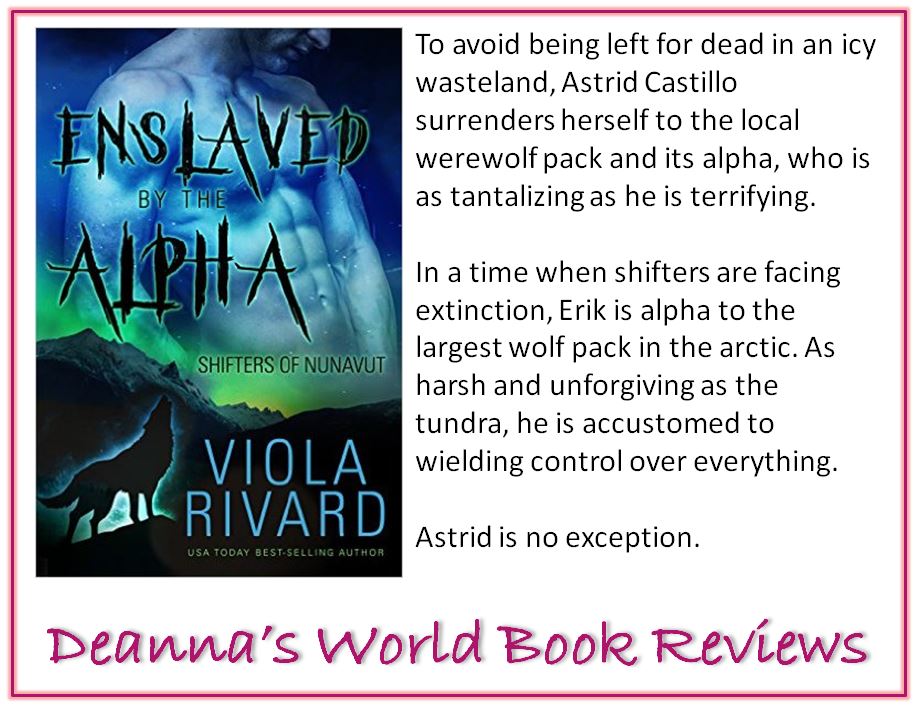 Part 1
Erik is the ultimate alphahole. He's raw, rough and brutal. He's calculating and menacing, and seemingly without a conscience. There's no compassion in him and none of the gentler feelings you often see in an alpha male with a hidden softer side he only shows to his love. He is everything you do not want in a boyfriend, partner, husband or mate, but dang, if he is not sexy as hell. I thoroughly enjoyed Erik because with this installment, I got a lot of insight into his character. Erik bring such a brute is surprisingly introspective and self-aware. He has made conscious decisions to be who he is and he makes no apologies for it. I like that in a man and I adore Erik.
Astrid was difficult to put my finger on because this part focused so heavily on Erik. The little I glimpsed of her showed me she's rather unselfish, somewhat naive, probably foolish with a mix of brave thrown in. From what I do know, I like her. She's handling herself well given she's been thrown into a rather difficult situation, though much of it of her own making.
I'm enjoying this new release from Ms Rivard and look forward to more of it as the story unfolds.
Note: This is the first part of a serial series. I do not know how many parts this serial will have. This is also available on Kindle Unlimited if you don't want to buy it.
Part 2
Have I mentioned how much I love Erik? He's taciturn, brutish and unapologetic about it. I would not want him for a boyfriend or a partner, I think he would drive me bananas, but I do love reading about him. He's such an alphahole, he gives me lovely tingles. :-) I am also enjoying his obsession with Astrid. There's an internal battle going on about it and I'd love to see more of it come to the forefront.
We learn a little more about Astrid in this installment and I am liking what I learn. She's making the best of a difficult situation which she's found herself in without falling into a sobbing mess and that's admirable. I don't know if I'd be as brave or hold up as well.
One thing which stood out to me in this installment too is the wolf shifter politics which Ms Rivard hard built into the story. I find it fascinating. Survival, instinct, manipulation, and all the who you can talk to, can't talk to, should talk to, shouldn't talk to. Wondering who you can trust, if you can trust. I admire the way Astrid is feeling her way around it all while trying to survive.
This is probably my favorite of all the series I've read by Ms Rivard, with The Dragon's Appraiser coming a close second. I love it because of Erik. He really carries the story for me. Can't wait for Part Three.
Part 3
This is my favorite series and favorite hero Viola Rivard has written and I think I've read all of what she's written. I adore Eric. I love all his moods and his being totally unapologetic for being the brute he is. Being a strong leader and being ruthless means a pack that is strong and survives the harshness of the arctic tundra and this is what we see from Eric. I get where he's coming from. There are so many facets to him but he stays true to the core of himself which was established early on in the series. Even in guilt and remorse, he's who he is and he suppresses the softer emotions. I love his arrogance and his utter confidence when he declares he will do something which was a proven failure in the past. I'd really like to see how that plays out.
Astrid is a very interesting character to me because I can't seem to get a handle on her. I like she feels she can just be herself because of Eric's regard for her. This makes me like her a lot more as a person because she is so real. She is human and frail, plagued with human emotions that are complicated and run riot. I like she brings out a side in Eric which pleases his wolf but disgruntles him a great deal. Erik's obsession with Astrid is simultaneously swoon-worthy and amusing to me.
In fact, there was a lot in this installment which amused me - Erik's feelings, Erik's confusion, Erik's dominance, Erik's arrogance and Erik's obsession. I don't think Ms Rivard meant it to be amusing, but I found it so.
I'm looking forward to Part Four.
Part 4
I am entranced by Erik. It's been a long time since I've adored a hero as much as I do Erik. He's such a brute, a complete alphahole, but I love him.
I like he's so introspective, even when things confuse him, like Astrid and his feelings for Astrid. He thinks it through and he weighs his options, accepting some, discarding others. It's a fascinating process to watch as he reaches his conclusions.
Astrid cracks me up. She is so ill equipped as a human in the Arctic tundra and she tries to make the best of the situation. I think she is as confused about Erik as Erik is about her and they are still feeling their way around each other. I don't know how many more parts this serial has to go but I'm curious to see how it resolves the feelings and the relationship between Astrid and Erik. I'm very curious to see if any attachment forms between them since there's so little of the tender feelings going on so far.
I'm looking forward to the next part. I really want to see how Erik and Astrid deal with the mating thrall.
Part 5
I love this series. I may have mentioned it before but Erik is my favorite hero of Viola Rivard's and this is probably my favorite of all her series I've read. I love Astrid too. She's hilarious.
This installment gives us the mating thrall and I've enjoyed the detail Ms Rivard goes into with it. I liked seeing how it affects both Erik and Astrid, and the changes it wrought in Erik. I adored seeing him in the throes of the mating thrall. So sexy.
Aside from that, we see a bit more Ila, danger coming to the pack which takes Erik away from Astrid for a while and an attempted murder. Quite exciting stuff.
I can't wait till the next part of the story. Kinda wish they were longer though.
Part 6
I'm continuing to enjoy this series a great deal bu the pacing of this particular installment slowed down for me as our attention is split between Erik being away from Astrid and the pack, and Astrid being on her own.
We continue to get both the perspective of Erik as he negotiates the threat to the pack and also Astrid as she comes to terms with being pregnant and realizing she's in love with Astrid.
I felt like this was very much an in-between story, it had an almost transitional feel to it as we get towards the end.
My favorite part, of course, was towards the end where Erik and Astrid are reunited, and we once again have Erik's rather unique perspective on life and relationships, although that is rapidly changing as he comes to terms with having a mate, how important she is to him and now having a child to protect.
Still a very enjoyable read overall. I'm looking forward to the next part. I can't wait to see how this ends.
Part 7
This is the last episode of the Shifters of Nunavut serial. I'm a little sad to say good bye to Erik since I've enjoyed him so much but I've thoroughly enjoyed him in this last installment. Erik is coming to grips with his feelings for Astrid and what she means to him, and this disconcerts him somewhat. I enjoyed reading his internal dialogue as he wrestles with her importance and the importance of their impending pup, the decisions and sacrifices he's willing to make on their behalf, what he determines is a priority when it comes to their welfare. All fascinating stuff.
I've enjoyed this serial series tremendously. I think I've said it before, because of Erik, this is by far my most favorite of all the series I've read from Ms Rivard.
More heroes should be like Erik. Sexy as all get out to read about, not so much to live with in real life. :-) Love at your own risk!
View all my reviews
About the author


Viola Rivard is a New York Times and USA Today bestselling author of paranormal and fantasy romance. When she's not wowing readers with her werewolves or dazzling them with dragons, she's hanging out with Mr. Rivard (aka, the hairiest man on the planet) and impatiently awaiting the birth of their baby bear, Lachlan.
Author links:
Website
-
Facebook
-
Twitter
-
Goodreads
Find Deanna around SOCIAL MEDIA: