One More Day
by
Auryn Hadley
Purchase link:
Amazon
My rating:
Heat rating: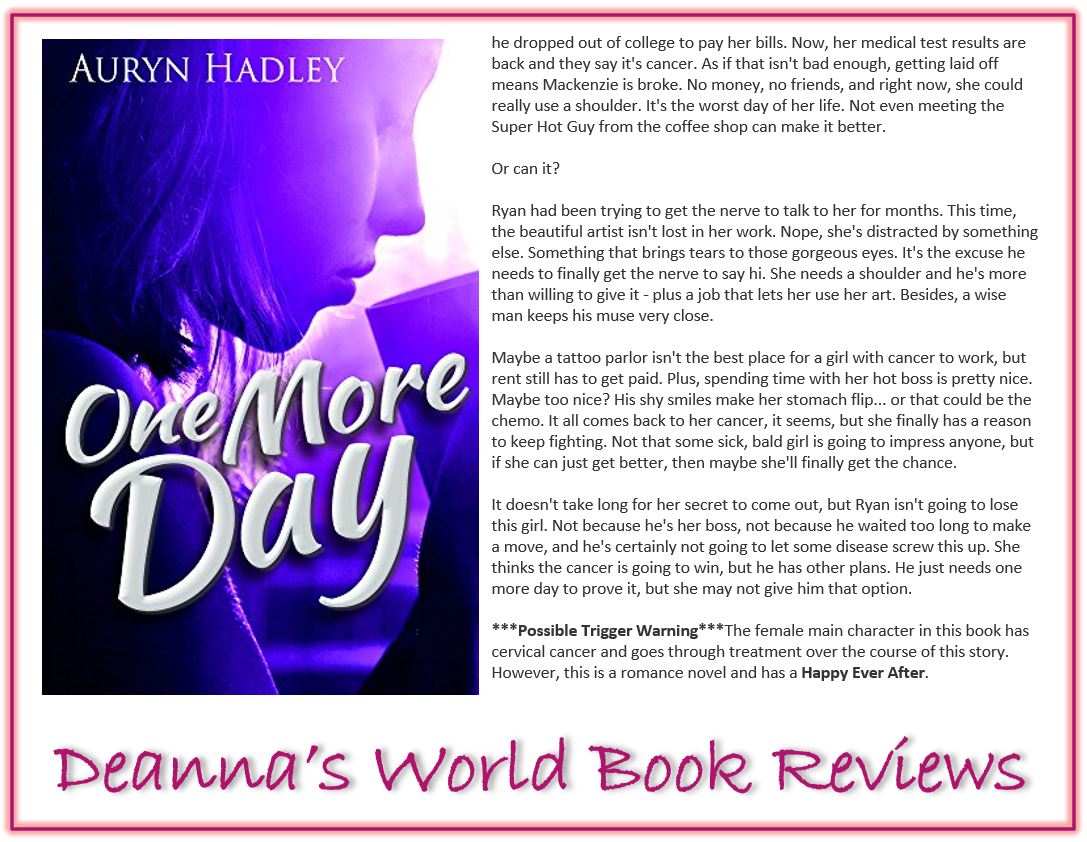 One More Day is about surviving, about love, about fighting, about the things that truly matter in life, and above all, it's that the human spirit can endure anything.
I was attracted to this book because it sounded sweet and I like stories where the hero or heroine have to battle something that they overcome. What I didn't know what that this book would be poignant and emotional, and it would open my eyes to the strength of the human spirit, not only for the one suffering but for those who care for them. Battling a deadly disease is not only hard for the one doing the fighting, but it's also hard for those who are there to support and provide care. This book shines a light on both and shows us how much we can overcome with the right motivation and with the love of those around us. It shows that we don't need to be strong all the time, and sometimes when we are weak, it's okay, because there are those who love us who can help us be strong enough to keep fight one more day. This book is a beautiful testament to that.
I adore Ryan. He's such a beautiful, amazing, sweet, caring man. He's stunning inside and out, and he has the heart of a knight. His kindness, his stability, and his steadfastness are things of beauty. I love that he never gave up and he kept going and he kept fighting. I love that he understood and he stood firm and he loved unconditionally. He's the kind of man you want at your side when you've got battles to fight because he will fight at your side. With him on your side, you will always win no matter what.
Mack is incredible. She doesn't know it but she's so strong. She's strong and resilient and she never gave up. Sure she cracked a couple of times, who wouldn't? But she kept going. She's a little insecure of herself and her own worth, but she's a fighter and she is independent. I'm glad that even when she tried, she couldn't keep Ryan and Colby away from her and they stuck with her and saw her through everything. I loved her sass and her spunk and her sense of humor. She may have had bad days, but she gave as good as she got and she held her own even when Colby was being Colby and Ryan was ready to smother her in love and care.
It's not often that I mention a secondary character, but Colby deserves a mention. He's such a wonderful support and such a great friend. He's loud, funny, and unapologetic. He's funny for Mack and there for Ryan, and just an all around great guy. He's the kind of guy you want as a best friend and by your side. Colby can't be left out because he's part of the deal and he adds so much to Mack's life. Seeing Mack through her battle was a team effort and Ryan and Colby did a marvelous job of it.
I'm blown away by this book. Because of the topic of cancer, this might be triggering for some people, but it's so beautifully written and handled with such care and respect. It treats those who suffer with so much dignity, and gives so much respect to those who treat and care for them, the nurses, the doctors, the family, and friends. Every one in the patient's life who contributes to their fight and survival. I'm glad I read this book. I think I'm better for it.
View all my reviews
Ab

out the author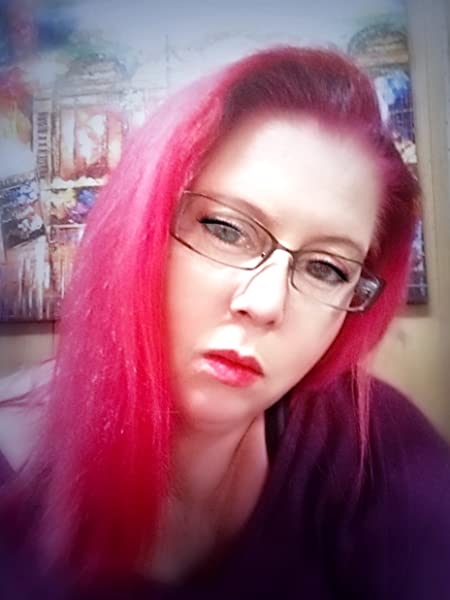 Auryn Hadley:
Website
-
Facebook
-
Twitter
-
Goodreads
-
Amazon
Find Deanna around SOCIAL MEDIA: