I'm excited to have Pamela visit the bloggity. This is not her first time though cos Mr Manview has done a post on one of her previous books, A Letter From Italy. He gave it 5 whopping stars!! And she has become one of his favorite historical romance writers, so you can imagine my delight when Pamela agreed to write a guest post to give us insights to The Desert Nurse.

Please give Pamela a very warm welcome.
Challenges of love and ambition in a time of war

I love this headline! It really sums up
The Desert Nurse
for me. (Wish I'd thought of it for the tag-line!)
The Desert Nurse is set in WWI, and it's hard for us to realise how profoundly everyone's lives were changed by that war. Australia has been involved in several wars over the past twenty years, but the day-to-day life of ordinary people hasn't been affected, because those wars are fought by professionals.
Men weren't conscripted in Australia in WWI, but even those who chose not to go to war were profoundly affected by the sudden disappearance of over 400 000 who volunteered (from a male population of 2.5 million, so most of the young men). And more than half who went were wounded, gassed, taken prisoner or killed. 'War work' scooped up many men and opened doors for women; rationing and scarcities affected everyday life; and everyone was hoping and, often, praying for the safety of family and friends on the front line.
Within that canvas, love and ambition took on new patterns. There were hundreds of early weddings, as couples tied the knot before the man shipped out (so the girl could give her beloved 'a proper goodbye' – that is, have sex). Equally, there were many marriages which foundered because the man was absent. Bigamy was rife – in one week in the Melbourne Magistrate's Court in 1920, there were 33 cases of bigamy heard, most stemming from wartime absences! Divorce was incredibly expensive, and many people just pretended they'd never been married. (Bigamy cases were usually brought to force the man to pay child support for the first wife's children.)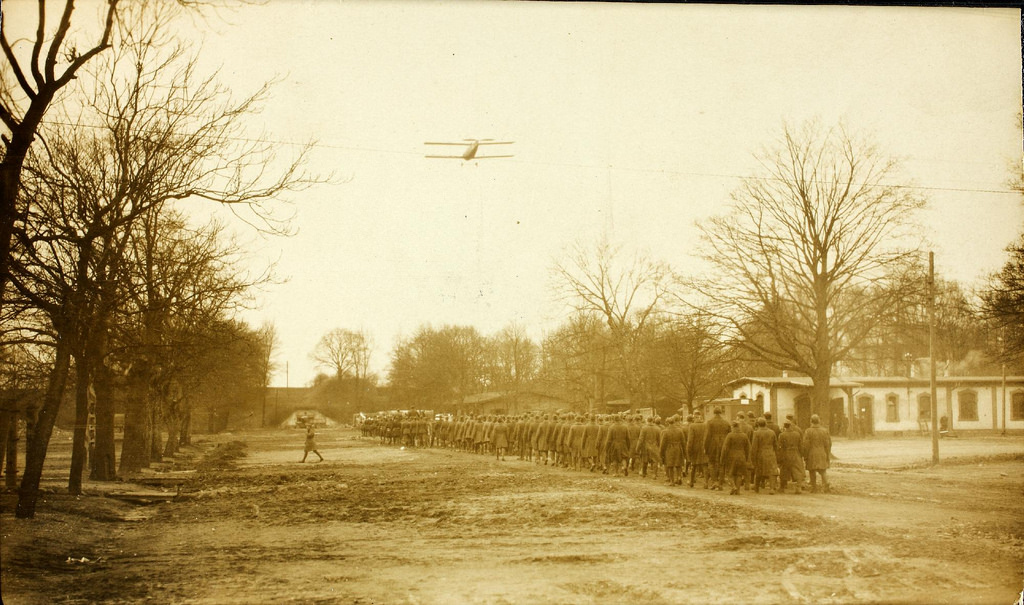 Photo credit: San Diego Air & Space Museum Archives on Visualhunt.com / No known copyright restrictions
And for nurses serving in the Army, love often blossomed with their patients. Totally against regulations – but regulations have never been much of a barrier to young people in love.
As for ambition – well! War opens doors, and disrupts old ways of doing things. Soldiers and nurses both found that wartime conditions allowed people who would normally have been barred from certain types of work (because of class, because of gender, because of lack of money) to succeed brilliantly at them. At the same time, peacetime ambitions were put on hold. Professions were abandoned, jobs left, saving plans halted, education delayed. In The Desert Nurse, both William and Evelyn have to put their plans aside until after the war. This was true of so many people – those who didn't marry before the man shipped out had to wait, praying that the beloved would return. Those who had planned businesses, or babies, had to shelve those plans, with no guarantee that they would ever be able to complete them.
It was a frantically busy time for most people, especially nurses and doctors, but it was also a time of suspension, out of 'real life', where their peacetime ambitions – and even their loves – could seem pretty small beer compared to the life and death struggle around them.
I write about World War I because I'm fascinated by the way ordinary people responded to this huge upheaval in their lives, this fierce wind of change which could not be resisted. But how it affected individuals was often shaped by their loves, and by their ambitions, large and small. To be a doctor, to be a good son, to be a staunch friend, to love and be loved… where they put their hearts and their hopes is where the stories lie.
I know Steve is going to enjoy The Desert Nurse a great deal.
And here's more about it...
---
Goodreads
Author Info

Pamela Hart:
Website
-
Facebook
-
Twitter
-
Goodreads
Find Deanna around SOCIAL MEDIA: