A Madness of Sunshine
by
Nalini Singh
Purchase link:
Amazon
My rating:
Heat rating: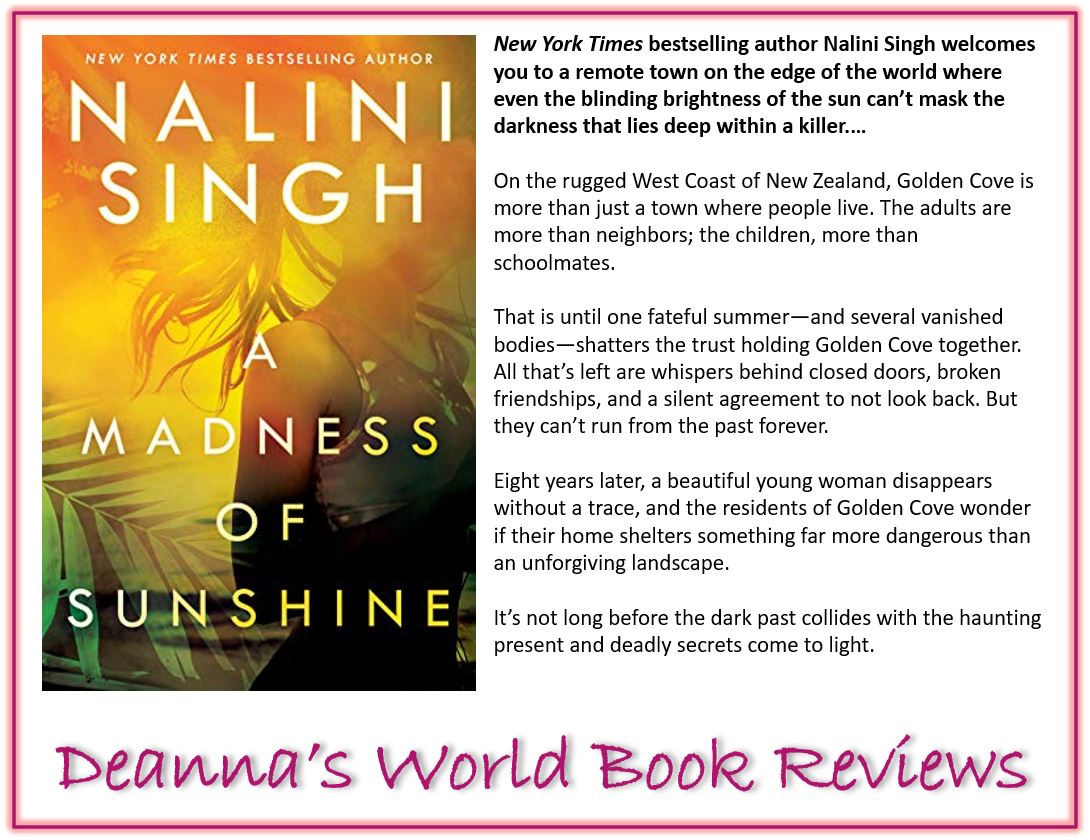 A Madness of Sunshine is thrilling, sinister, and just a little bit dark. It's beautifully written and chilling to read. It will keep you in its grip to the very end.
While this is predominantly a thriller, it's also got a thread of light romance running through it between the two main characters, Will and Anahera. It's not the focus of the story but it makes my mushy heart glad that there's a bit of romance in it to keep me going when the thriller got too intense for my wussy sensitivities. Ms Singh has done a wonderful job of weaving and threat of mystery and suspense coupled in a town filled with secrets. As Will digs deeper into the disappearance of one of the town's residents, those secrets are uncovered and old hurts and betrayals come to light. There's definitely a madness and a darkness running through that small close knit community. Behind every smiling face is the possibility of evil.
I was wondering if I'd like Anahera. She's so filled with rage and anger and pain after finding out that many years of her life was a lie. She's back in town, perhaps to hide, perhaps to heal. But underneath her brittle exterior is a strong woman with determination and courage to set aside her own hurts to lend a hand where it is needed. She's fierce when she needs to be, protective of those she loves and her past, and unforgiving when it comes to the worst of the pain.
I liked Will a lot. The loner, disgraced cop who was sent to a little town to rot for the rest of his career. He, like Anahera, is also hiding in this tiny town. He might have lost his prestige and position from his big city cop days, but his instincts are still sharp and he's one heck of a cop. He's diligent in his duties and cares deeply for the people in the town he's calling home for a time. While he digs into the people of the town he starts to uncover some deeply kept secrets. Things that certain people would like to keep hidden. As he looks for the missing person, old horrors are being uncovered too, and those who wear the brightest masks have the most to hide.
I enjoyed this story by Ms Singh though it's a deviation from what I normally read. I decided to read it because it was written by Ms Singh and because of that, I knew it would be good, but I also decided to read it because I was told it had a romance in it. If this had been a straight thriller without that little thread of romance between Will and Anahera, I might have skipped this book.
Ms Singh has just released another thriller. I'll need to decide if I'm going to read that. Someone needs to tell me if it has a romance in it or not but I'm going to assume it does if this one is any indication.
View all my reviews
Ab

out the author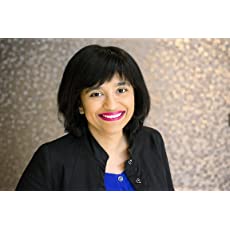 Nalini Singh:
Website
-
Facebook
-
Twitter
-
Goodreads
-
Amazon
Find Deanna around SOCIAL MEDIA: