My rating:
Heat rating: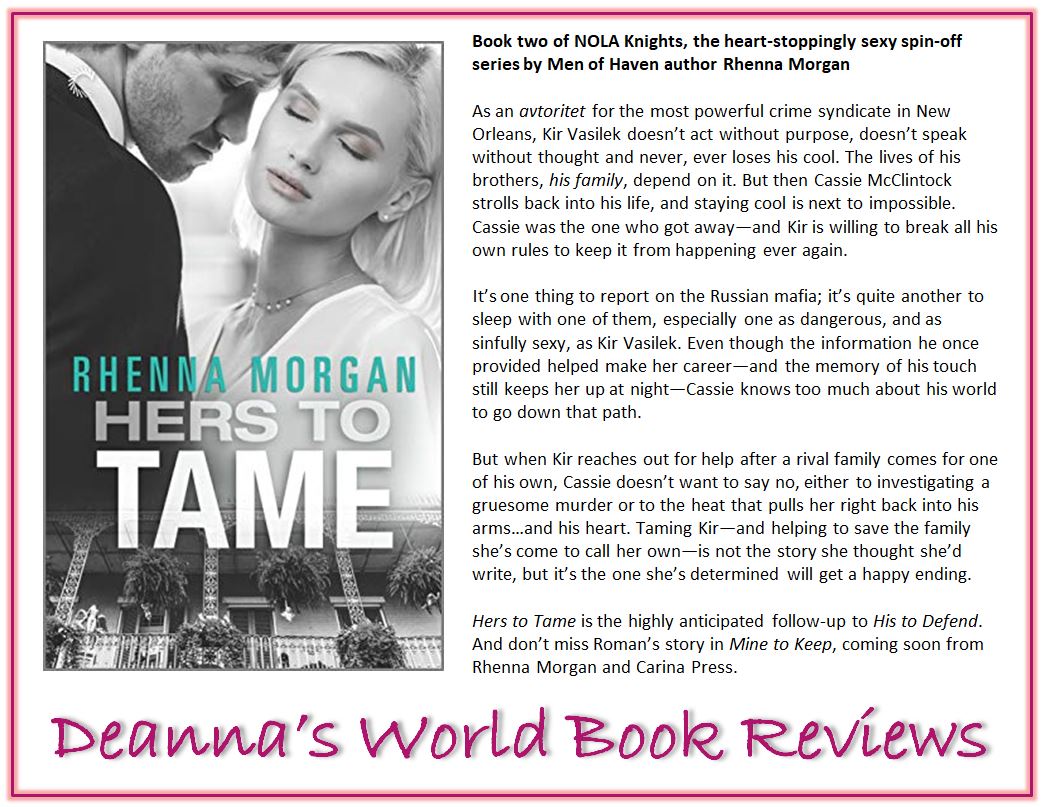 Hers To Tame is utterly magnificent. It has depth, intensity, emotion, and sensuality. Everything I've come to expect from Ms Morgan's writing which is exceptional.
I confess that I started this book with a bit of a negative attitude because I didn't like what Cassie did for a living. I have a deep distrust of reporters in stories because they are inherently selfish, self-serving, and dishonest. I was afraid Cassie would be like that too. Fortunately, I trust Ms Morgan and if there's one thing she has never let me down with, it's her women. Ms Morgan writes strong, honorable women with a core of integrity, and that is exactly what Cassie is. Of course, it's not all a bed of roses because Cassie has been judged, disapproved of, and belittled her whole life. While she's not insecure, she doesn't see her own worth as others do and it takes her a while to trust and to believe in herself and overcome her past and her fears. But when she does, it's wonderful. Her belief is very gratifying coupled with her faith in Kir.
I adore Kir, but then, I adore all of Ms Morgan's men. Kir is completely possessive, absolutely confident, and yet holding himself back because of his past. Like Cassie, he's been hurt by those who should have kept him safe and cared for him. Instead, he was betrayed by their selfishness. It takes a moment of candor with someone he trusts and thinking things through for Kir to finally go after what, or rather, who he wants. But once he's made up his mind, he's swift to take action and his actions are everything. There is a truth and a sincerity that drives him while he still holds onto the core of who he is.
Another thing to love about this series and also the Men Of Haven series (if you haven't read that, you must. It's wonderful) is the sense of family. Family you choose to call your own, who you bind to yourself, rather than the family you are born to. Family whose bonds are too strong to break because they are there by choice. People who stand by each other, look out for each other, care for each other, and no matter what, do the best to support each other and ensure their success. I love how integral the family is to all the stories. It makes them richer, deeper, and filled with a lot of heart. It is a thing of beauty.
Once again, I was swept away by Ms Morgan's writing and I can't wait for Roman's story next.
View all my reviews
A
b

out the author




Rhenna Morgan:
Website
-
Facebook
-
Twitter
-
Goodreads
-
Amazon
Find Deanna around SOCIAL MEDIA: