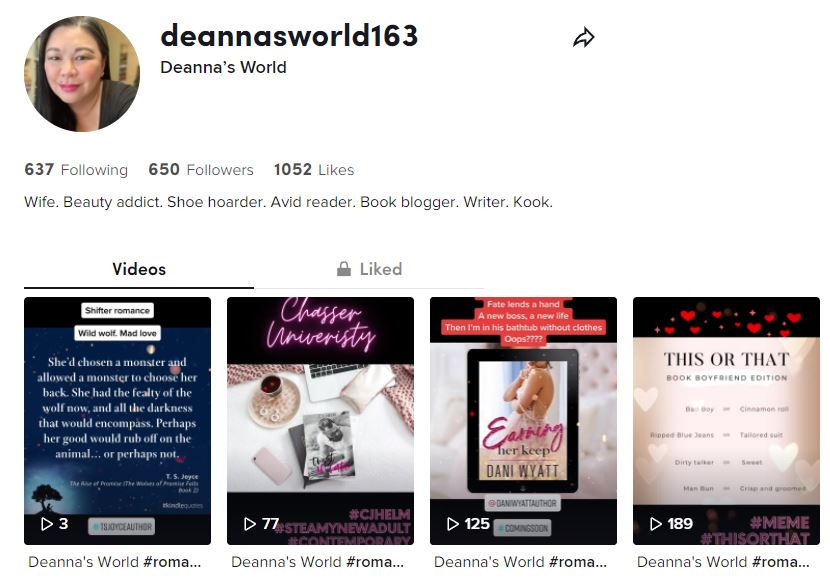 The best thing about rejigging the bloggity schedule? Some breathing room and the ability to have time to throw in an extra post now and then without have to worry about deadlines and disappointing my readers. Plus it's now past midnight on Sunday "morning" and I can't sleep so I'm sitting in the dark in my office being nutty. Drives Steve bonkers.
You guys know that I have started making TikTok videos and it's also a service I'm offering through my
Author Services Offerings
, but that's beside the point. The point is, I'm having fun with TikTok. Learning to make videos has been interesting and challenging. It's also pushing my creativity, which is great. I've not gone viral, but hey, I'm having fun so that's all that matters. The other stuff will happen if it happens.
The best thing I've discovered about TikTok and being part of
#booktok
is the ability to throw up a video whenever the mood takes me or in the middle of reading a very good book. Some videos take no time at all to put together and they can be done all in the app. A photo, some text, some effects, and the right soundtrack. Choosing the right soundtrack is the hardest but also the most fun because if the soundtrack suits the video, it's very satisfying and I can listen to that little clip over and over again.
So because of this, whenever I get excited about some book thing, I take a few minutes to throw together a video and upload it. I'm actually very glad to have this platform to be excited and random about books and there may or may not be people who follow me who care, but hey, I'm expressing my bookish self and that makes me happy. Point, in fact, one of my favorite authors released a new book and I was so excited, I made a video about it.
Note, just click on the video to watch them. They play right in the page. So clever.
I lied a little bit. I had every intention of reading the book right away but I had to work. So I didn't get to the book till today and you know what. It totally lived up to every expectation I had. Of course, there were lots of bits that I loved and highlighted, but this was on I particularly loved, so of course, I had to share.
Did you listen to the music on the clips? Aren't they awesome? Okay, I'm a little biased, but I love them.
And then another author announced that she was about to release a new book. I think it comes out next week, so I had to give her a shout out and make a video for that.
Some videos are a little more complex and I put a bit more effort into them and they take a little longer to create with transitions, effects, and some basic video editing. I do those in Canva rather than in the TikTok app itself, though I finish those off in TikTok too adding a few more effects and the soundtrack (of course!). Here's an example of a book review that I particularly enjoyed putting together. I love that red background.
Are you on TikTok? If you are, come follow me. I'm
@deannasworld163
.
Find Deanna around SOCIAL MEDIA: